GEORGE NEWS - We all have freedom of expression, but know that this freedom is limited.
After the administrators of a Facebook group recently risked finding themselves in a pickle with the law, it became apparent that many social media users are not aware of the trouble they can get themselves into.
After the death of Heidi Scheepers (35) and her two children, Hugo (2) and Cozette (6) in Herold's Bay in October, many questions were asked - especially on social media platforms.
One such platform is the Facebook group, Murder She Wrote Investigations and Discussions.
Heidi and her children were reported missing by her husband, Ettienne, on Tuesday evening, 22 October, after they did not come home from the beach that evening.
The VW Caravelle she and the children were travelling in at the time of their disappearance was found at the bottom of a cliff in the Voëlklip area the next day.
Hugo's body was found in the water near the wreckage on Thursday 24 October and Heidi's was found floating in the ocean near Herold's Bay beach the following Saturday. Cozette's body hasn't been found. The search for her has also been called off.
Legal action
Last week, Scheepers took steps towards possible legal action against the group where the death of his wife and two children led to lengthy discussions and heated debates.
Some insinuated that Scheepers had killed his wife and children, that he had an affair with a woman from George, that they conspired to kill his family and that he drove his wife to commit a family murder.
Scheepers however claims through his attorneys, A Chimes van Wyk, that the group was nothing more than a platform where he was being grossly defamed
Admin posts apology
The administrators of the group at the time, Tess Matthews, Diane van Rensburg and Chantall Strydom Dobson, were warned in a letter by Scheepers' attorneys last Thursday, 14 November, that they can be held personally liable for what they allow on the group and that all comments and posts related to the family should be removed from the group.
They also requested a formal public apology on the group. By Tuesday morning 19 November, all comments and posts pertaining to the Scheepers family had been removed from the group and the administrators also published an apology, which Scheepers accepted.
"The only comment I have is to say I am very sorry that these allegations were made by members in my group. It should never have gone so far," Matthews said on enquiry.
Van Rensburg has since left the group. Dobson could not be reached for comment.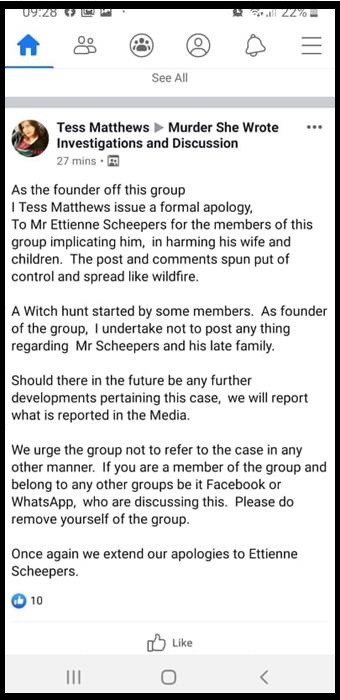 The apology posted by one of the administrators of the group, Murder She Wrote Investigations and Discussions.
What the law says
According to Helene Eloff, social media law specialist and legal advisor of CTP Limited, there is no law or court precedent that renders social media group admins liable for member posts. However, international judgements indicate that doing so will probably become the norm in the near future. "Therefore, it would be a good idea for social media group administrators to establish strict policies for the platforms they host," she says.
Liability, in a civil law sense, is based on either intention or negligence. If this principle is applied to social media, it can be said that group admins will be liable for intentionally causing prejudice about someone. Negligence is legally defined as "the failure to prevent reasonably foreseeable harm". In other words, a group administrator who spots a post that could harm someone, should anticipate it and act to prevent such harm. This can be done by removing the offending comment and taking a clear stand against it.
If a group administrator failed to foresee and prevent such harm, his liability is tested objectively at the time when the act causing prejudice had occurred. In other words, after-the-fact removal of a liable group admin member will not negate his or her liability.
Possible consequences
"In terms of defamation law, each person who publishes or repeats an unjustified defamatory statement can be held liable for damages the defamed party suffers as a result," says Eloff. "If such a comment is subsequently deleted, it should not affect the defamer's liability. It may, however, result in reduced damages payable by the guilty party." If you are found liable of defaming someone online, the court may order financial remuneration of the victim.
"If a group administrator spots a defamatory statement on their platform and deletes it immediately, they have acted with care," says Eloff. "I believe that person will not be considered at fault and therefore liable."
Group members should beware of associating with defamatory comments. Eloff refers to the 2013 case of Isparta v Richter. "In that case, the North Gauteng High Court found that anyone tagged in a defamatory post who fails to untag himself or herself after having become aware of it, will be as liable for the defamatory statement as the person who made it. Anyone who likes or shares such a post will be equally liable," she says.
Facebook group guidelines
• First of all, indicate what will not be tolerated. Hate speech, racism, sexism, homophobia and discrimination are good examples.
• No violation of privacy.
• You can't control group members or perpetually be checking comments. Establish a port of contact for those who spot this type of behaviour.
• Academics say that you will probably be held accountable for the contents of your site if (1) – You were aware of it and (2) – Did nothing about it.
• Some community forums have WhatsApp groups to enhance.
• As group admin, you may determine your own rules. Those who do not like it, don't have to be group members.
• No spam.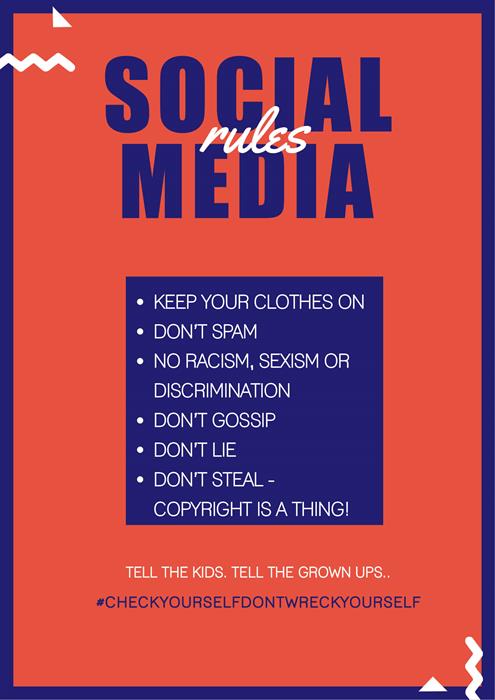 Simple social media rules.
Read related articles:
Read articles by Helene Eloff:
'We bring you the latest George, Garden Route news'