Update
GEORGE NEWS - Next Friday, 8 November, the three murder accused in the Hlompho Mohapi (25) murder case will in all likelihood find out when their trial in the George Circuit High Court will start next year.
The pre-trial of Melisizwe Monqo (31), his fiancée Siphosihle Pamba (24) and co-accused Phumlani Qusheka's (30) next Friday comes after a long battle to centralise all the cases against them in order for the case to continue in the George Circuit High Court.
An indictment regarding all the cases was served to the accused in the George Magistrate's Court on 25 September.
All the cases have been centralised and will eventually be tried in George.
Adv Evadne Kortjé is for the state and the case serves in front of Magistrate Eleanor Mocke.
Clayton Samson represents Monqo and Pamba and Pieter Terblanche of Legal Aid SA is representing Qusheka.
While the case is nearing the trail stage, Mohapi's family is still grieving and probably will for the rest of their lives.
This year not only marks the second Christmas that the trio spend behind bars, but also the second Christmas that Patricia Koloi is without her daughter Hlompho - or Wendy as she likes to call her.
To add insult to injury, Koloi also lost her eldest daughter in 2011 when she died of illness. She was also 25 years old.
The case up until now
• Months before Mohapi's death she applied for a job at the George Airport. A job that apparently never existed.
• Mohapi allegedly also underwent a blood test as part of the job application.
• SMS messages sent from her phone to her boyfriend on the day of her murder were in all likelihood not sent by Mohapi.
• One of the requirements for the "job" was that the applicant spoke Sesotho, which she did.
• It is believed that her details were illegally obtained by the accused.
• Days before Mohapi was murdered, two life insurance policies, one worth R3-million and the other worth R200 000, as well as a funeral policy worth R50 000, were taken out on her life.
• The blood tests that Mohapi underwent were a prerequisite for the R3-million life insurance policy.
• Mohapi's body was found on the Voëlklip road near Herold's Bay on Thursday 5 July 2018.
• On Saturday 7 July 2018, Phumlani Qusheka from King William's Town was arrested in Knysna with Mohapi's cellphone in his possession.
• On Monday 16 July 2018 the pastor, Melisizwe Monqo, was arrested in Thembalethu.
• Monqo's fiancé, Siphosihle Pamba, was arrested four days later on Friday 20 July.
• All three suspects were denied bail on Friday 31 August 2018.
• They have been in custody since their arrest.
• A number of cellphones have been found in possession of two of the accused while in custody.
• A knife was found hidden inside Qusheka's rectum in May 2019.
• Blood stains found in Monqo's rented vehicle and on Qusheka's clothes were Mohapi's blood.
• Two other women from the Eastern Cape were also recognised as potential victims of the trio.
• The trio are charged with premeditated murder, fraud, attempted murder and aggravated robbery.
• The cases were centralised in September 2019 and are now ready for pre-trial before a High Court date is confirmed.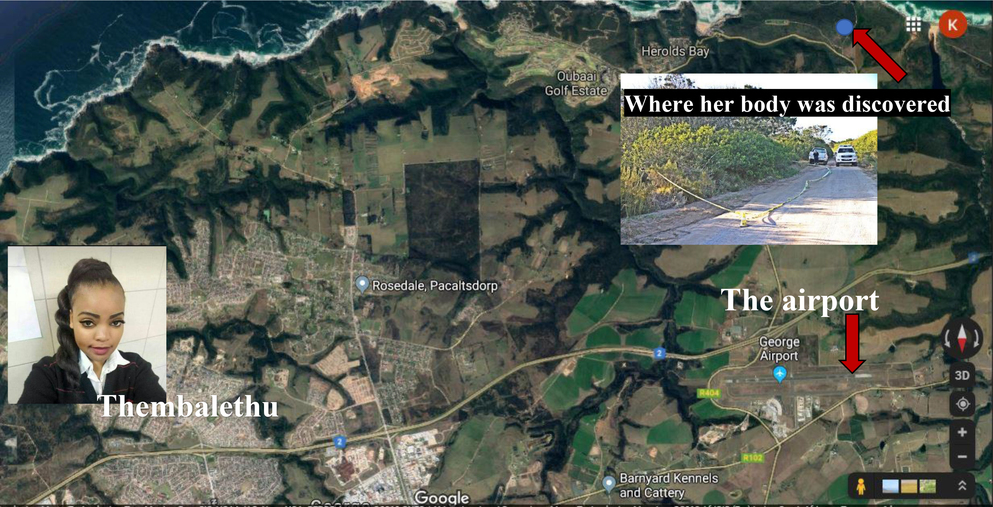 Hlompho Mohapi, from Thembalethu, was going for what she thought was a job interview on the day of her death. Her body was discovered by fishermen passing by on the Voëlklip road later that day.
Read previous articles:
'We bring you the latest George, Garden Route news'