Update
GEORGE NUUS - Die uitdaging van die stompkopkewer en sy simbiotiese swam wat sedert Maart verlede jaar groot verwoesting onder bome in George saai, gaan voort en dit sal na verwagting selfs nog groter word. In 'n stadium behoort dit egter af te plat.
So sê dr. Jaap Steenkamp, bekende bosboukenner, wat betrokke is by die behandeling van bome. Noudat die winter verby is kan 'n beter prentjie van die situasie verkry word.
Die afgelope winter het bome gevrek as gevolg van die kewer en sy simbiotiese swam, maar daar is ook bome wat behandel is met goeie resultate.
Steenkamp, wat onlangs Laos besoek het, het by navraag gesê die kewer en die swam kom ook daar voor. Van die bome gaan egter nie meer dood nie want daar is nou natuurlike vyande soos voëls en ander insekte. Dit is ook moontlik dat bome weerstandigheid ontwikkel teen die swamme. Dit beteken daar is 'n ewewig in die natuur.
Dieselfde situasie kan later hier plaasvind en natuurlike vyande kan self ontstaan of ingebring word. Van die bome kan moontlik ook oor die langtermyn weerstandigheid ontwikkel.
Intussen bly dit 'n groot probleem. As iets nie gedoen word nie, is daar die gevaar dat baie van die bome kan vrek. Sy advies aan mense is om so gou moontlik te kyk of hulle bome besmet is. As wel, moet die bome behandel word. Die oplossing is nie noodwendig om al die bome af te saag nie. As die bome afgesaag word, gaan George baie kaal lyk, het Steenkamp gesê.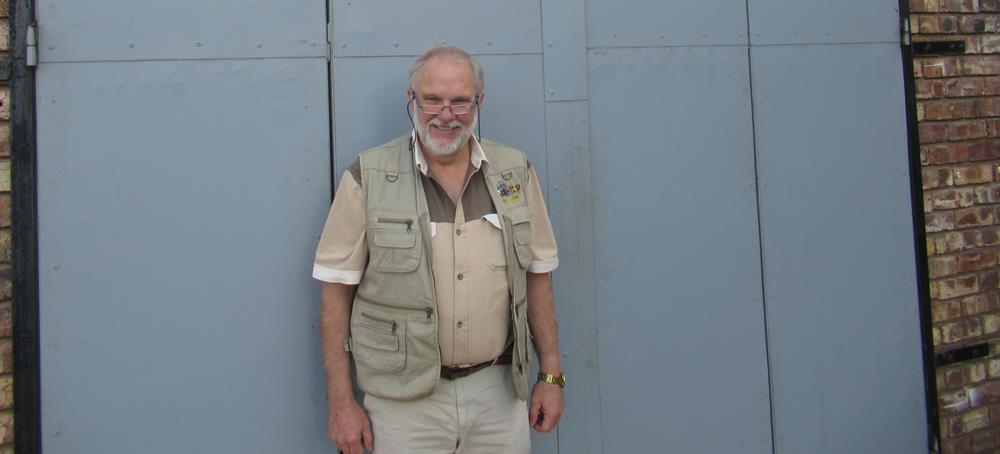 Dr. Jaap Steenkamp, bekende bosboukenner. Foto: Eugene Gunning
Die probleem is ook dat as besmette hout na 'n stortingsterrein vervoer word daar die gevaar is om die kewer en die swam te versprei. Volgens hom is daar twee wyses om bome te behandel. Sistemiese metode (langwerkende boom inspuiting met 'n insek en swamdoder) en stambespuiting. Die twee metodes kan saam gebruik word vir maksimum effektiwiteit.
Volgens hom het die departement van omgewingsake, bosbou en vissery (Environment, Forestry & Fisheries) onlangs R5 miljoen bewillig vir verdere navorsing.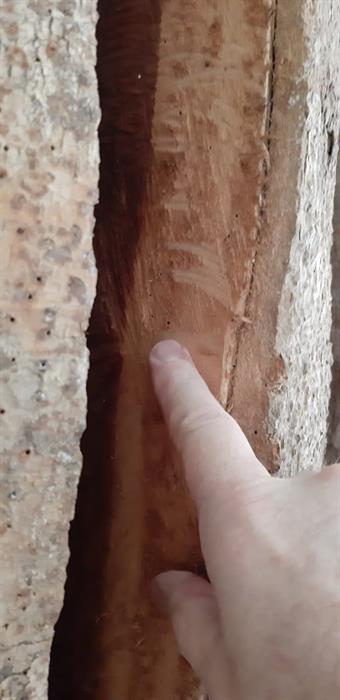 'n Besmette boom in Laos. Foto: Jaap Steenkamp
The challenge of the PSHB (Polyphagous Shot Hole Borer) infestation is ongoing and forestry specialist Dr Jaap Steenkamp says it could grow even worse. Now that winter is over, a better idea can be formed of the true situation. He has recently visited Laos, which is also affected by the beetle, but there nature has found ways of resisting the infestation, including natural enemies such as birds and insects. While this equilibrium hasn't been reached in George, we must so everything in our power to prevent our trees from dying.
Lees vorige artikels:
'Ons bring jou die nuutste George, Tuinroete nuus'