Update Video
GEORGE NUUS EN VIDEO - Die kundigheid van drie universiteite word betrek om te kyk hoe die verwoestingswerk van die stompkopkewer (Euwallacea nr. fornicates) en sy simbotiese swam (Fusarium euwallacea) onder bome in George en die streek gekeer kan word.
Nagraadse studente van die Universiteite van Pretoria, Stellenbosch en Grahamstad (Rhodes) in samewerking met senior akademici en die instituut vir bosbou en landboutegnologie (FABI) is by die jongste poging betrokke.
Die kewer en swam vernietig nou al meer as 'n jaar bome in George.
Prof. Wilhelm de Beer van Fabi het verlede jaar George en Knysna besoek en monsters geneem. Hy en sy span het toe vasgestel dat dit die stompkopkewer en sy simbotiese swam is wat die skade veroorsaak.
De Beer was die afgelope naweek terug in die Suid-Kaap. Hy het aan die George Herald gesê hy glo die kewer is al 'n paar jaar in die gebied teenwoordig. Dit is in privaat tuine, maar daar is kommer wat gaan gebeur as dit na omliggende plantasies en gebiede versprei.
In die stadium is daar baie dinge van die kewer wat nie duidelik is nie. "Jy kan nie 'n enjin regmaak as jy nie verstaan hoe dit werk nie. Ons is in die proses om vas te stel hoe die enjin werk. Dis 'n stadige proses."
Die stompkopkewer (Euwallacea nr. fornicates) is baie klein.
Dit lyk of die kewer bome aanval waar niemand dit nog voorheen gesien het nie.
Hy kan nie voorspel wat gaan gebeur nie. Derhalwe moet dit gemonitor word. Oor die volgende twee jaar sal die studente op 'n gereelde basis, waarskynlik elke twee maande, terugkeer na die gebied.
Daar sal gekyk word na individuele bome en hoe die getalle toeneem en of die bome vrek.
Kyk 'n video hieronder:
In die stadium is daar geen manier om die kewer te stop nie. As daar vasgestel kan word hoe sy lewensiklus werk en watter tyd van die dag/jaar dit vlieg, kan die situasie bestuur word.
Verskeie chemiese stowwe word deur sommige mense aangewend, maar nie een is nog by die staat geregistreer nie. Mense eksperimenteer, maar dit wil voorkom of dit die impak vertraag.
De Beer se advies is dat klein bome behandel word. Met groot bome is dit waarskynlik nie die geld en moeite werd nie. Verwyder eerder sulke groot bome wat besmet is.
Daar is ook pogings in landbougeledere om die situasie aan te spreek en hopelik sal hulp van die staat ontvang word.
Volgens De Beer is die probleem baie groter as dat een persoon/instansie dit kan hanteer. Dit is 'n landswye probleem en word gepoog om 'n netwerk van data te bou en alles bymekaar te bring.
Prof. Wilhellm de Beer (links) van die Universiteit van Pretoria en die instituut vir bosbou en landboutegnologie (FABI) en Garyn Townsend, MSc-student samel monsters in.
Nog inligtingsessies oor die kewer word vandag (21 Februarie) in George en Saterdag in Knysna gehou. Dit word aangebied deur Hilton Fryer.
Vandag vind 'n gemeenskapsessie by Glenwood Lodge plaas. Dit begin om 18:00. Vir meer inligting stuur 'n e-pos na admin@glenwoodlodge.co.za of bel 083 632 2201.
Saterdag is daar 'n werksessie in Knysna van 10:00 tot 14:00. Vir meer besonderhede stuur 'n e-pos aan: info@TreeTreatment.co.za of besoek die webtuiste.
The PSHB beetle (Polyphagous shothole borer) and its fungus partner is an ongoing challenge. Last week prof. Wilhelm de Beer of the University of Pretoria visited George. Two other universities, Stellenbosch and Grahamstown (Rhodes) are working together with the University of Pretoria. An information session will take place tonight (21 February) at Glenwood Lodge. Hilton Fryer will address the meeting.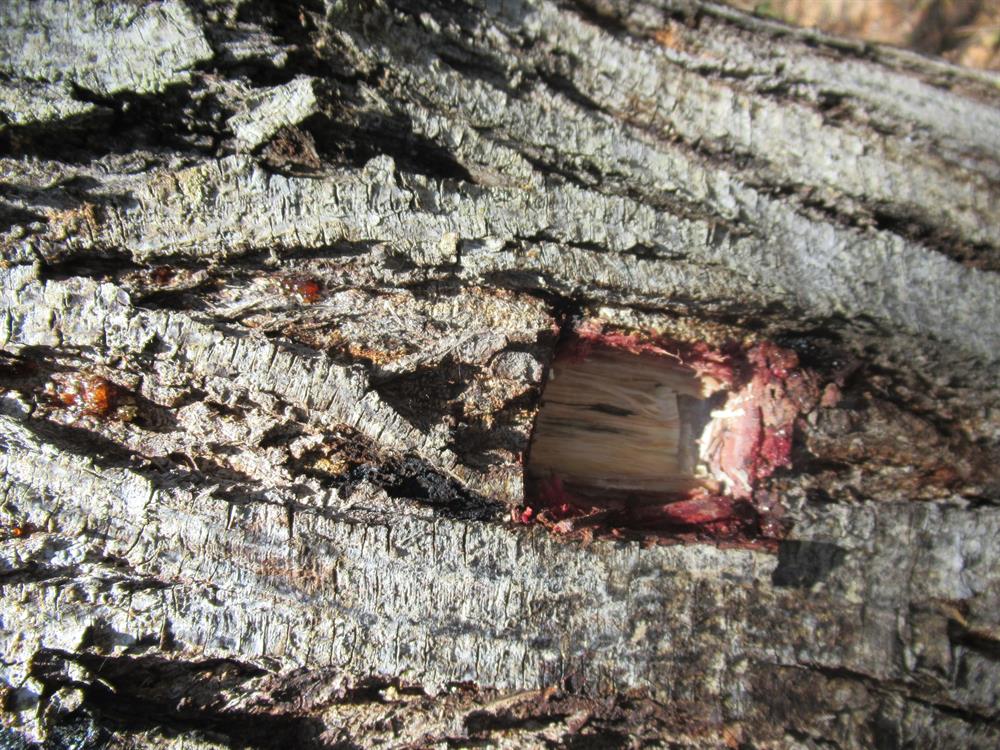 Die verwoestende effek van die stompkopkewer (Euwallacea nr. fornicates) en sy simbotiese swam (Fusarium euwallacea) is sigbaar op die boom in George.
Foto's: Eugene Gunning
Lees vorige artikels hier:
'Ons bring jou die nuutste George, Tuinroete nuus'