Update
GEORGE NUUS - Hy het geen twyfel dat die probleem van die stompkopkewer en sy simbiotiese swam steeds toeneem nie. So het dr. Jaap Steenkamp, bekende bosboukenner, gesê.
As gevolg van die inperking kon daar nie behoorlik aandag aan die situasie gegee word nie. Gifstowwe kon nie gekoop word nie en takke wat afgesaag is, kon nie weggery word nie. Dit lyk intussen of die verslapping van die inperkingsmaatreëls wel help.
Die kewer en sy simbiotiese swam saai al sedert Mei 2018 verwoesting in die bosse en tuine van inwoners in die streek. Dit sluit plekke in soos Mosselbaai, George en Knysna.
Volgens Steenkamp het 'n hele paar mense hom laat weet dat die kewer terug is. "Die werklikheid is dat die sistemiese middels uitgewerk is (die Imidacloprid hou oor die 200 dae in die boom) en derhalwe kan die kewer terugkom - herbesmet.
"Met die inperking is nie baie waarneming gedoen nie, maar ek het geen twyfel dat die problem nog toeneem," het hy gesê.
"Ons het eintlik 'n baie matige winter tot dusver. Daar was net enkele koue dae. Volgens wetenskaplikes is die kewer ongestoord by dagtemperature van 16°C en hoër."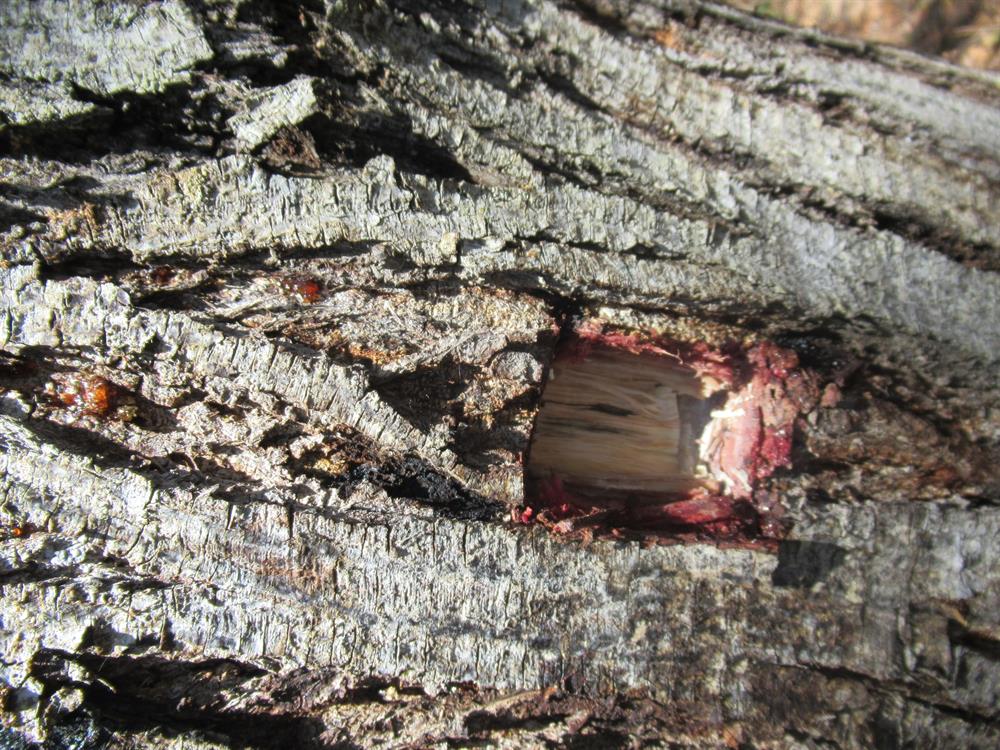 So lyk 'n besmette boom.
Volgens hom is die mees algemene bome wat geraak word steeds die boxelders en Engelse eike en vrugtebome. Die besmetting van bladwisselende bome is meer algemeen as die besmetting van bladhoudende bome.
In die stadium is nuwe spesie uitbreiding nie bekend nie, maar meer as 300 boomsoorte is reeds gelys.
Met die winterseisoen is behandelings beperk tot stambespuitings. Dit is steeds effektief, maar moet meer gereeld gedoen word as die inspuitings metode met sistemiese middels.
Sy advies in die stadium is om bome dop te hou en indien die kewer opgemerk word dit met stambespuiting te behandel.
The PSHB (Polyphagous Shot Hole Borer) is still causing problems amongst trees in the region. It dates back to May 2018. Concern was recently expressed that the situation is not getting the necessary attention because of the lockdown. Dr Jaap Steenkamp, a well-known forestry specialist, said there is no doubt that the problem has increased.
'We bring you the latest George, Garden Route news'