Video
GEORGE NUUS EN VIDEO - Danksy die oplettendheid van 'n inwoner wat die akkers van 'n geskiedkundige eikeboom raakgesien en opgetel het, bly dit nou voortbestaan. Dit word gesien as 'n verhaal van hoop in die huidige tyd van uitdagings.
Die boom is reeds in 1884 geplant en staan voor die NG Moedergemeente in George. Van die takke het kort voor Kersfees afgebreek en daar is vasgestel dat die stompkopkewer (euwallaceae fornicatus) en sy simbiotiese swam (fusarium euwallaceae) die boom geïnfekteer het. Dit moes toe in Februarie afgekap word omdat dit gevrek het.
Gelukkig het 'n inwoner Allison Holliday, 12 van die akkers in April 2017 opgetel en uiteindelik aan die groei gekry. Min het sy toe geweet wat uiteindelik sou gebeur.
Ds. Steve van der Walt, leraar van die gemeente, het vertel dat vele pogings aangewend is om die boom te red, maar het dit nie gemaak nie. Na die afsny het net die hoofstam oorgebly en die kerkraad moet nog besin oor wat presies met die oorblywende deel gaan gebeur.
"Uit die dood van ons eikeboom is daar egter ? pragtige verhaal wat ontvou het. Middel Maart het ? dame (Holliday) vir my en Drew de Kock, die gemeentebestuurder kom sien. Sy het vertel dat sy en haar man, Basil, in Oktober 2016 vanaf Johannesburg hulself in George kom vestig het."
Hulle kom oorspronklik van Skotland en die boom het hulle aan hul land van herkoms laat dink. Hulle het gereeld daar gaan sit.
In April 2017 het sy 12 van die akkers opgetel en besluit om boompies te probeer kweek. Om die akkers te laat ontkiem, was nie maklik nie en sy het advies van iemand in die bosboubedryf gekry. In 2018 het die boompies hul verskyning gemaak en sy het dit uitgeplant. In Maart vanjaar het sy dit aan die kerk geskenk.
Volgens Van Der Walt sal dit waarskynlik later by 'n gepaste geleentheid by die kerk geplant word. Intussen bly dit in veilige bewaring. "Hierdie verhaal is vir my ? teken van hoop. Wie sou ooit kon dink dat iemand êrens soveel moeite gedoen het om boompies te kweek, min wetende dat die boom wat Allison so bewonder het, sou sterf. En uiteindelik skenk sy die boompies vir ons kerk."
Hy het gesê die boompies is simbolies van hoop vir die gemeente en die land. "Ons het geen idee waarheen die Covid-19-virus ons gaan neem nie. Wat ek wel weet, is dat daar altyd hoop is. Ons dien ? lewende God.
"Die nuwe boompies is direkte afstammelinge van die ou boom. Uit die dood van die ou boom, het twee nuwe boompies gekom."
Kyk 'n video hieronder
Nie 'n maklike proses
Lang proses is gevolg waar die akkers eers "onderdompeling" ondergaan het. Daarna is hulle in die son gedroog en uiteindelik afsonderlik in handdoekpapier toegedraai. Hierna is hulle vir ses weke in ? eierboks in ? yskas gebêre. Na ses weke is die akkers in deursigtige koeldrankbottels, met sand en grond gemeng, geplant. In 2018 het twee boompies hulle verskyning gemaak.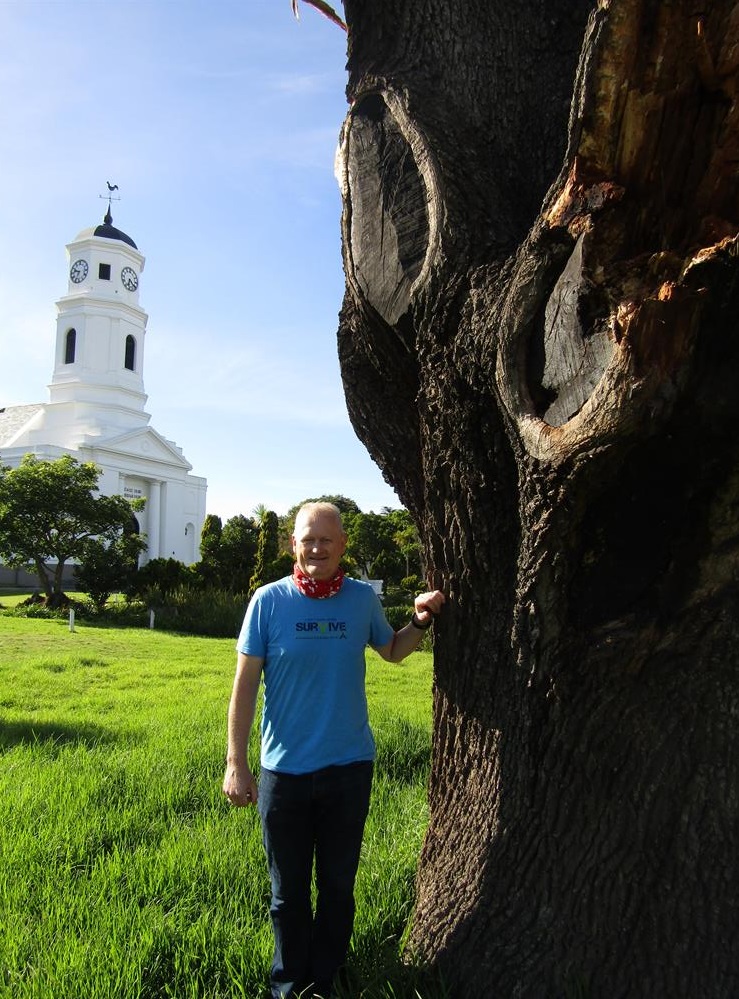 Ds. Steve van der Walt, leraar van die NG Moedergemeente, by die oorblywende gedeelte van die ou historiese eikeboom. Foto: Eugene Gunning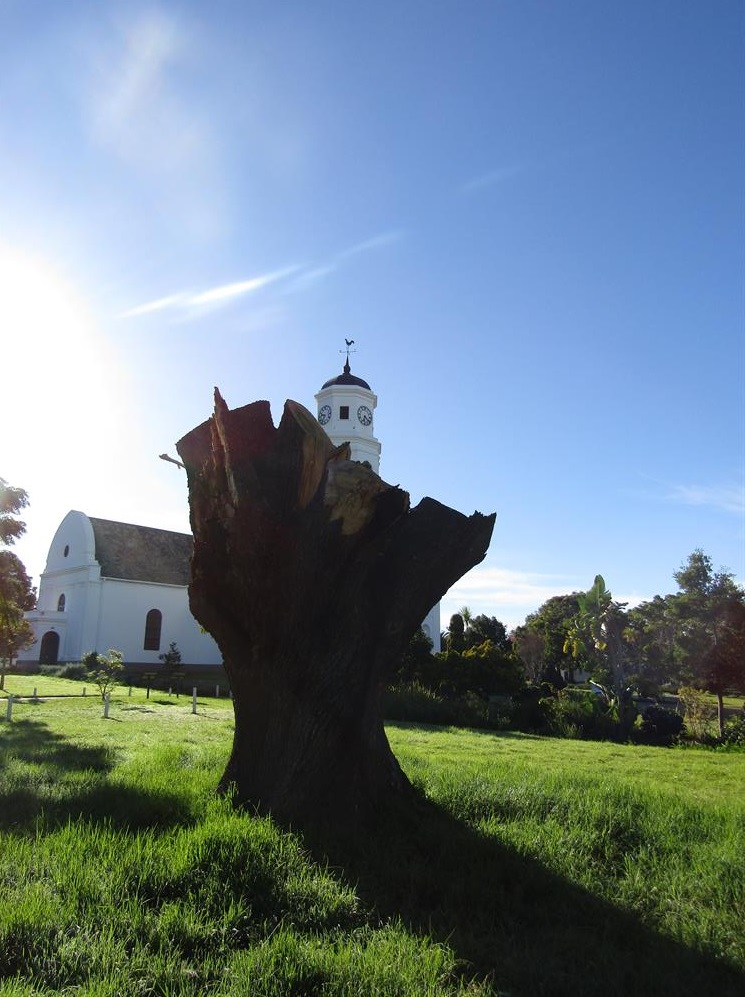 'n Gedeelte van die stam van die historiese ou eikeboom voor die NG Moedergemeente wat oorgebly het. Foto: Eugene Gunning
IN SHORT
Thanks to the observance of a resident of George the "survival" of a old historic tree for future generations is ensured. The old oak tree, that is planted in front of the Dutch reformend church in Courtneystreet died because of the PSHB (Polyphagous Shot Hole Borer) infestation.When Allison Holiday, a resident picked up 12 acorns in 2017 the tree was still alive and she could not have thought what would eventually happen. At that stage she didn't know that the tree will die. In a attempt to continue history by growing her own tree, she used the acorns and started a process. It wasn't easy but later there was healthy young trees. In March she gave two of the trees to the church.
Verwante artikels:
'Ons bring jou die nuutste George, Tuinroete nuus'