Gallery Update
GEORGE NEWS - The George Magistrate's Court was filled to the brim yesterday, Wednesday 25 July, as the pastor from King Williams Town, Melisizwe Monqo (30), his fiancé, Siphosile Pamba (25) and co-accused Phumlani Qusheka (28) appeared for their bail application.
The three suspects are implicated in the recent brutal murder of Hlompho Mohapi (25) from Thembalethu and face charges of fraud, robbery with aggravating circumstances and premeditated murder, a Schedule 6 offence. This means the accused must prove that exceptional circumstances exist which permit their release on bail. The state is opposing bail.
Monqo was first to testify in his bail application. He indicated that he will plead not guilty to the charges against him and did not want to discuss the merits of the case.
He told the court that he came to George with Pamba and Quesheka (his cousin) from King William's Town to discuss his wedding plans with his future in-laws who reside in Thembalethu. He was not sure of the date on which they arrived. He also had to return a rented vehicle in George.
The court heard that he earns around R8 900 per month from his own business. He said he also practised as a "preacher" and, depending on offerings, his salary was R20 000 to R30 000. At the time of going to print, he was still testifying.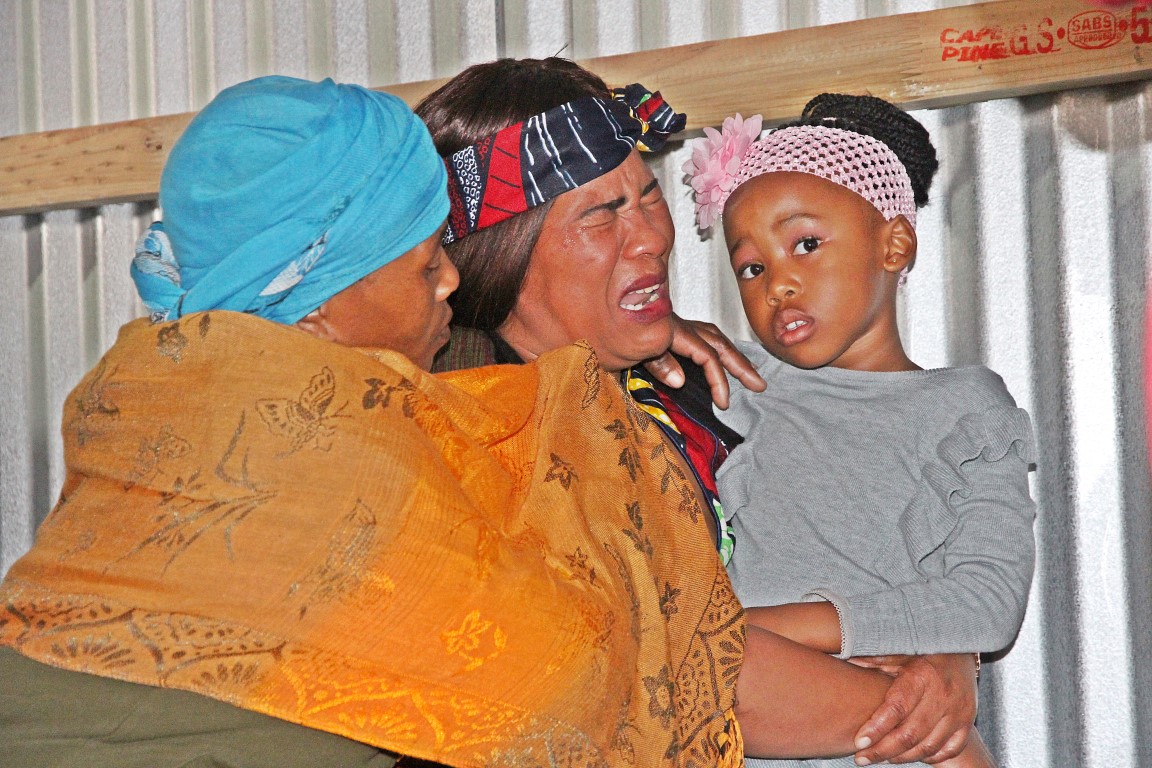 Hlompho Mohapi's mother, Patricia Koloi, grieving her daugther's untimely death while being consoled by her sister-in-law with one of Hlompho's daugthers, Bontle (5), on her lap. Photo: Kristy Kolberg
Legal Aid attorney Jenny Prins is appearing for Qusheka and her colleague, Clayton Sampson, is representing Monqo and Pamba. The state prosecutor is MP Heyns and the applications serve before Magistrate Phillip Mgwebile.
Murder
Mohapi's body was found on the gravel road that leads to Voëlklip near Herold's Bay on Thursday 5 July. She had multiple stab wounds to her chest and her throat was partially slit.
It is alleged that Mohapi was lured into a fake job interview at the George Airport on the day of her death.
Hlompho Mohapi was laid to rest during a very emotional service in Thembalethu last Saturday.
Possibly more policies
The George Herald earlier reported that greed was possibly the motive for Mohapi's murder. An insurance policy had allegedly been taken out on her life. Reliable sources told the George Herald this week that the identities of more individuals had been used without their knowledge in fraudulent activities involving life insurance policies.
Funeral
Mohapi was laid to rest last Saturday. Approximately 1 000 people attended the very emotional ceremony in Thembalethu. View a photo gallery here.
Read previous articles:
'We bring you the latest George, Garden Route news'