Update
GEORGE NEWS - Seven stab wounds to her chest and a gaping wound to her neck were the cause of Hlompho (Koloi) Mohapi's brutal death. Three penetrated her heart, one her liver and two went into her left lung.
According to state forensic pathologist Dr Mariette Hurst, who testified in the George Circuit High Court on Wednesday 14 October, Mohapi's death was caused by multiple stab wounds which caused her to bleed to death within minutes.
The court heard that the amount of blood on the scene also indicated that she was attacked on the spot where her body was found by a local fisherman, next to the gravel road leading to Voëlklip in Herold's Bay on 5 July 2018.
Although there was no indication of sexual assault, there was a tear of about 12cm on the right-hand side of her skirt's zip.
Among other charges, the three accused, Melisizwe Monqo, Siphosihle Pamba and Phumlani Qhusheka, are accused of murder, conspiracy to commit murder, attempted murder, fraud, robbery with aggravating circumstances and kidnapping.
Monqo pleaded guilty to 15 of the 29 charges against him. Pamba and Qhusheka pleaded not guilty to all charges.
Mohapi was allegedly lured to her death under false pretence of a job interview at George Airport. Life and funeral policies worth nearly R5-million were taken out on her name shortly before she was murdered.
A nurse who was duly authorised by the insurance company to draw Mohapi's blood on the day before her death also took to the stand on Wednesday morning. The court heard that she took a sample of Mohapi's blood at Thembalethu Square as arranged and was under the impression that the HIV test was required by an insurance company for a policy. She did not have any knowledge as to what policy it was.
However, Mohapi's boyfriend testified that he accompanied her to Thembalethu Square for her blood to be drawn for an HIV test, and his understanding was that it was a prerequisite for the job she was being interviewed for the following day, the day she was murdered.
The accused allegedly also attempted to kill another woman using a similar modus operandi in the Eastern Cape and also took out life and funeral policies at various companies on two other women's names without their knowledge. These incidents date back as far as 2017.
Police officers from Queenstown and King William's Town in the Eastern Cape testified this week, as well as a friend of Mohapi who was added as a beneficiary to one of these policies without her knowledge.
A total of nearly R30-million's worth of life and funeral policies were allegedly taken out on the intended victims' names.
The case serves in front of Honourable Judge Taswell Papier. Adv Evadne Kortjé is for the state, Adv Johan Visser (SC) represents Monqo, Adv Dawie Scholtz represents Pamba and Att Louise Luterek will be representing Qhusheka.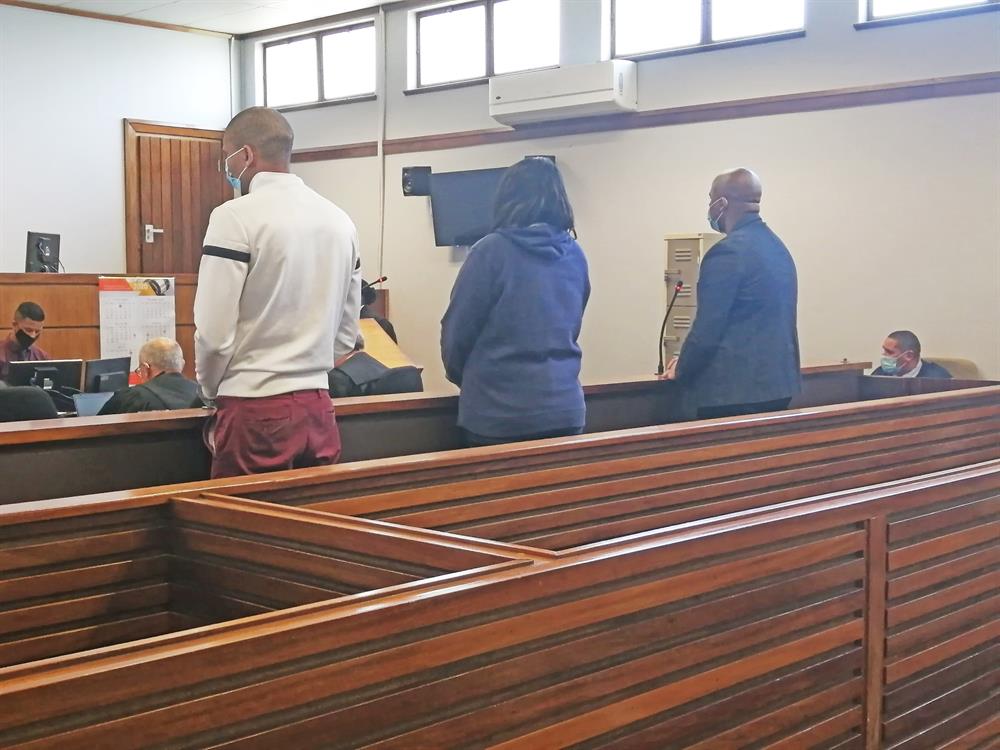 The three accused in court. Photo: Kristy Kolberg
Previous articles:
'We bring you the latest George, Garden Route news'