Update
GEORGE NEWS - George residents who yesterday witnessed taxis skipping red traffic lights at breakneck speeds – some even on the wrong side of the road – are shocked and outraged by the drivers' disregard for the law and road users lives.
An eye witness who works at a business in York Street told George Herald that other motorists literally had to drive onto pavements to make way for taxis hurtling down York Street towards the bus depot.
"Their actions were life threatening. Some taxis drove on the wrong side of the road and narrowly missed colliding with oncoming traffic. They also skipped red lights, causing other road users to slam on breaks. Something terrible could have happened."
He says he was so shocked that he did not think of grabbing his cellphone to record the hooliganism.
He said yesterday afternoon, when the taxis returned to the taxi rank in the CBD after the blockade at the depot, they again acted like road hogs. "I did not see any police escort as reported. If there were traffic police accompanying the taxis, then the speeding taxis left them behind. They must remember that they won't get any sympathy from the public of George for their permit problems if taxi drivers don't show respect for the safety of their fellow citizens. Not even in Gauteng, where I lived for many years, have I ever witnessed taxis driving like this."
Really scary
Another eye witness says he was on his way to a barber in Market Street when all of a sudden he was surrounded by speeding taxis. "I have never felt so threatened in George. The drivers' eyes were really scary and I feared for my safety. I still don't know how I managed to avoid a crash. I was shaking when they sped off."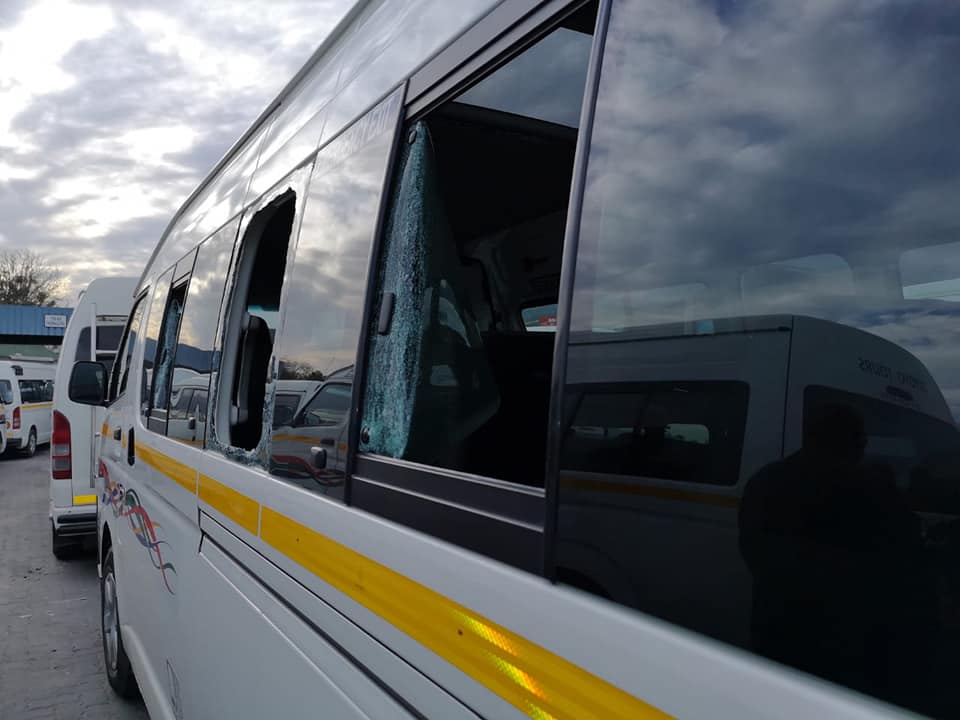 Taxis were damaged yesterday afternoon when police used stun grenades and rubber bullets in response to people throwing stones. Photo: Sphiwe Hobasi SABC journalist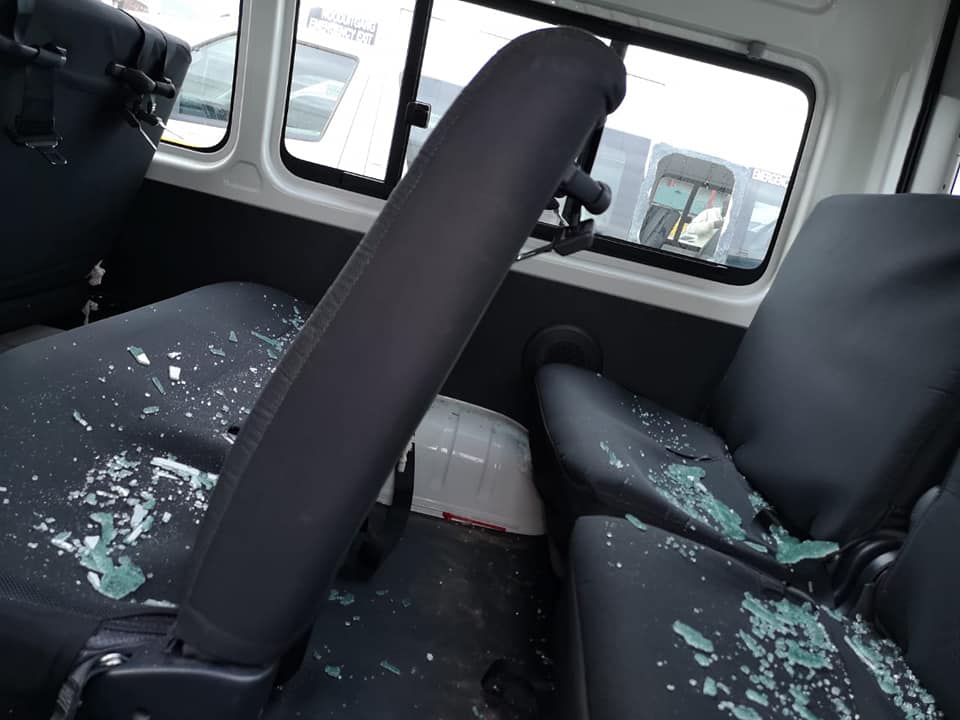 One man was apparently seriously injured when a rubber bullet hit him in the head. Photos: Sphiwe Hobasi SABC journalist
Southern Cape police spokesperson, Malcolm Pojie told George Herald journalist and Idinga editor, Zolani Sinxo, that 47 people were arrested yesterday afternoon (16 August) in connection with the public violence in the CBD. "Three of these arrests were for drunken driving."
A woman who was also caught in the middle of the speeding taxis, said in light of the myriad of road deaths involving taxis, this flagrant disregard for the law in George should be nipped in the bud. "The industry must be regulated. If you allow unlicensed vehicles without taxi permits to hit the roads, you are asking for trouble. People who provide transport must be responsible individuals driving roadworthy vehicles. My staff members do not want to make use of taxis anymore, but they often have no choice."
George Herald is attempting to get hold of the taxi leadership to obtain comment about their members' reckless driving.
17 taxis impounded
Sinxo reports that contrary to reports on national radio that 14 taxis were impounded yesterday morning leading to the standoff at the bus depot and in the CBD, the correct figure is six. A total of 17 taxis have been impounded since Monday. Four of these taxis were released after the owners paid the required fees, but one could not leave the depot as a tow truck was needed to move the vehicle out of the pound at the provincial depot.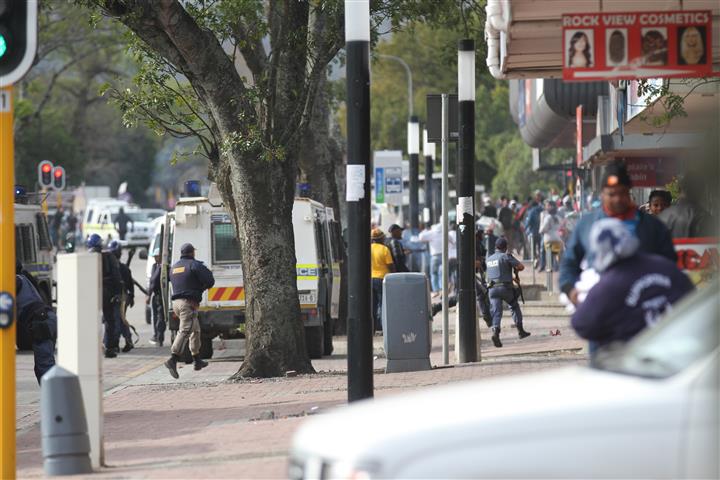 Chaos erupted in the CBD when the striking taxis drivers returned to the taxi rank yesterday afternoon and police used rubber bullets and stun grenades to restore law and order. Photo: Kristy Kolberg
Taxis back, but not happy
Although the taxis started operating today, Uncedo deputy chair Richard Tom said late yesterday that no agreement had been reached. "Things remain the same. We will continue to voice our concerns and are eagerly awaiting the plan for the way forward that was promised within seven days on Wednesday. We want to speak to George Mayor Melvin Naik and the head of the body responsible for the issuing of taxi permits." The provincial Department of Transport is responsible for the issuing of public transport operating licences.
Tom said many taxis were damaged yesterday afternoon in the clash with the police. "One of our Uncedo members were hit in the head by a rubber bullet and seriously injured."
'We bring you the latest George, Garden Route news'