Gallery Video
GEORGE NEWS AND VIDEO - A week ago all the attention was on Herold, a small farming community on the outskirts of the Outeniqua mountains, between George and Oudtshoorn.
When thick smoke clouds from behind the mountain started to worry Georgians, two George Herald reporters took a drive to the Herold area where the fire originated to have a look themselves. A that stage, there was no reason for panic.
The fire started late in the afternoon of Wednesday 24 October in Herold, on the northern side of the Outeniqua mountains. Fire services of George and Garden Route District Municipality were hastily withdrawn from Vermaaklikheid in the Hessequa district where they had been helping to contain fire since the previous day, Tuesday 23 October.
Watch a video below.
By Thursday 25 October thick smoke clouds were visible from the entry point to the Montagu Pass. In a time span of an hour the fire intensified noticeably. A temporary forward control centre had been established in the Herold post office.
Representatives of CapeNature, Working on Fire and the Western Cape Emergency Services gathered at the post office and were deployed in the area.
Brenden Mazwati, a farm worker in the area of Herold, said they had been watching the fire closely throughout the night.
"We never went to sleep," he said. Maureen Fourie, co-owner of Herold Wines, said the fire started to move to a portion of their farm earlier that morning.
"At this stage we are keeping a keen eye, but it's our neighbours who are most worried," she said.
Residents were cautioned by the Garden Route SPCA to be on the lookout for wildlife fleeing from the fires in the Denneoord and Glen Barrie areas.
Nearing danger. Flames and smoke threaten a farm house in Herold.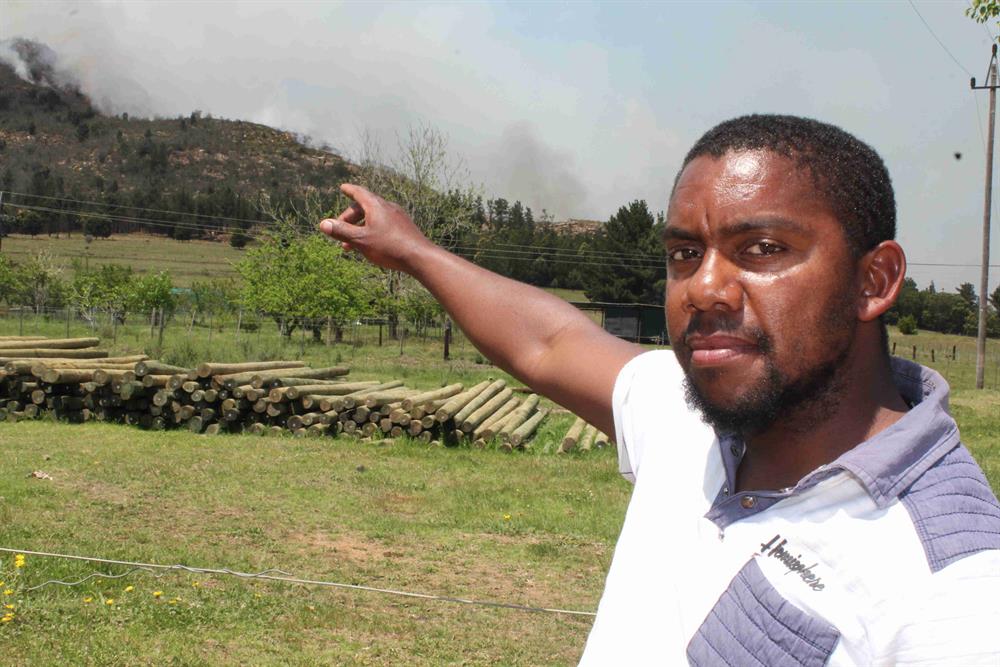 Brenden Mazwati, a tractor driver on a farm in Herold, points to a smoke cloud. Mazwati and his family monitored the fire throughout last Wednesday night, 24 October.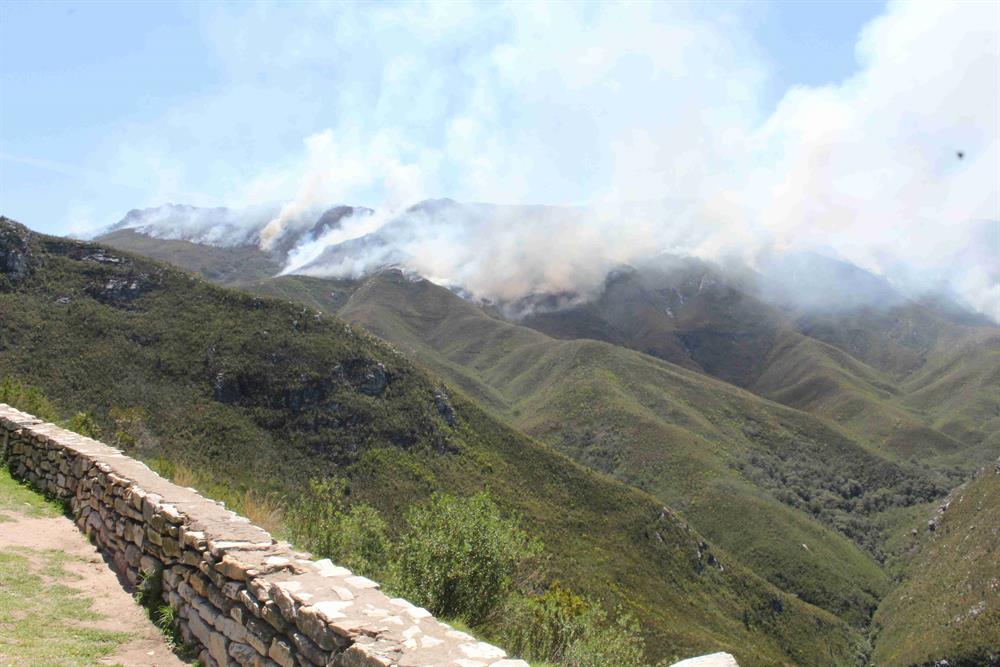 Smoke rising from the Outeniqua mountains last Thursday, 25 October.
Read previous articles:
'We bring you the latest George, Garden Route news'