TUINROETE NUUS - Eden-driekamp het by die Fairy Knowe- hotel in Wilderness sy tweede van hierdie seisoen se reeks oefenbyeenkomste vir senior atlete (12 jaar en ouer) aangebied.
In die senior mans-afdeling was dit Marsel Roos van Knysna en die Kwagga-leerder Christian Hattingh wat mekaar die stryd aangesê het. Roos het uiteindelik die fietsrybeen oorheers en die wenstreep eerste oorgesteek met Hattingh in die tweede plek. Hattingh se pa, Iniël, het derde geëindig en Ruan Venter vierde.
In die senior vroue-afdeling het nog 'n Knysna-atleet, Jessica Devine, wat eintlik nog 'n junior is, almal beïndruk met haar oorwinning.
Dit was haar eerste driekampbyeenkoms en hierdie talentvolle jong dogter sal in die toekoms met groot afwagting dopgehou word.
Die volledige uitslae was as volg:
Super sprint (400 m-swem, 10 km-fietsry, 2.5 km-hardloop):
Mans: 1. Hanno Maritz jr 2. Jan-Hendrik van Rooyen 3. Sebastian Swart.
Vroue: 1. Linél Engelbrecht 2. Vicky Roos 3. Mary-Jean Pieterse.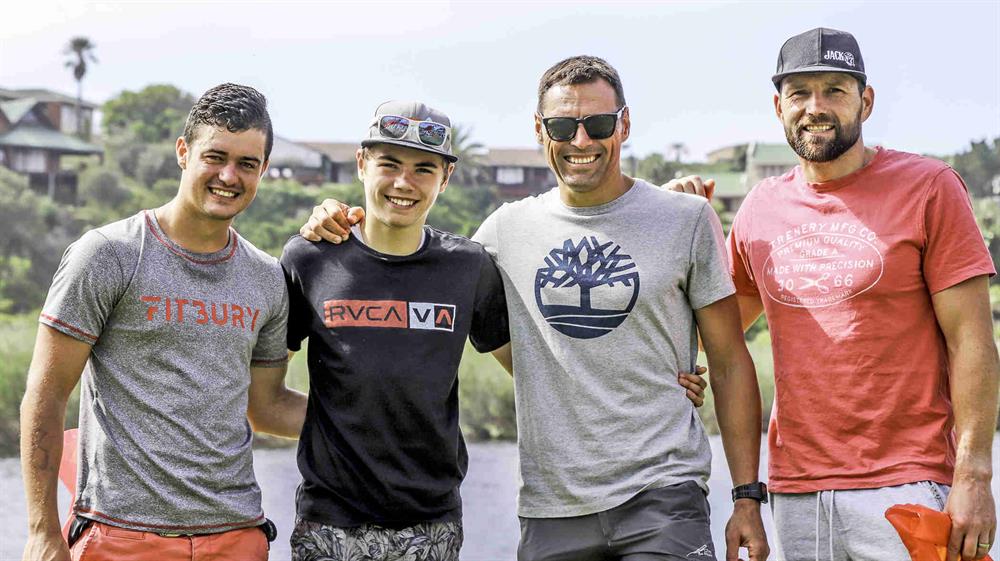 In die senior mans-afdeling het Marsel Roos (regs) van Knysna koning gekraai. Die ander topposisies is ingeneem deur, van links: Ruan Venter (vierde), Christian Hattingh, (tweede) en Iniël Hattingh (derde).
Sprint:
(750 m-swem, 20 km-fietsry, 5 km-hardloop):
Mans: 1. Marsel Roos 2. Christian Hattingh (1ste junior) 3. Iniël Hattingh.
Vroue: 1. Jessica Devine (1ste junior) 2. Annemarie Cronjé 3. Madré van Zyl.
Die volgende byeenkoms vir seniors sal op die 12 Januarie 2019 plaasvind. Almal is welkom, beginners ook.
Die manswenners in die Super sprint-kategorie, wat 'n 400 m-swem, 10 km-fietsry, 2,5 km-hardloop ingesluit het, is van links: Hanno Maritz (wenner), Jan-Hendrik van Rooyen (tweede) en Sebastian Swart (derde).
Christian Hattingh trap sy tweede plek los by die Eden-driekamp se tweede oefenbyeenkoms wat by die Fairy Knowe-hotel in Wilderness aangebied is.
Diegene wat nog nie 'n duikpak of padfietse het nie is welkom om met gewone swemklere en bergfietse deel te neem.
Spanne is ook welkom om in te skryf en op 'n aflosbasis deel te neem.
Belangstellendes kan vir Corné Hattingh van Eden-driekamp bel by 083 289 2544 of per e-pos by edentriathlon@gmail.com.
Hou ook gerus Eden Triathlon se Facebook-blad dop vir driekampgebeure.
Vicky Roos. Foto's: Deidre Cloete
'Ons bring jou die nuutste Tuinroete nuus'