NATIONAL NEWS - A Malawian gardener was quickly fingered as the suspect after being caught on CCTV camera with his three accomplices after robbing his employer's house on Sunday.
Alerted to the robbery by police, who found the car abandoned in Thamboville, Q section, the owner of the Porsche 911 said he had initially feared for his gardener's life when he got news of the robbery.
"We did not think of the loss of our possessions. All we could think about was the safety of our gardener who was at the house and has been in our employ for several years. It was most devastating to discover that he was behind the robbery," said the attorney.
Full of praise for the police officers involved in the case and the apprehension of two suspects on Tuesday night, the attorney said he was more than impressed with the dedication and commitment of the police officers.
"These police officers worked above and beyond the call of duty, going the extra mile to ensure that this matter was tied up. My faith in the police is more than restored and praise must be given to them or working on this case around the clock," said the attorney.
Police, in a joint operation with the Mountain Rise Vehicle Task team and the SACCW, arrested two suspects after receiving information from crime intelligence.
Police said initial information was received from crime intelligence about a stolen vehicle that was hidden in Thamboville, Q section on Sunday. It was then established that the vehicle was stolen from the attorney's house in Oak Park early on Sunday morning, together with an undisclosed amount of cash in the safe, jewellery and accessories.
The operational team followed the information to the Thembalihle area, where four suspects were positively identified.
On Tuesday night, acting on the information, the team went to the area where the suspects were and upon arrival, identified the suspects' room. Wristwatches matching the description given by the attorney, school bags with the attorney's children's names and other items from the house were found in the room.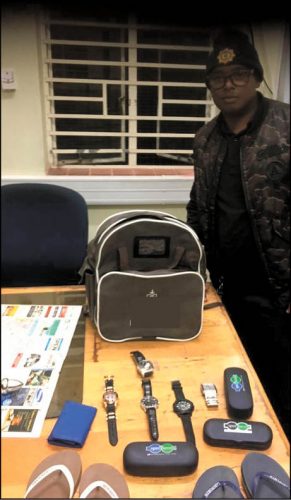 Constable A Smith with some of the stolen and recovered items.
Constable A Smith with some of the stolen and recovered items.
Two suspects were arrested during that operation, although the gardener and his brother are still on the run, and were last seen in KwaMpumuza on Sunday.
Mountain Rise Police Station commander Brigadier Boxer Pillay was also full of praise for the police officers.
"I would like to commend the members for their outstanding work and diligence in this matter, for going the extra mile and for ensuring suspects were arrested," said Pillay.
Police officers involved in the matter included: Capt Sada Pillay, warrant officers Shawn Naidoo, Ruben Naidoo, Vinod Lakram, EJ Pienaar, Lenny Nalotharan, Allan Munsamy, constables SK Mbelu, J Naidoo, A Smith, Bengover and Mbokazi.
The arrested suspects are expected to appear in court soon.