Update
GEORGE NEWS - The task team that has been established to secure and look at options to address issues pertaining to the Voëlklip road, has asked Province that the road be temporarily closed for traffic until it can be secured.
The reason for application of temporary closure is to avoid cars going over the cliff in the immediate future. This planned closure will only be implemented during construction of safety measures.
According to Ken Field of the Herold's Bay Residents and Ratepayers Association, who is also part of the task team, they are awaiting feedback from Province.
This comes after yet another vehicle, the second within a month, has crashed down the cliff at a viewpoint about 1km from Voëlklip, called Hansie se Bank.
Also read: Is dit die einde van die pad vir Voëlklip?
In the meantime big boulders have been placed on the open "parking area" at the scene to deter people from driving there.
Although the road itself is seen as safe if driving responsibly, the task team is in the process of putting up safety measures in an attempt to avoid people driving over the edge of the cliff.
The latest incident was on Saturday 20 February when two 75-year-old women from the Krugersdorp area in Gauteng, who booked into a guest house in Herold's Bay on 17 February, died at the same spot where Heidi Scheepers and her children went over in 2019 and a mother and her daughter from George lost their lives in January this year.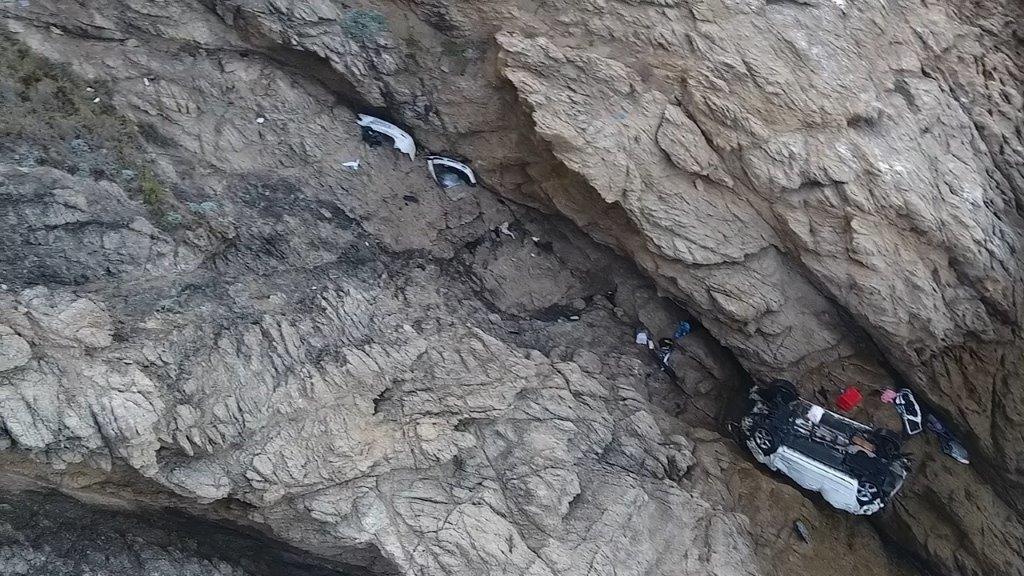 The white Mazda at the bottom of the cliff. Photo: Wynand Britz
Two firearms, registered in the elderly ladies' names, were also found in the white Mazda they were travelling in.
An eyewitness who was walking his dog with his granddaughter on Saturday afternoon, said that they heard what sounded like two shots being fired before the vehicle crashed down the cliff.
A Facebook page, Save Voëlklip, has also been established by members of the public in an attempt to somehow secure the road without it being closed permanently.
Related article: Task team established for Voëlklip Road
'We bring you the latest George, Garden Route news'