GEORGE NEWS - The road to the Voëlklip viewpoint in Herold's Bay remains open for now.
Following a site visit by George Mayor Leon van Wyk, members of the mayoral committee, various officials and role players, a task team has been established to look at options to address issues pertaining to the road.
This comes after yet another vehicle went over the edge at Hansie se Bank, approximately 1km from the Voëlklip viewpoint, on Thursday 21 January. The driver, a 34-year-old mother, had her son (8) and daughter (2) with her in the car.
The boy was allegedly flung from the car as it rolled before it went over the edge of the cliff. He managed to flag down a passing car for help soon after the incident at about 12:00. The mother's body was recovered from the water shortly after the incident.
According to Southern Cape police spokesperson, Capt Malcolm Pojie, periodic search patrols continue between Wilderness and Glentana with the focus on Herold's Bay and the Voëlklip area to find any sign of the little girl.
This is the fourth vehicle that has gone over the cliff since Heidi Scheepers and her two children went over the edge, also at Hansie se Bank, in October 2019.
On 3 December that year Zonita Basson died when she drove off the cliff at the Voëlklip viewpoint and on Wednesday 29 January 2020 emergency services were summoned after eyewitnesses saw a man in a white Ford Ecosport drive down the cliff at the same viewpoint.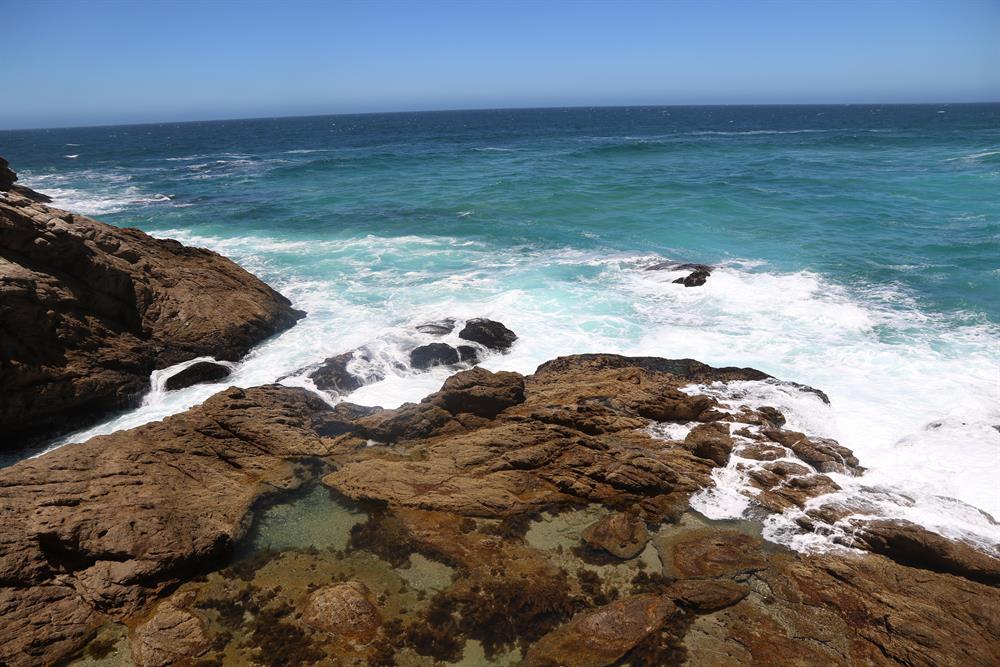 The watery grave at the foot of Hansie se Bank on the road to the Voëlklip viewpoint in Herold's Bay. Photo: Kristy Kolberg
Private land and planned task team
"The land in question is privately owned with jurisdiction for the gravel road falling under provincial administration," said Van Wyk in his mayoral address during the first council meeting of the year on Thursday 28 January.
"Even though the municipality has no legislative role or jurisdiction over the matter, we wish to prevent any further incidents as far as possible and will take the leading role in coordinating the activities of the task team. We extend our deepest sympathies to the bereaved family," he said.
ACDP Councillor Johan du Toit said his party understands the road cannot be closed, but suggested rocks be placed in strategic places to discourage people from driving over the edge.
In response to a media enquiry, municipal spokesperson Chantel Edwards-Klose said the municipality continues to facilitate discussion around the matter with the relevant stakeholders within the limits of the municipal mandate.
These include the Department of Environmental Affairs, Western Cape Provincial Transport and Public Works, Heritage, Herold's Bay Ratepayers Association and the owner of the property.
Related article: Is dit die einde van die pad vir Voëlklip?
'We bring you the latest George, Garden Route news'