GEORGE NEWS - A combination of gale force winds and extremely dry conditions fanned fires that raged out of control in various locations in the Southern Cape since the early hours of yesterday morning. The Eden District Municipality fire fighters, the local fire brigades, Working on Fire and MTO battled the wild fires around the clock.
A farm worker, his wife and their son died in a fire near Rheenendal that was still raging out out of control by yesterday afternoon when the George Herald went to press. By late afternoon the fire was nearing the outskirts of Knysna from the west and Belvedere residents were evacuated. Just before going to press reports came in of houses at the estate being gutted.
By mid afternoon in George, 32 informal structures had lost their roofs due to strong winds and the George Fire Brigade had attended to 26 fires in George and surrounding areas, according to George Municipal Communications Head, Chantel Edwards-Klose.
Veldfires were raging in Hoekwil, Serpentine Heights and Touwsranten and the Hoekwil Road leading up to Serpentine Heights was closed as flames higher than 15 metres engulfed the area. Residents of Lakes Road were worried that the fire were getting out of hand.
Hoekwil residents Peter and Crystal Broughton, whose 181 Hoekwil Road house was in direct line of a runaway bush fire, prepared to evacuate at 13:15, reported George Herald journalist, Pauline Lourens.
Mr Broughton told her that the George Fire Brigade managed to curb the fire, but he was taking his wife and animals down to Wilderness. "The situation is bad and if the fire jumps the dirt road, our house will be in danger of burning down. All the fire services are here fighting the fire."
At about 15:00, a report came through that this fire was out of control and the fire had jumped the road and was burning towards the residential area.
In the Knysna, Rheenendal and Karatara area various fires were out of control by yesterday afternoon. The N2 between Bitou and Knysna had been closed early yesterday because of a fire in the Kruisfontein plantation which was moving towards Bitou later in the afternoon. Thirteen houses at Springveld were evacuated. Four houses burned down in the Karatara fire. A fire was also moving towards Belvedere and Brenton-on-Sea.
Eden Disaster Management also reported fires at De Hoop/Kouga in the Uniondale area, Friemersheim (Mossel Bay), Herbertsdale, Kruisrivier in Hessequa, Herbertsdale, Gwaing on the R102 near George, and in Herold. Fire brigades and emergency services were stretched to their limits and Eden DM requested assistance from the Overberg District Municipality.
Evacuation of the Child Welfare safe house in Blanco was considered on Tuesday at about 17:30 when a veldfire on the next door property came close to the boundary wall, but the fire brigade was on the scene fast to put it out.
The George Fire Brigade had their hands full in assisting residents whose homes were damaged by the wind and removing uprooted trees. Damage to dwellings was reported in Thembalethu, Borcherds, Conville, Parkdene, New Dawn Park, Ramaphosa, Maraiskamp, Rosedale, Syferfontein and Blanco. Power interruptions were rife, especially in Thembalethu.
George Herald journalist, Michelle Pienaar reported that residents of the Malgas township in Fortuin Street, Blanco, endured a sleepless night on Tuesday, fearing the collapse of blue gum trees near their homes. Connie Arendse, one of the township residents, said two shacks were completely destroyed and several others damaged by huge trees which fell on the dwellings during the storm yesterday morning. "We can be glad no-one was seriously injured. Two children narrowly escaped with their lives," said Arendse.
Electricity disruptions affected many areas through the whole Eden district, and some areas in George.
GO GEORGE had only minor delays on certain routes, but was otherwise fully operational. The Western Cape Education Department ordered all public schools to be closed on Wednesday.
Warning
Weather SA issued a warning of strong damaging winds and storm surge along the coastline between Alexander Bay and Bitou until late tonight, Thursday 8 June. George Municipality requested residents to secure items around their homes, clear gutters and drains, and be cautious when travelling.
Click here for related articles:
Sandra Pieterse and Koos Whites in the doorway of their shack in Malgas township in Blanco, in Fortuin Street. Yesterday morning an enormous blue gum tree collapsed onto their home. The tree narrowly missed Pieterse's grandson, Lovo (11), while he was still asleep in his bed. Photo: Michelle Pienaar
The fire rages west of Knysna at Belvedere. Photo: Mark Taylor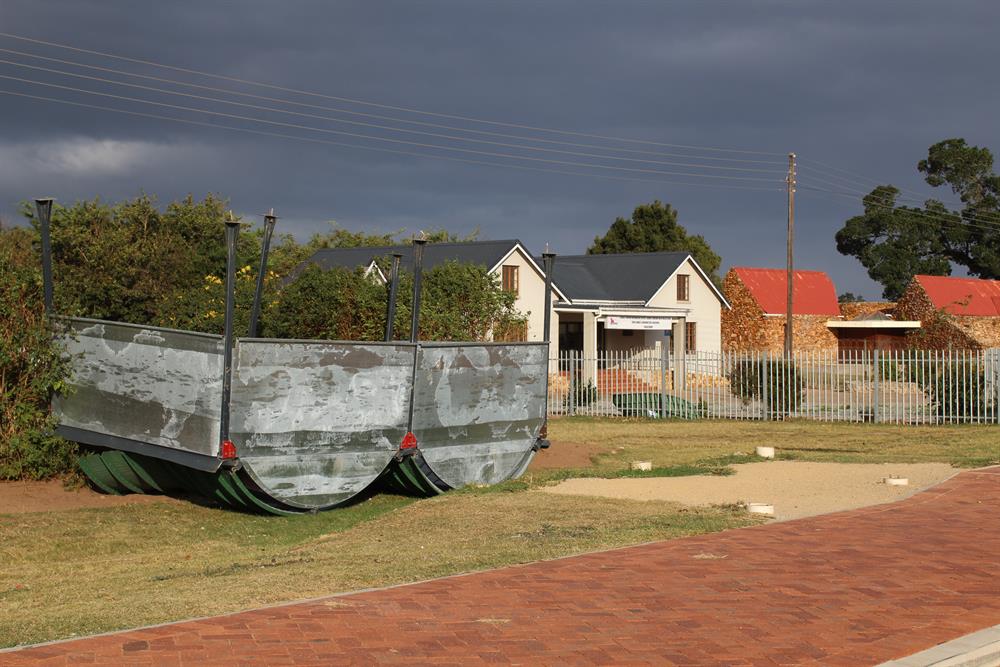 This GO GEORGE bus shelter in Pacaltsdorp was completely uprooted. Photo: Lizette da Silva
ARTICLE: ALIDA DE BEER, GEORGE HERALD JOURNALIST
'We bring you the latest George, Garden Route news'