GEORGE NEWS - The George Municipality reported a dam level reading of 95,54% today, Wednesday 7 February.
5,5 mm of rain fell over the past 7 days.
Residents and visitors must, however, take note that Section 2b restrictions remain in place in George and surrounds until further notice.
"The George Municipality's mandate is to ensure water security for its own people, which means a goal of water supply of at least a year," said Municipal Manager, Trevor Botha.
"However, we are mindful that others may soon need our help to survive and saving water wherever we can, may ultimately be about more than just supplying the current population of George."
Botha added: "The municipality chooses to be proactive in its water conservation efforts with the hope that our water remains secure for our own people, but with the consciousness that the bigger picture may be outside our control. We must continue to save water and spread the word that drinking water is a very precious resource that must be treated with respect always."
What 2b water restrictions mean:
• Handheld watering of gardens using a hose and municipal water: even-numbered households Mondays and Thursdays, 19:00 - 21:00 AND uneven-numbered households Tuesdays and Fridays, 19:00 - 21:00.
• Mechanical irrigation of gardens (sprayers) using municipal water is prohibited.
• Watering sports fields using municipal water is prohibited, except for golf course greens, bowling greens and cricket pitches, daily 19:00 - 21:00.
• Filling up of swimming pools using municipal water is prohibited.
• Washing cars with a hose using municipal water is prohibited (buckets allowed), except for commercial car washes.
• Cleaning of outside surfaces using a hosepipe with municipal water is prohibited (buckets allowed).
• "OWN WATER" signage must be displayed where applicable and must be proven on request by municipal officials.
• Applications for exemption of some restrictions may be considered on merit.
Report water leaks and burst pipes to 044 801 9262 or after hours at 044 801 6300.
Report contraventions of water restrictions on 0800 424 277. Fines may apply.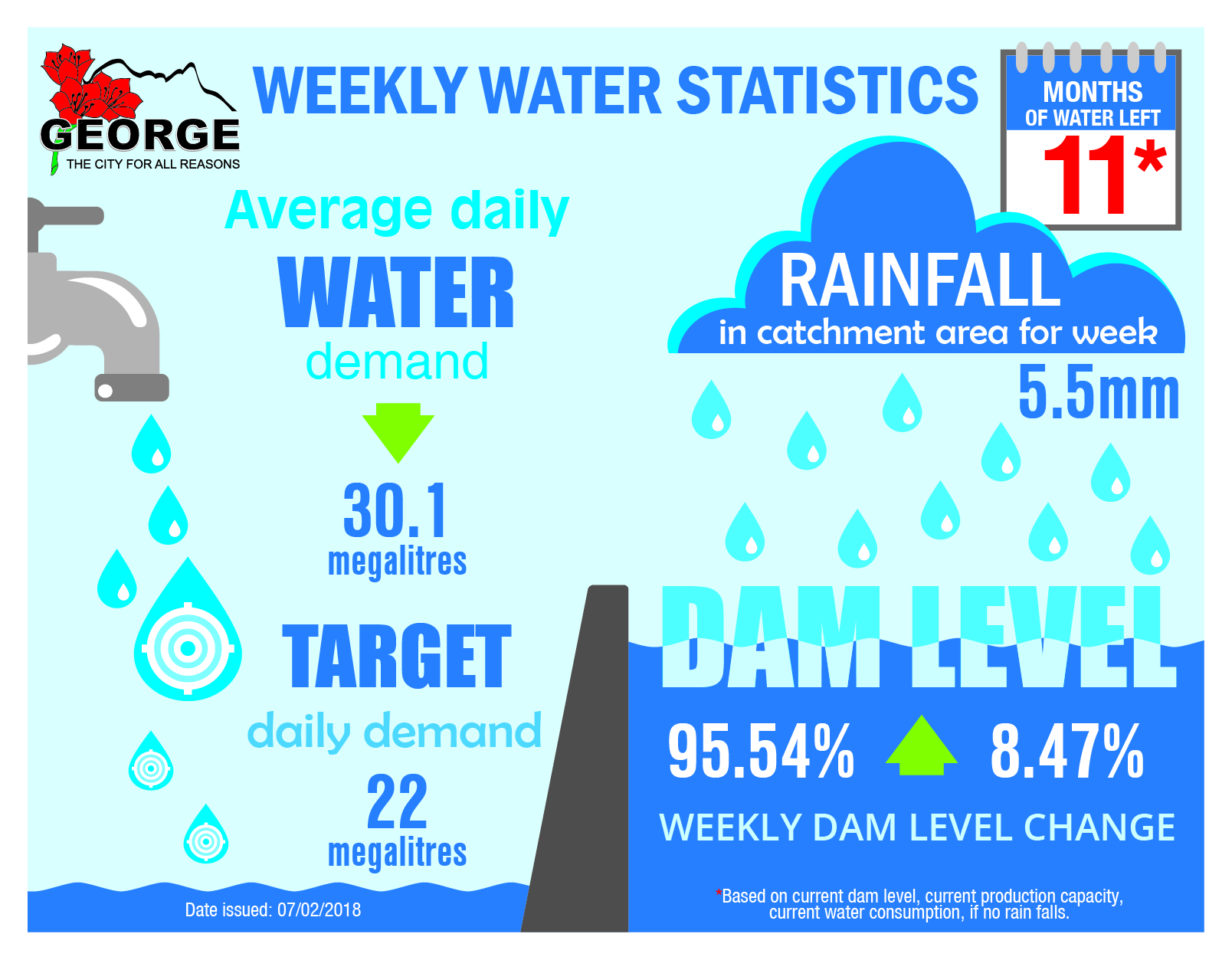 Infographic courtesy of George Municipality.
Read related articles:
'We bring you the latest George, Garden Route news'