GEORGE NEWS - Section 2B restrictions are expected to remain in place in George for the foreseeable future as the city pursues water security of supply for at least a year.
The city currently has 9 months' supply.
The latest reading of the Garden Route Dam level (taken this morning, Wednesday 17 January) is 76%.
George Municipal Manager Trevor Botha said while the region has had much rain since September and the Garden Route Dam level was above 75%, the municipality had a long-term approach to water security.
"Water users tend to relax once they see the dam level rising and do not save as consciously.
"With a long, hot summer, we must think long term and save whatever we can."
He added: "The George Municipality's first water security goal is water supply for at least a year - based on the dam level, production capacity and water consumption, if no rain falls.
"The current supply of nine months' water is based on an average use of water of 30 megalitres per day – which is much more than the 22 megalitres target required for us to reach that one-year's water supply goal in the near future.
"We therefore ask residents and visitors to keep on treating our drinking water as a precious resource.
"While the 15 kilolitre per household limit does not have emergency tariffs linked to it under the current 2B restrictions (they apply on 2C), we encourage all households to try making 15kl their permanent household goal, which in turn will go a long way in securing long-term water security."
Botha added: "The same applies for businesses – if they can continue aiming for saving 15% of their average monthly water consumption, and making water saving a lifestyle, our overall water supply is more likely to reach the one-year target."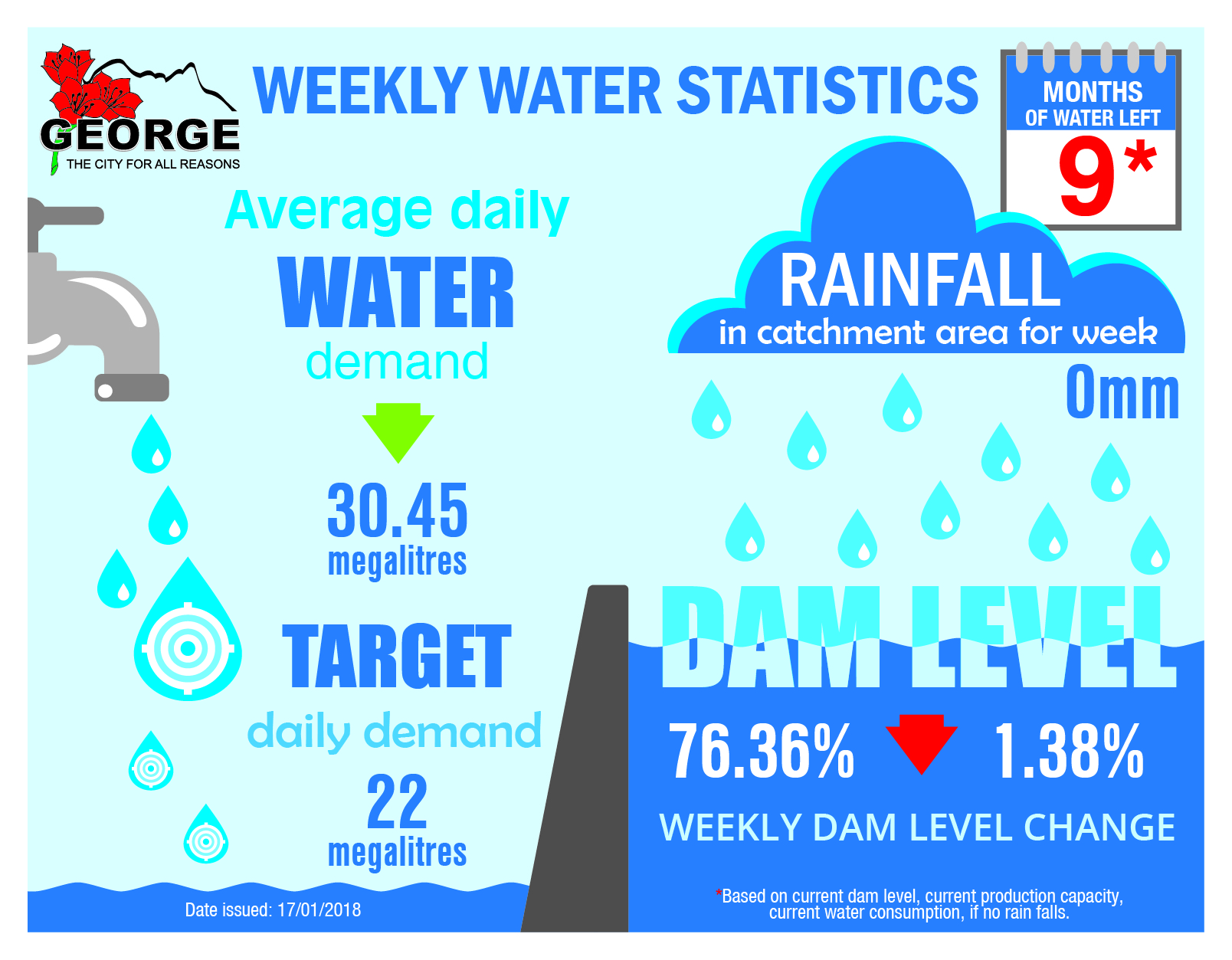 THE FOLLOWING SECTION 2B WATER RESTRICTIONS CURRENTLY APPLY IN GEORGE AND SURROUNDS:
• Handheld watering of gardens using a hose and municipal water: even-numbered households Mondays and Thursdays, 7pm-9pm AND uneven-numbered households Tuesdays and Fridays, 7pm-9pm.
• Mechanical irrigation of gardens (sprayers) using municipal water is prohibited.
• Watering sports fields using municipal water is prohibited, except for golf course greens, bowling greens and cricket pitches, daily 7pm-9pm.
• Filling up of swimming pools using municipal water is prohibited.
• Washing cars with a hose using municipal water is prohibited (buckets allowed), except for commercial car washes.
• Cleaning of outside surfaces using a hosepipe with municipal water is prohibited (buckets allowed).
• "OWN WATER" signage must be displayed where applicable and must be proven on request by municipal officials.
• Applications for exemption of some restrictions may be considered on merit.
Report water leaks and burst pipes to 044 801 9262 or after hours at 044 801 6300, as soon as you notice them.
Report contraventions of water restrictions on 0800 424 277. Fines may apply.
Read related articles:
'We bring you the latest George, Garden Route news'