GEORGE NEWS - Section 2C water restrictions and emergency tariffs will remain in place in George for the immediate future, regardless of the rise of the Garden Route Dam level to above 60% following good rains in recent weeks.
The official dam reading, taken by the George Municipality this morning, is 60.77%.

George Municipal Manager Trevor Botha said the municipality recorded 248.5mm rain since the dam dropped to its lowest at 42.02% on 16 August 2017.
"While this is very good news, water security remains of paramount importance ahead of summer and the upcoming holiday season and water restrictions will be here for some time to come. We appeal to all people who live, work and play in our city and region to continue saving water in all possible ways."
The George Municipality Drought Management Plan stipulates Section 2C requirements (which limits households to 15 kilolitres per month before emergency tariffs are charged) stay in place for at least two months from the time the Garden Route Dam rises to above 45%, which was confirmed on 18 September 2017 – provided the conditions consistently remain above the Section 2C requirements and the town's immediate water security remains satisfactory.
The two-month period ends on 18 November 2017, which coincides with the summer holiday period, which will be one of the factors considered before a decision is made regarding restriction measures.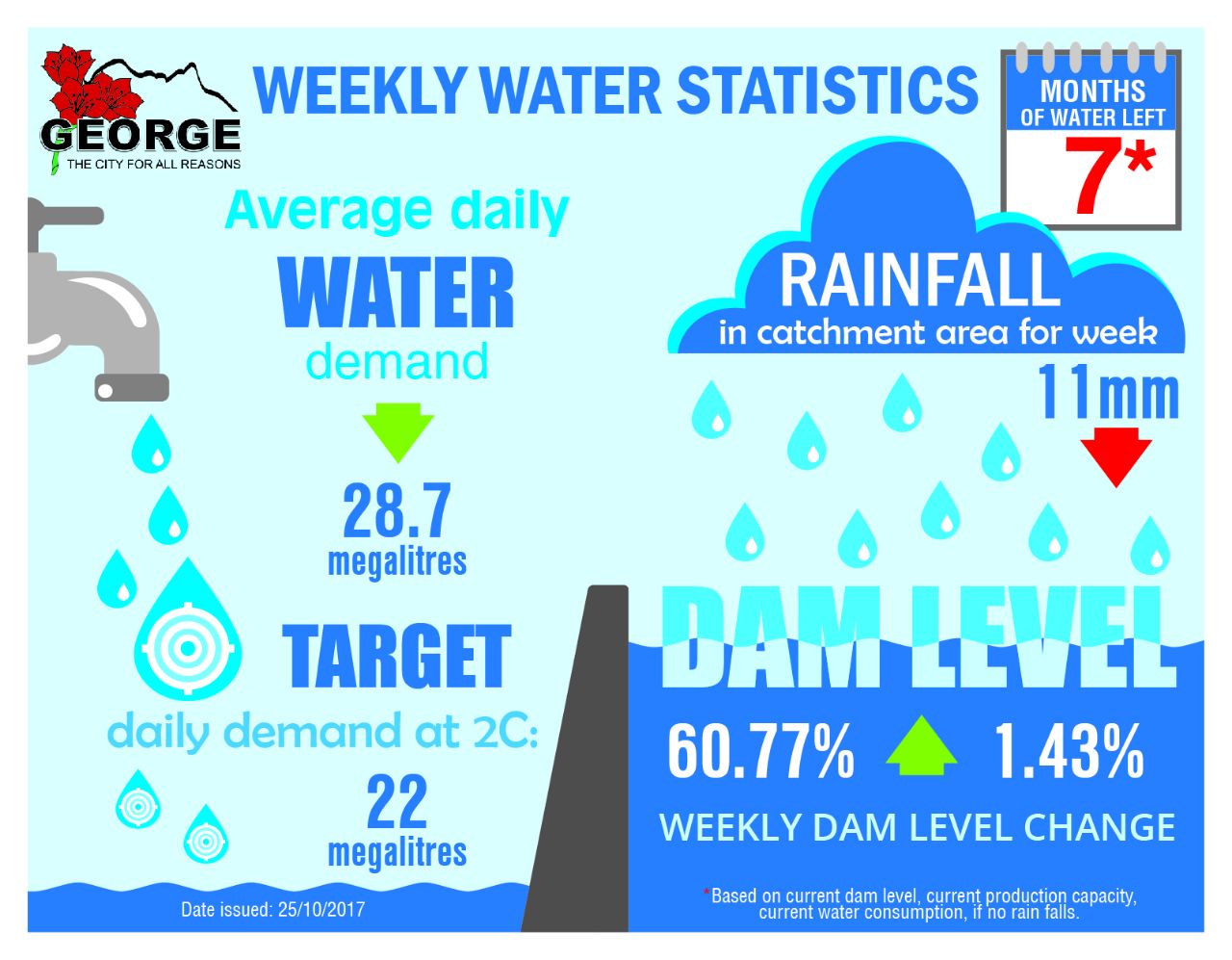 Infographic courtesy of George Municipality.
Read related articles:
• Update: Garden Route Dam level
• Garden Route Dam Level update
• Dam level over 50%, restrictions remain
• Water restrictions still in place
• Business guide to water restrictions
• George citizens must halve water usage
'We bring you the latest George, Garden Route news'