Video
GEORGE NEWS AND VIDEO - While the George Municipality will be lifting emergency tariffs and some water restrictions on Saturday 18 November, a stern warning has been issued for the public to keep saving water to maintain water security through the summer holiday season and beyond.
George Municipal Manager Trevor Botha said the Garden Route Dam level has remained over 45% for two months since 18 September, which, according to the George Drought Management Policy, meant Section 2B restrictions could be reinstated.
George is currently implementing Section 2C restrictions which carry with them financial penalties for exceeding the 15 kilolitre monthly household limit, and does not allow watering of gardens or any exemptions for water-dependent businesses.
The official dam reading, taken by the George Municipality today, Wednesday 15 November, is 66,5%.
"While George has received relatively good rain over the past few weeks and our main water source, the Garden Route Dam, has steadily risen to where some restrictions can be lifted, we want to stress this is not a ticket to start using water without care. We expect an influx of tens of thousands of additional, potential water users into our municipal area over the summer holiday period and will continue to appeal to all who live, work and holiday here to respect that our region and province are experiencing a water crisis and that our resources need protection."
Water saving lifestyle
Botha said many households and businesses have made great efforts to reduce their municipal water usage since restrictions were implemented, for which he has great appreciation and admiration.
"The municipality hopes they will keep up the good work and inspire others to follow suit so water saving becomes a lifestyle, not just a measure during drought and crisis. While there will be no emergency tariffs linked to water usage when Section 2C restrictions are lifted, water usage targets such as 15 kilolitres per month and an overall reduction of 15% for businesses are great goals to have, irrespective of the water situation, and will contribute immensely towards George's long-term water security," said Botha.
From Saturday 18 November, the following restrictions (Section 2B) will apply:
• Handheld watering of gardens using a hose and municipal water: even-numbered households Mondays and Thursdays, 19:00 - 21:00 only; uneven-numbered households Tuesdays and Fridays, 19:00 - 21:00 only.
• Mechanical irrigation of gardens (sprayers) using municipal water is prohibited.
• Watering sports fields using municipal water is prohibited, except for golf course greens, bowling greens and cricket pitches, daily from 19:00 - 21:00.
• Filling up of swimming pools using municipal water is prohibited.
• Washing cars with a hose using municipal water is prohibited (buckets allowed), except for commercial car washes.
• Cleaning of outside surfaces using a hosepipe with municipal water is prohibited (buckets allowed).
• 'OWN WATER' signage must be displayed where applicable and must be proven to municipal officials on request.
Applications for exemption of some restrictions may be considered on merit.
Report water leaks, burst pipes and other water-related concerns to the Civil Engineering Department on 044 801 9262 or after hours on 044 801 6300, as soon as you notice them.

Contravention of water restrictions can be reported on 0800 424 277. Repeat offenders may pay up to R4 000 per offence, depending on the offence, or may be jailed for up to six months if found guilty.
Watch a video below.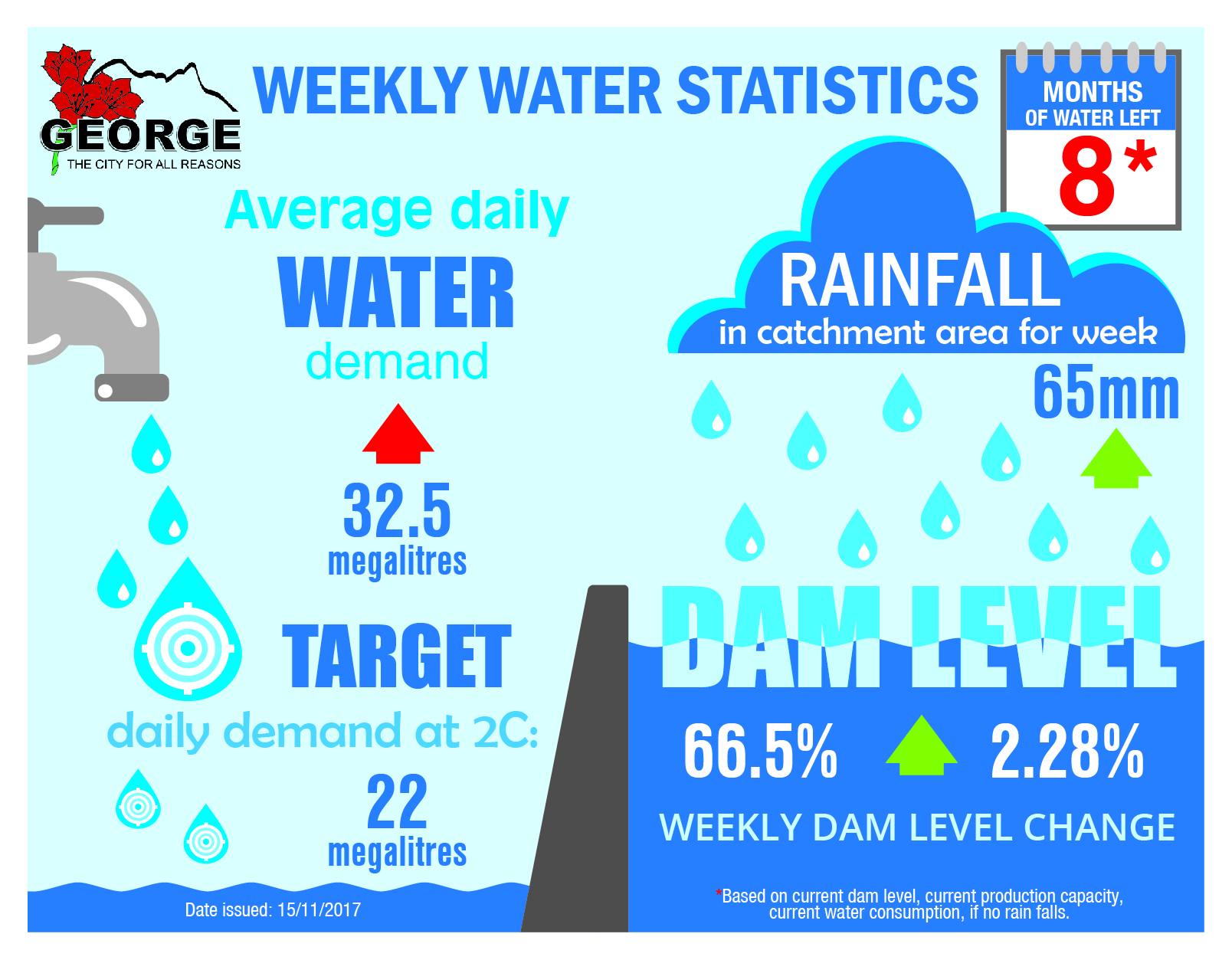 Read related articles:
'We bring you the latest George, Garden Route news'