GEORGE BOWLING NEWS - A field of 24 ladies and 33 men participated in the George Bowling Club's annual Trips Competition where some excellent bowling was seen.
After some seriously competitive bowls in the round robin on Saturday, the winners of each section went through to the play-off the next day.
The final round saw Mike McCarthy's team of Dawie Davis and Neil Abrahamse trying valiantly to put away Doc Park and his team, Francois Lamprecht and Lang Jan Pretorius. Lamprecht took advantage of McCarthy not being on form (due to a bad night's sleep), giving a brilliant performance that helped his team to score a comfortable win of 18-12.
During the ladies' afternoon game, Martie Pringle, Annemarie Palmer and Joey Booysen played beautiful bowls, amid much joviality, and beat the team consisting of Gene Malan, Christine Vermaak, and Colleen van Rooyen convincingly.
The men's final was fiercely contested, with Peter Lazenby, ably assisted by Danie Zaaiman and novice Erwee Harding-Male, determined to come out on top. This was however not to be as with Lamprecht skipping, novice Pretorius also brought out his best and secured a 19-15 victory for Doc's team.
Lamprecht, the talk of the club, is now the proud winner of both the club pairs and trips on consecutive weekends.
The runners-up of the Ladies Trips, from left: Christine Vermaak, Gene Malan and Colleen van Rooyen.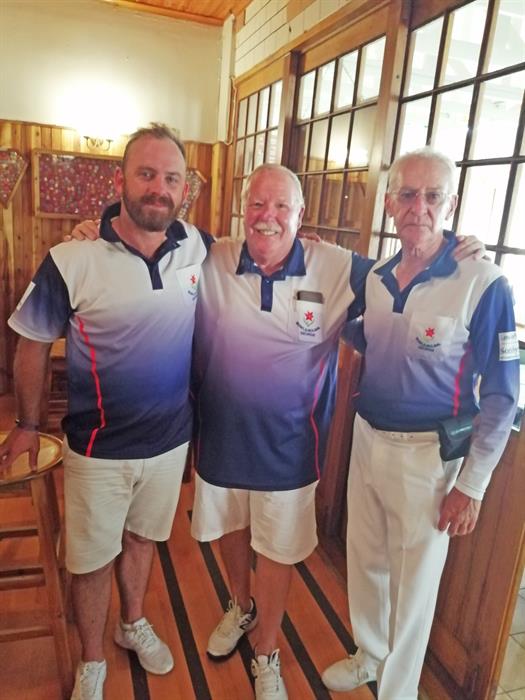 Erwee Harding-Male, Peter Lazenby and Danie Zaaiman were the runners-up in the Men's Trips.
The winners of the Ladies Trips with their trophy, from left: Annemarie Palmer, Marthie Pringle and Joey Booysen.
'We bring you the latest George, Garden Route news'