GEORGE FOOTBALL NEWS - The ruthless Black Cats Football Club, under the leadership of head coach Bazil Mavukwana and Captain Viwe "Mr Cool" Mawindiwere, were crowned as the new Safa Eden Regional League champions on Sunday. They sank Young Blues FC with a massive score of 10-1 at the Lawaaikamp Stadium in George.
The Black Cats will now compete in the Western Cape ABC Motsepe League provincial playoffs later this year.
The Lawaaikamp giants played fifteen games with fourteen victories and one draw, scoring 54 goals and conceding only 15, ensuring a comfortable spot at the top of the table with 43 points.
While the struggling Young Blues managed to win two games, with five draws and seven defeats after 15 games, they find themselves in a dangerous relegation zone position at 16th on the table.
The Lawaaikamp derby game got off to a good start with both teams looking sharp on the ball, but the Cats were simply too strong and the first half ended 6-0.
The second half started off on fire with Black Cats creating more goal-scoring opportunities.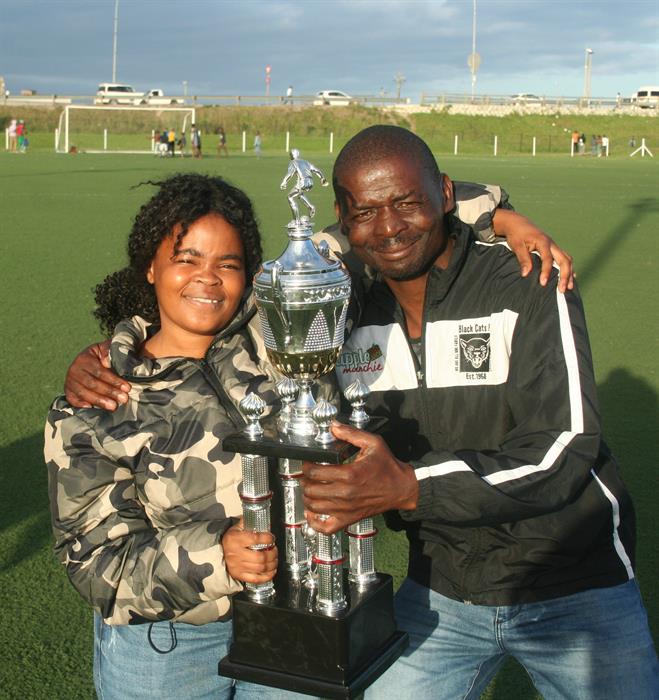 Black Cats head coach Bazil Mavukwana and Nosipho Gwegwe celebrating the Safa Eden Regional League victory. Photos: Zama Gagu
Young Blues players could not deal with the speed of the Black Cats strikers who kept pressuring the Young Blues defenders. The Cats scored four more goals during the second half, sending Young Blues FC, who only managed one goal, to the lower Geolfa division.
Speaking after the game, a jubilant Mavukwana said training hard every day, discipline and respect for the game had paid off.
"Starting the season on a high note gave us the upper hand. We are looking forward to the Western Cape ABC Motsepe League provincial playoffs." Mavukwana said Black Cats will play in the Safa Eden Regional League Top 8 in Oudtshoorn at the end of May.
"The Top 8 competition will help our team prepare for the playoffs later this year."
The victorious Black Cats Football Club is a force to be reckoned with.
Safa Eden weekend results:
Paris United 2-1 Burning Fire
Black Cats 10-1 Young Blues
Simunye 4-0 Parks United
Peace Makers 5-1 Benfica
Moonlight 1-1 Infantry School
Young Pirates 2-1 Eastern City
United Brothers 5-1 Oriented Birds
Knysna Celtics 3-3 United
The Black Cats team before the start of the game.
'We bring you the latest Garden Route, Hessequa, Karoo news'