INTERNATIONAL NEWS - Turkey and the US failed to resolve the diplomatic standoff over a detained pastor on Friday, with Ankara's foreign minister warning that sanctions and threats would not work.
Secretary of State Mike Pompeo said ahead of talks with his Turkish counterpart Mevlut Cavusoglu that Washington was "very serious" in demanding the release of Andrew Brunson.
"The Turks were on notice that the clock had run and it was time for Pastor Brunson to be returned and I hope they'll see this for what it is, a demonstration that we're very serious," Pompeo said in Singapore.
"Brunson needs to come home. As do all the Americans being held by the Turkish government," he added. "They've been holding these folks for a long time. These are innocent people."
Brunson, who led a Protestant church in the Aegean city of Izmir, was moved to house arrest last week following nearly two years in jail on charges of espionage and supporting terror groups.
The US has hit two top Turkish officials with sanctions over his detention, prompting Ankara to threaten reciprocal measures.
"We have said from the start that the other side's threatening language and sanctions will not get any result. We repeated this today," Cavusoglu said in televised remarks from Singapore where he and Pompeo are attending a regional security summit.
Brunson, whose trial began in the spring, faces up to 35 years in jail if convicted.
Two Turkish employees of US consulates in Turkey are also currently in jail on terror charges and another is under house arrest, while several Americans have been caught up in the crackdown that followed a failed 2016 coup.
The State Department has said it continues to favour a diplomatic approach, but spokeswoman Heather Nauert told reporters earlier this week that the pastor's detention "has gone on for too long".
On Friday Nauert said Pompeo and Cavusoglu had a "constructive conversation" and "agreed to continue to try to resolve the issues between our two countries".
Cavusoglu also said the talks were "extremely constructive" but warned in comments to Turkish media that all the issues would not be solved "after one meeting".
Bitter diplomatic feud
Pompeo and Cavusoglu spoke by phone on Wednesday as the US announced sanctions on Justice Minister Abdulhamit Gul and Interior Minister Suleyman Soylu. The US claims both men played a major role in the arrest and detention of the pastor.
President Donald Trump, Vice President Mike Pence and Pompeo have made Brunson's release a priority.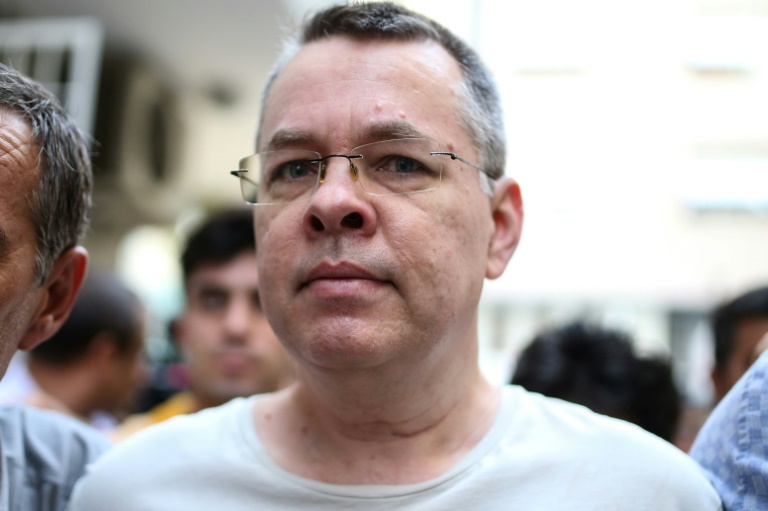 The US is demanding the release of Andrew Brunson, who led a Protestant church in Izmir before his detention in October 2016.
His detention has fuelled a bitter diplomatic feud between Turkey and the US, whose relations have already deteriorated in recent months over the Syria conflict.
The standoff appears to be one of the most serious crises between the two NATO allies in modern history, along with the rows over the 1974 Turkish invasion of Cyprus and the 2003 US-led invasion of Iraq.
Brunson was initially detained in October 2016 during Turkey's crackdown following an attempted putsch.
He stands accused of carrying out activities on behalf of two organisations Turkey considers terror groups.
One is led by the US-based Muslim preacher Fethullah Gulen, who Ankara says was behind the failed coup, while the other is the Kurdistan Workers' Party (PKK).
The pastor denies the charges and his defence team argues the case is built on questionable witness statements. His next hearing is set for October 12.