GARDEN ROUTE DISTRICT NEWS - The number of Covid-19 deaths in the Garden Route dropped by about a third (34%) in the past week compared with the previous week.
From Tuesday 1 September till Tuesday 8 September, 19 deaths were recorded, bringing the total to 325. The previous week, 29 deaths were recorded. The average weekly death toll in August was 40.
In George, six people passed away during the past week, bringing the total number of Covid-19 deaths in the city to 102. (Keep in mind that George hospitals accommodate Covid-19 patients from across the district.)
Oudtshoorn recorded eight deaths in the past week.
SANDF deploys more members
The SA National Defence Force deployed 28 members in the Oudtshoorn area on Wednesday, to assist the Covid-19 District Command Centre with law enforcement and awareness creation.
Garden Route Disaster Management chief Gerhard Otto says this town is one of the persistent hotspots.
"Oudtshoorn is the biggest worry at the moment with a percentage of total active Covid-19 cases of 14,59%.
"In George it is 4,74% and in Mossel Bay 4,29%. Oudtshoorn has the most active cases currently, namely 186."
The number of deaths in Oudtshoorn is also a concern. "It is 5,8% of the total of Covid cases. They have recorded 74 deaths so far, second most in the district. George has recorded 102 and Mossel Bay is third with 63," said Otto.
Serology testing
Serology testing for the virus done by Western Cape Health on 3 000 people at health facilities in the Cape Town Metro revealed that 40% have previously been infected with the virus.
According to Prof Mary-Ann Davies, director of the Centre for Infectious Disease, Epidemiology and Research (Cider), this indicates that a relatively high proportion of the population has been exposed to and infected with Covid-19, especially in poorer communities.
As a result, "explosive" outbreaks in high-density communities in the Metro are unlikely as there seems to be some immunity, "at least in the short term."
They suspect that this immunity is contributing to the decline of the epidemic amid the lessening of restrictions.
Prevalence in general population
Because the test samples were from a narrow section of the population, the results are not widely applicable and it is likely that prevalence in the general population will be substantially lower.
A sample of people that represents the general population is still to be done, said Davies.
There are still population sub-groups, also in these high-density communities, that would be vulnerable to outbreaks because of people who have effectively shielded themselves during the last five months.
Second wave
Davies said a national Second Wave Task Team has indicated that it is almost impossible to predict whether South Africa will have a second wave, when it will come, where, and how big it will be. Surveillance is critical.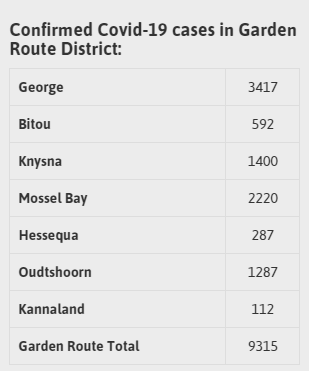 'We bring you the latest George, Garden Route news'