Update
GEORGE NEWS - Dear George Community and George Municipality, the Homeless need your help. In 2020, as part of a community project in my last year of medicine, I listened to the stories of eight homeless people in George.
I then used these narratives as a base to research homelessness within a national and international context. The goal of the project was to understand the unique needs of the homeless and to help give them a voice.
I am now taking the opportunity to share with the community what I have learnt in order to stimulate an understanding of the complexity of homelessness and to grow support from the municipality.
It is important to realise that homelessness is not simply the result of poverty, but has multiple factors that come into play including alcohol and drug use, domestic abuse, family conflict and mental health. All of these issues need to be addressed in order to curb the increasing numbers of homeless people.
The stories of the homeless that I collected as well as the research surrounding it are freely available by request per my e-mail address below.
With each life story that I share from a homeless person, I wish to focus on one contributing factor and share with you some of the research around that factor. This is the third life story I am sharing and in this case the focus is the link between mental health and homelessness.
If you would like to read my first life story focusing on alcohol and drug abuse, or my second focusing on domestic violence, please see the links to the articles below.
This next story is a long but very worthy read, recorded with necessary permission from Johan.
Johan is 58 years old. His sincerity comes across clearly. He has been living on the street for most of his life starting in childhood after he was removed from his adopted family who abused him. He has struggled with mental health his whole life and has been in and out of institutions including children's homes, prison, shelters, and psychiatric hospitals.
The highlight of his life is his daughter, whose birth date, time and place he accurately remembers and retells with great enthusiasm. At the moment, he is staying at the night shelter while he recovers from a suicide attempt where he swallowed a wire.
Johan's story
"I am going to start like this. I had a very difficult time since childhood. I was three weeks old when I lost my biological family. I don't know how till this day. I didn't know about that until I was in Sub B [Grade 2]. There were people who knew my biological parents and told me.
My head started wondering: Who are my mom and dad; Where are they? All these questions came up. Now I wanted to know from my adopted family who and where they are and they said they also don't know and so I started bunking school, running away from home. I started stealing a five rand here and there - all because I felt like they were not answering me.
Sometimes they knew where I stayed overnight at friends or elsewhere… If I went home, they would hit me. At one time he had me on the ground and had my head under his foot on the cement and he hit me.
Then the social workers, and a pastor that was also involved, got me to the children's court and I was sent to the Môreson Children's Home. It still exists here in George, but it has moved now. I was there for a year or two and still bunked school. The whole time I was thinking of my real parents, the abuse etc. It was all whirling around in my head.
On the move
Because I kept acting up, they sent me to Port Elizabeth to a place of safety because of my continuous misbehaviour. I can't remember how long I was there, but in 1976 I went to a school in Rustenburg. And then two years later they sent me to a "Verbeteringskool" in Tokai, but that also didn't help.
They used to say, if you land there it is as good as being in prison. I used to be very good at marathons and while I was there, a hostel father who knew my step-parents saw me running one day, so he started to put pressure on me. I had a man who coached me in the marathons and I was the first one who managed to win him in the sprint.
The thing I learnt was: don't take the lead, chase them and make them tired and then in the last 200m you overtake them. I also ran away twice there and they found me.
In 1980 I decided I don't want to go to school anymore. I was about 15 or 16 years old. I put my name on the list to get a train to George. So, on 21 November in 1980 I wrote my last subject and left on the train. Before starting in the army, I worked in George for a while.
Once I joined the army, every month I ran away for six months until I ended up in court, but the psychiatry was also involved since I was very young and they gave me medical release from the army. I had depression and anxiety for a long time since childhood, but then once I joined the army, I was diagnosed with schizophrenia at Valkenberg Hospital and till this day I struggle with that problem…
Homeless
Then, when I got back to George, my step-people didn't want me at the house and chased me away and so I had to start sleeping here and there and for a time I was actually in this same shelter, but the only person who is still the same is Rina Smit. But, at some point I got fed-up with the shelter and with the people in George.
I went to Cape Town and started using a cheque book to buy clothes and so and so on. Because of that I ended up in jail for six-and-a-half years, and then another two-and-a-half years for the same thing.
Then in 1992 I was punished again for the same thing for the last time. It was necessity and I just couldn't get a place for myself. The whole time I was in and out of shelters. If I had had my own place I wouldn't have ended up in prison.
I was released from Pretoria Prison. I had read the Bible while I was in the prison and when I walked out, I turned around, looked at the place and said, "God, if it is Your will, never again." Now, here we sit in 2020, going into 2021 and I have still always been outside.
Parenthood
In 2003, I met a woman. We weren't married. And there, I really saw what God can do. We weren't even together for a year and then she was pregnant. I told her I would very much like a daughter. I didn't have other children. And then on Thursday, 15 July 2004, at twenty minutes to four in the morning, the child was born in Mowbray Maternity in Cape Town.
The first thing I said when they let me in is that I want to see the child. The little bundle lay there and one of the sisters opened the nappy and showed me it was a girl. A beautiful girl! Now on the 15th July this year she turned 16 years old. She is as tall as me. I am so proud of her.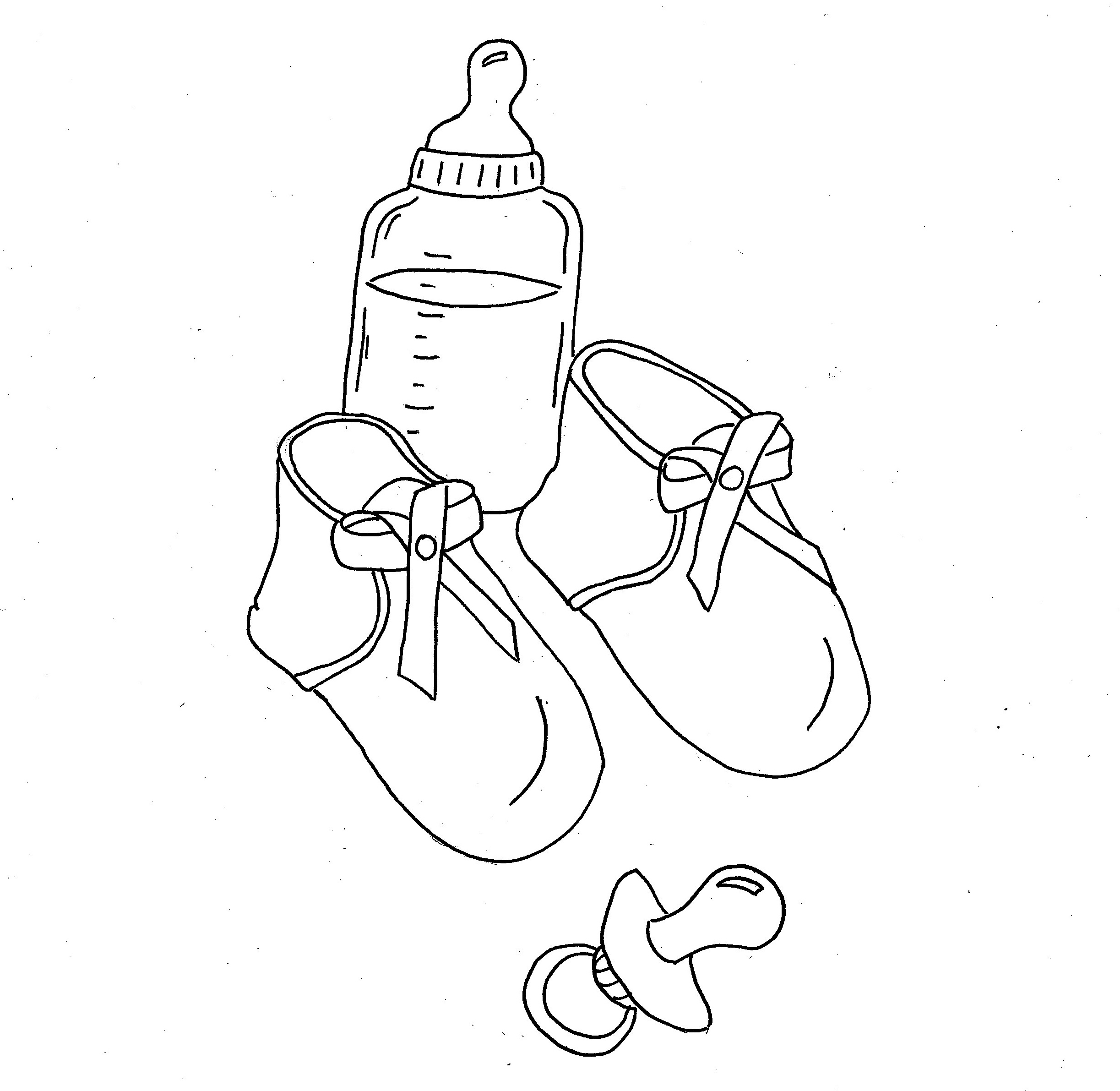 I used to drink from Sunday to Sunday and ate very little. I drank more than I ate. There was always a way to get money for it. When you use alcohol, it makes it more difficult because no one wants to help you because they can see that you only want money for alcohol. But, when that woman was pregnant with my daughter, I stopped drinking.
At that time, I was in Cape Town and in Parow there are so many bottle stores on that road. I have money, I am keen for alcohol so I say, "I am going to get a drink here." But then I walk past that store and say I will go to the next one, but instead each time I walk past. That first week was very difficult, but my Father was with me.
Sadly, the mother and I are no longer together. She couldn't stop with her drinking and stuff, but I regularly go and visit my daughter in Murraysburg where they live with family. I was last there in February. I always spend some time there.
This last time she sat there on the bed in the room so I gave her some money and I said, "I am telling you this one thing, I love you always." She nodded her head because she knows.
She was nine years old when she got a brand-new ¾ bed. It was the first thing she has received from me. Her baby clothes weren't given by people. I made sure she had everything. She will stay my firstborn.
Try your luck, you will hear from me if you cause her trouble. I give her the love that I never had…
Work life
But anyways, here in George the people know me. I can quickly get a little job here and there so I did that until I got my Sassa pay. I get a disability grant for the epilepsy and depression and those other things. I have worked in the garden, been a painter, and been a car guard and lots of other things.
I have lived with people, in many shelters and on the street. I decided I will be here at the shelter for now while I recover. But really, I just want a room to be by myself because sometimes the weight becomes too heavy with all these people around me and I have things in my head I need to sort out.
You need your own privacy sometimes. Even just a small room so that I can be by myself, then it will be okay. Like in the past, I would be here and then for a night or two I go sleep out and book myself in at a backpackers for R150 a night just to get my mind straight, because I stress about my child and Covid-19 and I stress that my child will use tik and stuff.
Throughout my life I have also tried to commit suicide many times. This last one was recent. I actually came out of hospital on Friday and Ms Smit is letting me stay here at the shelter for free until I get my grant. I swallowed a wire because I got very anxious and very depressed especially.
This happens especially when I am in a situation when no one wants to help me and no one wants to speak to me and try to understand what happened to me.
Like just the other day a church turned me away when I asked for food. What kind of Christian is that? Aren't they there for need? They see you, but they also don't see you. They have their heads in the air and don't see you. But, they look at your outside, they never look at your inside.
But, the wheel turns. You can hold yourself like that, but the day after tomorrow, you are here where I am now.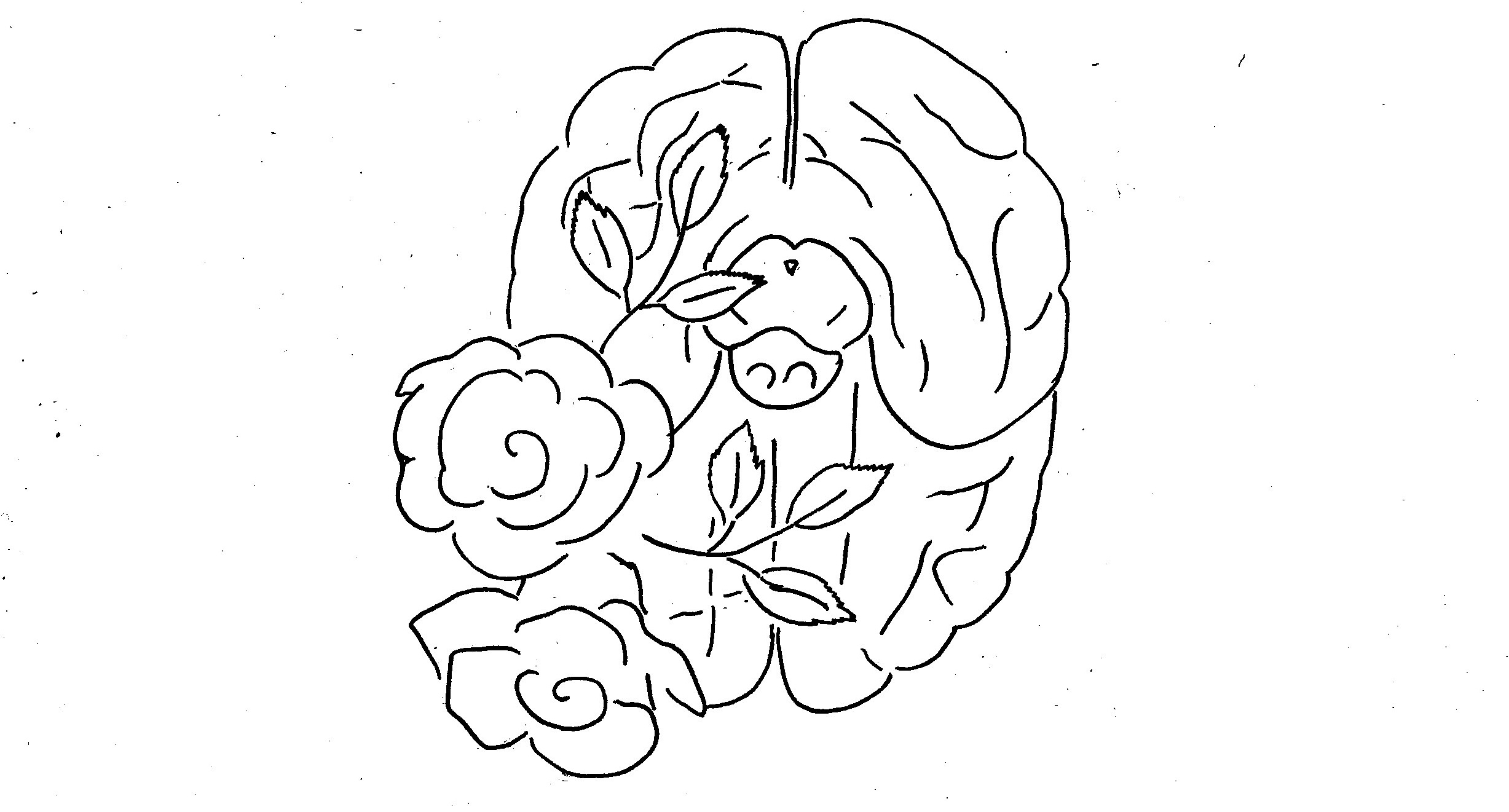 Brain with flowers
Desperation
So this time, after swallowing the wire, I lay in hospital for two weeks. Now every Thursday I need to get my wound checked and I also have to go see the psychiatrist. I was coming from Murraysburg and then to Riebeek-Wes, then to Tulbagh and then I was at the Ceres shelter for two months. After that, I went to Worcester and then at the beginning of October I came to George.
After that, I was looking for someone and I ended up in Prince Albert. There in Prince Albert, people just walk past and they don't help with food or anything… That Thursday I swallowed the wire… On that Monday I swallowed the camera, but they couldn't get the wire out without an operation so then they had to do an operation to get the wire out.
I was desperate and anxious because I am emotionally very sensitive, since those days about my biological parents.
Now, I just want to recover from the operation then start again with my piece-works and I just want to get my own space.
The last time I was at a psychiatric hospital was at Stikland Hospital. They used to always send me to Valkenberg, but now I go to Stikland. It was last in 2002/2003 that I was admitted there for psychiatry. But since then I have also been seen here by the psychiatrists at George. My medication does help me in a way.
Sometimes, when you are at the hospital, you are two or three in a room and you have more time and space to focus on yourself and the problems that you have. You can also work with the sisters and the doctors there on your problems.
Empathy
Sometimes I go sit and that thing you said hits me and the frustrations build up. My heart today lies with children and babies that are abused and thrown away and that is why I am like that with my daughter, because of the things that happen to other children. One time I was in York Street and there was a woman sitting there with a few children. I had four rand or six rand in my pocket and it started to bother me. Part of me wanted to give it to them and the other part didn't want me to.
But, I got up, and I said, "Don't think badly of me, but I want to give this money to your children." And the children said, "Dankie Oom, dankie Oom." But then you get women standing at the robot with their child asking for money. And, even though I feel bad for the child, I don't give them money because they are using their children to get drug money. The Lord will have to forgive me for not helping there.
Trust
I have been very disappointed with people whom I have spoken to about my past. They then look at me strangely. And that's why I have learnt I don't trust anyone anymore. And that's why I said to you earlier, they don't know how I feel inside, but they are quick to judge you on your outside appearance. But like the Bible says, I am not there to judge you. People also gossip a lot. But I have a thing I say: As long as you speak of me, I know that I am important.
But, the day you don't speak about me anymore, then I know there is a problem.
It is not nice to sleep on the street. It is no longer how it used to be. Now you must have one eye open and one eye closed. You are not safe. You always have to look around before you go to sleep. Wherever I want to sleep, I first walk around there and I sit there and I watch to see there is no one who is following me. Then, before I settle down, I see that I have all my stuff and double check that no one else is watching me.
I would rather sleep in the mountain and the nature, because if you want to disturb me during the night there will be a branch that creeks. And, by the time you get to me I am waiting for you. Sometimes I walk to Victoria Bay and sleep there by the ocean's water.
I don't want to look back. What happened in the past has happened. My mind is looking at the future. In two years I am 60. But, my thing is, I just want to be alone a bit so I can find myself and get a bit closer to my God too because I trust that in his way and in his time he will bring something across my path.
Sometimes you want things to happen now, but the Bible says, "On my time, I provide." Sometimes it feels like people want to hold me back and step on me. I can get very difficult in situations like that. But, the older I get, the more peaceful I become.
As I always say, you CAN do it. Don't say maybe. You CAN. With God is nothing impossible."
Homelessness and mental illness
Homelessness and mental illness are interdependent. Mental illness is a risk factor for homelessness, but it often needs other contributing factors, such as a lack of a stable family home and institutionalisation as in this case, in order for it to lead to homelessness. Severe mental illness contributes to the state of homelessness by a decrease in socio-economic functioning and a degradation of social support networks.
Once a person is homeless, mental illness is also worsened by environmental and social stressors, as well as substances such as alcohol and drugs being used as a means of self-medicating. There are also some that, due to the same stressors that worsen mental illness, only develop mental illness once they join the street.
Johan's struggle with mental health, combined with continuous movement between institutions and lack of support in re-integration into society, certainly contributed to his homelessness. However, it is clear that even through his homelessness, he has always tried his best to provide for his daughter and he remains independent and self-sufficient.
Society often discriminates against those with mental illness, especially schizophrenia, and stereotype them as being dangerous, unpredictable, incompetent, and a burden to society or their family.
In order to challenge our prejudices and to highlight the thoughtfulness and kindness that exists among those with schizophrenia and among the homeless, here are five life lessons from Johan that each of us should take to heart:
1."My heart today lies with children and babies that are abused and thrown away." Children must be loved and protected. As adults and parents, we have the ability to make or break a child's life and consequently influence the decisions that child makes for years to come into adulthood.
2."[Referring to his daughter] I give her the love that I never had." The change lies with us. We have the power to make different decisions to those of our parents, both for ourselves and for our children.
3."But, the wheel turns. You can hold yourself like that, but the day after tomorrow, you are here where I am now." Remember to stay humble and treat others as you would want to be treated. One day you too may need help.
4."They see you, but they also don't see you… they look at your outside, they never look at your inside." You do not know what someone else is struggling with, so be kind always. Do not be quick to judge on appearance.
5."As I always say, you CAN do it. Don't say maybe. You CAN. With God is nothing impossible."
Please help change the attitude towards mental illness. You are worthy, with anxiety or depression or schizophrenia or bipolar disorder or more. You are worthy.
Please help support this cause.
For the full stories and research, contact Dr Ellen-Marie Trautmann at ellenmarietraut@gmail.com.
References:
1.Montgomery AE, Metraux S, Culhane D. Rethinking Homelessness Prevention among persons with serious mental illness. Social Issues and Policy Review. 2013; 7(1): 58-82. Available here.
2.Leng G. The impact of homelessness on health: a guide for local authorities. Local Government Association. 2017. Available here.
Previous articles:
'We bring you the latest George, Garden Route news'