Update
GEORGE NEWS - Dear George Community and George Municipality, the Homeless need your help.
Last year, as a final year medical student, I did a community project where I listened to the stories of the homeless in George in order to understand their needs and to help give them a voice.
I am now taking the opportunity to share with the community what I have learnt in order to stimulate an understanding of the complexity of homelessness and hopefully to grow support from the municipality.
It is important to realise that homelessness is not simply the result of poverty, but has multiple factors that come into play, including alcohol and drug use, domestic abuse, and family conflict. All of these issues need to be addressed in order to really curb the increasing numbers of homeless people.
With each life story that I share from a homeless person, I wish to focus on one contributing factor and share with you some of the research around that factor. This is my second life story from the homeless community in George and this time I will be focusing on domestic violence, although the story below tells a tale of many factors leading to a woman living a woman on the street.
If you would like to read the first article where I spoke about alcohol and drug use and what solutions need to be considered please look at this article: Homeless need your help. If you would like to learn a bit more about me and the motivation for the project, please have a read here: Seeing the face of homelessness.
Domestic violence is a pattern of behaviour where one person abuses another within an intimate relationship such as between romantic partners, towards children or the elderly or between siblings. Such violence does not only have to be physical or sexual, but may include acts of emotional abuse including degradation or threats, depriving one of a fair share in economic resources, or controlling others with intimidation, stalking and more. This article focuses on women as victims of domestic violence.
In South Africa, one in five women older than 18 has experienced physical abuse, with other forms of abuse - especially verbal abuse - being even more common than this. In 2009, men murdering their female partners accounted for 57% of all female murders that year.
Nanna's story below is just one example of the countless ways in which domestic violence leads to derailing a life. There are many people who suffer through the violence in silence. Please make use of the contact details below of organisations that can help you or someone you care about that is experiencing abuse.
Nanna's story
She is a small black woman with wide eyes. She storms around the soup kitchen with purpose and enthusiasm, offering to clean and very willing to talk. Before we have the interview, she goes inside and asks for two blankets to sleep on. No blankets are left, but she is very happy with the two curtains she gets to use instead.
"Currently, my mother lives with my grandmother in Lawaaikamp and my father lives in Cape Town. While my mother lived with my dad, my mother used to sell alcohol and food to people. I was the firstborn of the children and used to watch her in the shop. My mother did not use to drink. But then something changed, but I was too young to understand why.
"My father started stealing the alcohol and drinking it. He would come out of church with his suit on. He would come home, take his jacket off, and then get drunk. As a child, your heart tells you that something is wrong.
"I noticed that my father was abusing my mother and my mother started to drink too. At some point, in 2009, we decided to run away with my mother to my grandmother's house in George. My grandmother's people are very good people.
My mother is terrible when she is drunk. She decides to kick me out of the house sometimes and she says terrible things to me. It really hurts me. She used to leave my brother at home alone. My brother was 13 and he couldn't speak. He had that problem from birth where you are really stiff and you cannot walk and talk [cerebral palsy], but he is not alive anymore.
Sometimes I couldn't go to school because my mother made me look after my brother while she went to town.
Soon after we moved here, I made friends with teenagers who knew town well. My mother would always tell me that I need to be home by 5pm because tomorrow is school, but sometimes I would forget and stay out longer. I would go further and further with them.
So at one time, my step-father whom my mother got here in George, he started to take advantage of me. My brother, my sister and I slept in a bed in front of the TV. He would sleep with my mother. One night he woke up and came over to me and started to touch my back. I started shouting, 'Leave me alone'.
My mother didn't even wake up because she was drunk. With all this happening, I decided to go to the street.
That man has passed away now. But now there is another step-father and sometimes I go home for a moment but I am too scared to stay there. I don't trust him.
My mother has become a bit better. She has a job now and came to me and asked me to go back there. She doesn't want to lose me. But things must get better before I go home.
At the moment I am staying with another woman on the street. People on the street know me. At the moment my boyfriend is in jail."
---
In this story, we see that a mother and her children escape an abusive relationship by fleeing to George, only to have her own child, Nanna, become a victim of domestic abuse. Nanna, a mere child, takes to the street as her only option to escape the domestic violence and ends up as one of George's homeless.
And now, years later as a young woman, Nanna is haunted still by the potential of repeated violence against her and refuses to return home.
Nanna's story led me to research adult women in abusive relationships: the choice of remaining in the abusive relationship versus opting for a life on the streets. I struggled to find South African statistics, but studies in the USA in 2003 found that 44% of abused homeless women stayed on the streets and in an abusive relationship whilst there, because they had no other housing options, and one in every three homeless women was driven there by domestic violence (*3).
Listed in the diagram are factors that increase the risks of domestic violence. Importantly, these factors are systemic to a society that condones violence or sees men as superior to women or allows gender inequality in areas of economics, education, and power over their own body (*4).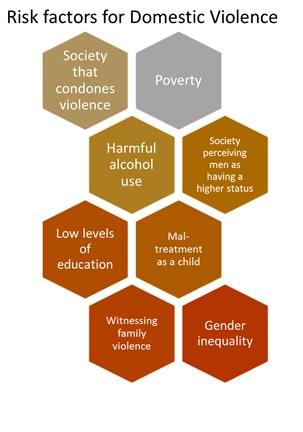 How do we combat homelessness because of domestic violence?
Firstly, as a society we need to regard domestic violence as the criminal act that it is. Society as a whole needs to insist that this is not normal or acceptable. What we teach our children counts. The examples we set as adults count. Let us teach young males and men the importance of respecting and protecting all, but especially vulnerable children, women and the elderly.
Men, be a good example to your children of how to treat women. Education programmes should promote communication and relationship skills within couples and communities. Access to alcohol must be controlled better with improved policies (*4).
Secondly, we need to break the wall of silence that the victims themselves, often generations of mothers and daughters, are guilty of, because they themselves protect the perpetrators within their own families. A safety net is needed for those who do break the wall of silence. Social services for the victims of abuse, especially support for vulnerable women and children, must have their funding increased and be better supported by government.
These include shelters for abused women and organisations that assist with legal affairs, counselling and rehoming (*3).
Thirdly, our legal system dealing with domestic violence needs refinement. The enforcement of a national and local policy to address domestic and gender-based violence with practical steps for implementation is critical (*4).
Take a stand against domestic violence. Prevent children and mothers fleeing unsafe homes.
Contacts that can assist those who are experiencing abuse:
National Crisis Helpline (Lifeline) 086 132 2322
People Opposed to Women Abuse 011 642 4345
Stop Gender-Based Violence Helpline 0800 150 150
BPW Outeniqua Refuge for Battered Women 021 671 6008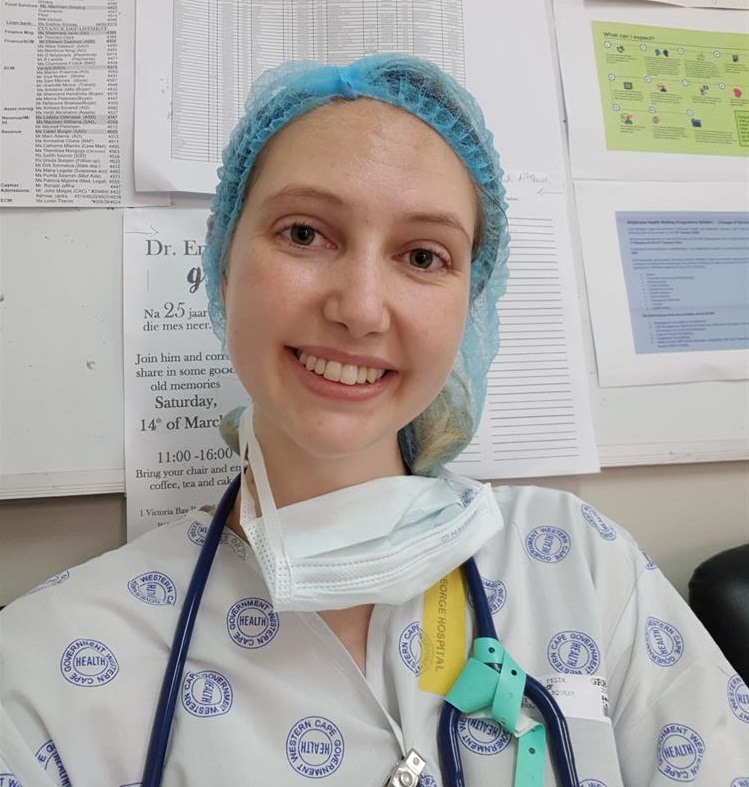 Ellen-Marie Trautmann
References:
1. Vetten, L. Domestic violence in South Africa. Policy brief 71, Institute for Security Studies. 2014. Available here
2. Government Communications, Government Communication and Information System, Republic of South Africa. Insight newsletter issue 28: Gender-based violence. Available here
3. American Civil Liberties Union Foundation Women's Rights Project. Domestic violence and homelessness. Available here
4. World Health Organisation. Violence against women. 2017. Available here
Previous articles:
'We bring you the latest George, Garden Route news'