Update
GEORGE NEWS - Dear George Community and George Municipality, the Homeless need your help. Homelessness is a problem faced by 100 000 to 200 000 people within South Africa.
We interact with the homeless every day - from car guards, to the man begging in the middle of the street, to the group sleeping on your business' stoep.
As any other human being, the homeless person is a person with needs, and wants and dreams.
However, unlike many, they are powerless, invisible and voiceless. They are dependent on others' charity, ignored by government and seemingly without the rights of full citizens.
In my capacity as a final year medical student I did a project in George with the intention to unpack some of the complexity surrounding homelessness. This comes at a crucial time where the conversation around homelessness has taken limelight within the George community with many wanting to help but not always knowing how or where to begin.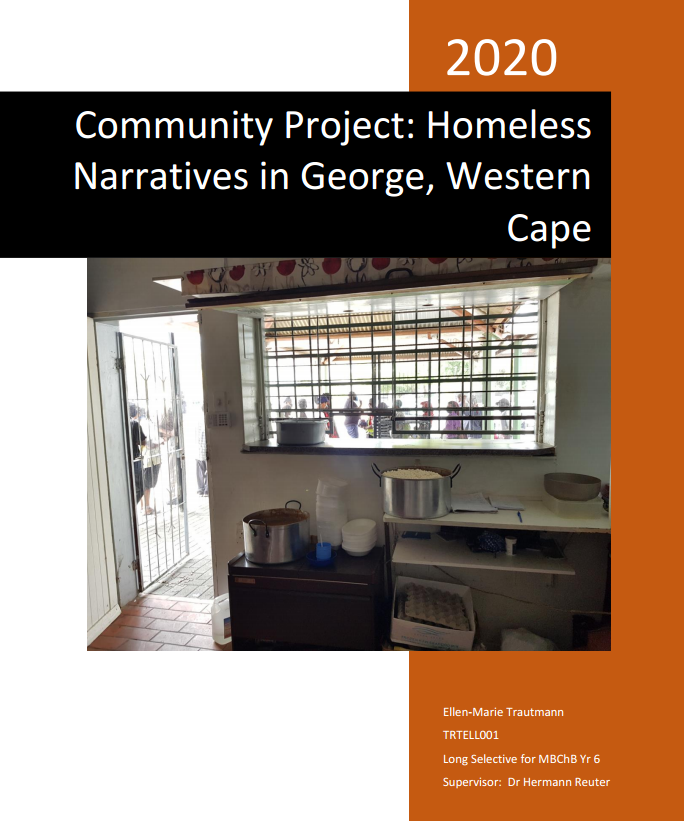 However, as Jo-Anne Kirkman and a few others agreed during an online meeting through the Facebook page "Georgiete Staan Saam", "it is also important to find out why these people are homeless, what they need and want to be helped with, then try and sort out how to go about helping them".
As per the article published earlier in George Herald, Online Discussions to Become 'Think Tank' for George Issues.
This is exactly what I did during my project. I interviewed four people living on the street through Christian Rehabilitation Ministries to the Homeless of George (Cremhog) and four people living at the Night Shelter. I recorded their life stories.
The goal was to learn from them and shine light on their experiences - who are they, what led them to be homeless, and what is keeping them homeless? I also did a range of research, local and international, to attempt to answer these questions.
The completed project is freely available and my details will be at the end of the article. If you are interested in helping the homeless, please feel free to contact me for a copy of the project.
Through a series of articles, I wish to share their stories with you over the next few weeks and use their narratives to stimulate discussion and to take real steps forward in solving homelessness. Let Patsy and Anna share with you their experiences with substances. Let Marlee and Nanna grip you with their experiences of physical and emotional abuse. Let Johan and Sandra show you how lack of sufficient mental health care can lead to homelessness. And lastly, let Deirdre show you how our communities abandon the elderly.
Each homeless person has their own reasons for finding themselves on the streets, but I have chosen themes that recur throughout their stories and are also highlighted within the research.
For most, I have changed their names upon request after a thorough consent process.
Anna's story
Anna is in her 30s: Anna is a soft-spoken, fine-featured young woman of colour. She sits before me wearing a colourful cloth wrapped skillfully around her hair and holds her hands in her lap, slightly hugging her arms while she speaks.
She recently came off the street after almost forcefully becoming clean of drugs, due to Covid restrictions that resulted in her staying in a stadium off the streets with many other homeless.
"My first child was born before I finished matric because I was raped in Grade 9 by an older man who has since passed away. My mother helped raise that baby and when I got to Grade 11 I also worked as a packer at Shoprite in order to make money.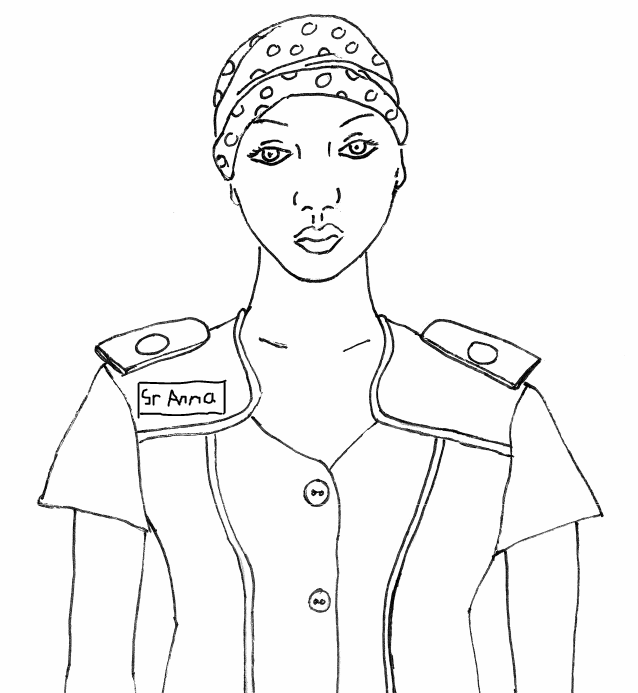 I finished matric and after matric I started studying nursing. I got to my third year and I had a bursary that paid for some things and all I had to do was pass. I only had one year left.
During my degree I was living at the hostel with the other nurses and working at the hospital and I got the wrong crowd of friends there. I began stealing amitriptyline [medication to help you sleep] with another nurse in the Trauma Centre in order to help me sleep and then we would use tik to stay awake for our night shifts.
We also started drinking a lot. Obviously when they found out, I lost my bursary and couldn't study further and my father landed in heavy debt. The hospital didn't lay a charge, though. My father was so angry at me. I think he hated me.
So with the drug use I met this man again that I used to know from school and we got together then. It started a 14-year long relationship and he is my children's father. First, I lived with my parents and he lived with his parents. I loved him a lot because he was the father of my children. But, he abused me physically - he hit me.
My parents never wanted me to be with him. My parents told me to leave him because he kept hitting me and I kept making cases against him and then kept returning.
I continued to use tik and it pulled me in more and more and I became even more distant from my family. I started to speak rudely to my parents and I am not that kind of person so it filled me with shame.
My mother and father have strict rules and when I started to put the family in a bad light, and my irresponsible ways became the focus of the home's discussions, it caused a lot of shame, and it was also in front of my children. The drugs changed me."
She ultimately moved to the street with her boyfriend and has now been on the streets for 10 years.
"For [the first] four years we slept on a stoep of one of the buildings. There was no cooked food, just bread and maybe polony, so your diet is really not healthy. You don't have anywhere to clean yourself and there are just germs everywhere. Every day is the same because you don't have work.
"You start to ask for help from people in the town, but because they see you every day they stop helping you. So I started to lose myself more. I got sick, I got TB and my kidneys got affected. For a moment I would stop drugs and then I would start again.
"The drugs are nearby and it helps you forget about yourself and forget about food. There was also no one to judge my drug use among the other people on the street, so I kept using. I had no self-worth. There was a stage I didn't believe in God anymore."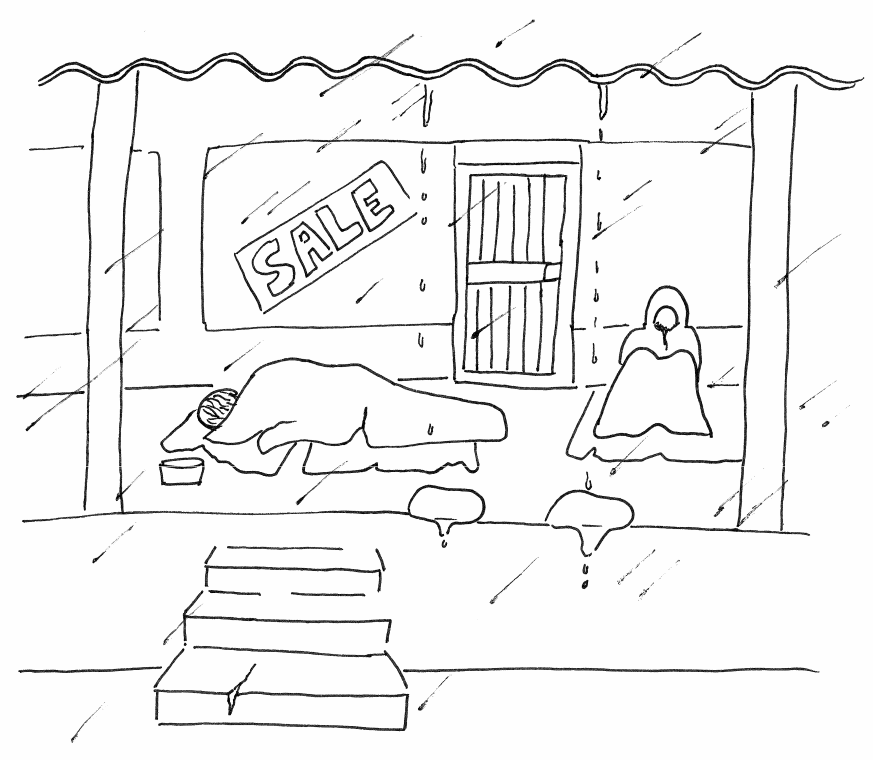 Homeless on the shop stoep
Last year, during the height of the Covid-19 pandemic, street people were swept off the streets all over the country and put into temporary shelters. This provided her, and many others, with a chance to rethink her lifestyle.
"For the last 10 years, while living on the street, I have been getting food there from the pastor, André Olivier, at Cremhog. It helped a lot. So now during Covid we were asked by them to come off the street and go stay at the stadium. So a large group of us went there and when I got there I had no access to drugs.
"I got a bed, shower and had three meals a day and we got books to read and the pastor would bring us news from outside. There was also a doctor that came there who helped the people struggling with drugs.
"With the questions that the doctor asked there I became interested in the programme that was being run to help leave the drugs. I learnt a lot. Then they asked us what we would do after lockdown and I felt that since I was three months without anything and I was alright, that I would be able to leave the street. So when the choice was given I decided to come to the George shelter along with my new boyfriend.
"I had never been to the shelter before…Anyway, when I got here, the shelter helped me a lot. There were quite a few of us who came from the stadium. Now, only three people are left here at the night shelter.
"Some of those people got bus tickets back to their homes and the shelter paid for that, but others went back to the street...
"I also go to Alcoholics and Narcotics Anonymous that the shelter runs. It is a private space and confidential. We talk out of our hearts. We reflect on our week. We follow the guidelines of how to get better. I feel at home there now. Initially I was quiet but now I feel comfortable talking there. It has really helped.
"The social worker here also helps. I have a lot of questions about going back to live at home and she is helping me with that. I really want to go stay at home maybe for a weekend and see how it goes. I admit what I have done and I realise I have done wrong. I want to make right what I did.
"My mother passed away four years ago. My father is still there and I am now in contact with him again. My children are 20, 13 and 9 years old and I am already an ouma. I still haven't met that new baby. I have just visited quickly at the house. I have to make sure I am okay before I go back.
"I am blessed that finally I can take a breath of fresh air. I could get out of that hole. I still have friends on the street and I want to help them, but I am not stable yet. Before this, I didn't know how to stay off drugs. I had so many relapses and I could see myself falling back into it if I go there and this time, I would probably smoke myself to death. Every day that thing is inside of you.
"I just chew on anything that I have and become irritable when I think about that craving, but I am trying my best. I am picking up weight now again and it is keeping me warmer for a change. Tik is really going to make you die sooner. Sometimes I wake up and feel elderly. The tik also affected my cornea and now I need glasses.
"I have a lot of plans for the future. I want to study again, but I must give myself a year in order to not put too much on my shoulders right now. My message to those who are struggling on the street is: take those opportunities that come along. Change the way that you think. There is help. They won't turn you away.
"There are many people out there who need help but they don't know how, they don't know where to start. There are also many people that don't have an ID. Some people don't have an ID for their whole life and now they must try and contact family to find birth certificates and if you can't get an ID you struggle to get a fixed job. And it is expensive to get an ID. My boyfriend is struggling with this now. You can't open a bank account and access other things without one."
---
It is a known fact that the homeless struggle with large amounts of hazardous substance use*1. In a study in Johannesburg in 2019, of 112 homeless participants at a clinic, 67% smoked cigarettes, 71% consumed alcohol and 15% were using recreational drugs.
Overcoming addiction is incredibly difficult, but for those living on the street, it is almost impossible. As Mr Olivier of Cremhog stated in the Georgiete Staan Saam meeting, "There are no certainties except the uncertainty of where your next meal comes from. Drugs and alcohol are a sedative for the struggle, hurt, pain and rejection."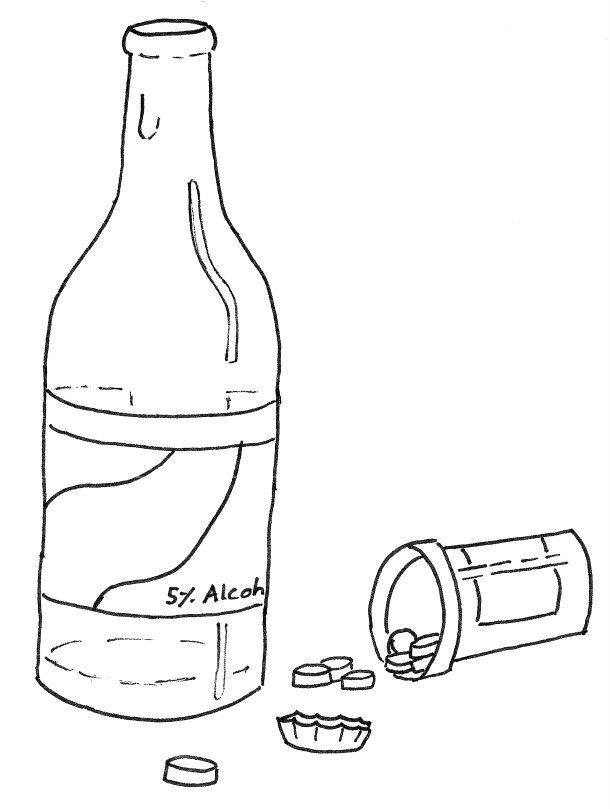 Also, as Jo-Anne Kirkman said, "A new mindset and ability to cope is only possible once someone feels safe, clean and able again." And, even if you wanted help, help is very difficult to find. There are no accessible public rehabilitation centres in the George area and counselling is few and far between. Not to mention, access to places such as night shelters where additional help may be gained, is often seen as restricted as you need to be sober to enter - a rule that makes clear sense, but that causes people to feel alienated nonetheless.
New methods urgently need to be put into place in order to assist with substance use disorders and those organisations, such as Smoking and Alcohol Harms Alleviation and Rehabilitation Association (Sahara), and methods that are already in place need more funding.
This will not only help bring people off the street, it will also prevent people from ending up on the street. Importantly, it will also help all the individuals from both poor and rich backgrounds who silently suffer from addiction, have a place to get help.
New methods that should be looked at include harm reduction techniques, as used by Sahara, where it is accepted that some substances will be used, but you try and limit the adverse consequences that this will have on that person and the community instead of trying to stop all use. This can be done by providing medications that reduce the pleasure feeling of the substance or reduce the withdrawal symptoms of the substance, which helps people use it less.
Another method is the Housing First approach which was started in Canada. This found that if you provide people struggling with substances a safe and stable place to live while giving them counselling and support, they are far more likely to stop using substances (*2).
A similar approach is supported by Cremhog, but they have been unable to access funding from the municipality. A combination of these techniques was used during Covid-19 last year amongst the homeless in Tshwane, George and Durban and it showed results (*3, 4).
Be careful to distance yourself from this young woman and think that it will never happen to you or to your children or neighbours. Homelessness is very complex. It is not only the poorest of the poor that become homeless. It is also not only the homeless that struggle with drugs and alcohol.
Please help support this cause. For the full stories and research, contact Dr Ellen-Marie Trautmann at ellenmarietraut@gmail.com.
For more information on Sahara, contact Dr Hermann Reuter at saharasouthafrica@gmail.com.
For more information on Cremhog, contact André Olivier at andre.olivier1962@gmail.com.
*Publication of sources
1.Johnston D, McInerney P, Miot J. A profile of the health of homeless at an inner city primary health care clinic in South Africa. Journal of Health Care for the Poor and Undeserved. 2019; 30 (4). Available here.
2.Mackie P, Johnsen S, Wood J. Ending street homelessness: what works and why we don't do it. European Journal of Homelessness. 2019; 13(1): 49-60. Available here.
3.Mitchley A. Lockdown offers homeless substance abusers a platform for change. News24. 2020. Available here.
4.Marcus TS, Heese J, Scheibe A, Shelly S, Lalla SX, Hugo JF. Harm reduction in an emergency response to homelessness during South Africa's Covid-19 lockdown. Harm Reduction Journal. 2020. Available here.
Previous article: Seeing the face of homelessness
'We bring you the latest George, Garden Route news'