Gallery Update Video
GEORGE NEWS & VIDEOS - Yesterday, Wednesday 3 March, the Garden Route became the first rural district in the Western Cape to start rolling out Covid-19 vaccinations.
It took place at George Hospital, the only registered vaccination site for the public and private health sector in the district. A total of 680 healthcare workers will be vaccinated in the next two weeks, according to District Health director Zee Brickles, who was present to keep a watchful eye.
It was a hive of activity from early on as healthcare workers started reporting to receive the Johnson & Johnson jab, which is being given as part of the Sisonke implementation study, while official registration of the vaccine in South Africa is still being awaited.
Healthcare workers from George Hospital and the two sub-districts of George and Bitou are included in this initial roll-out.
Photo gallery: First Covid-19 vaccines in Garden Route
The first 320 doses that will be administered this week landed at George Airport on Sunday. They were brought in by the Air Force, according to Melissa Mitchell, CEO of the George-based clinical research centre, Task Eden, where the vaccines are being stored. "We are responsible for the trial oversight and Prof Andreas Diacon of Task is the principal investigator for the trials in the district," she said.
Watch a video below:
Brickles said the second batch of 360 vaccines is expected to arrive next week. He was excited about the roll-out having started. "Over the past few days we have seen that people are really keen on taking the vaccine," he said.
The very first to be vaccinated was EMS Ambulance Services manager for the George sub-district, Cedric Yantolo (56), who said he wanted to set an example for his staff. "It did not hurt and and I am feeling fine," was his comment about half an hour after the injection. Vaccinees were being monitored for 15 to 30 minutes after receiving the vaccine.
Mediclinic George manager Kassie Karstens, who was also on site, said 68 of his hospital's staff were to be vaccinated this week. "It was a week of short notice and deadlines, but we are grateful for the excellent cooperation with Province and relieved that it has started. We are in total 410 at the hospital that would need vaccination."
Worcester and Paarl are the other two rural areas outside of the Cape Town metro to receive vaccines for the Sisonke trial. A total of 2 560 doses has been allocated for rural areas in the province.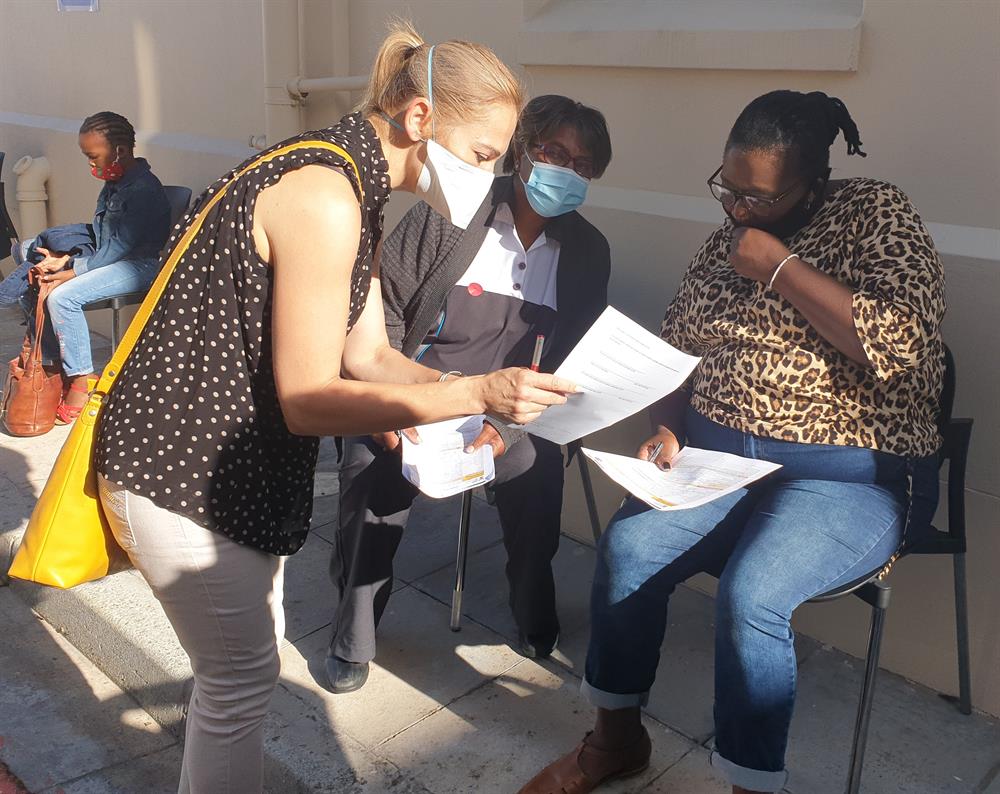 Dr Elizma Snyman assisting Nurses Esta Mjumba (right) and Vanessa Hermanus from Mediclinic George who were keen to be vaccinated.
Western Cape Health district spokesperson Nadia Ferreira said health staff selected from the different sub-districts who have registered, have received their voucher, and confirmed an appointment with their manager are receiving their vaccination this week.
"The Sisonke implementation study vaccines are being administered over an eight-week period. We estimate that approximately 40% of healthcare workers in the province will be vaccinated in this time frame with the available vaccines."
EMS Sub-district manager for George, Cedric Yantolo (56), received the first vaccination at the launch of the George Hospital vaccination site.
Watch videos below:
Previous articles:
'We bring you the latest George, Garden Route news'