Update
GEORGE NUUS - Die Facebook-swendelaar waaroor die George Herald vroeër vanjaar berig het, is Woensdag by 'n bank in die Vrystaat in hegtenis geneem.
Die verdagte (26), wat destyds slegs as Luan bekend was, is na bewering sedert 2014 besig om landwyd mense op Facebook uit miljoene rande bedrieg deur Facebook-profiele te kloon en 'n Ford Bantam-bakkie teen R14 000 of R15 000 te koop aan te bied.
Lees 'n vorige berig: Facebook-flouser fop voort
'n Speurder uit Bloemfontein, Leon Rossouw, het die verdagte op eie houtjie in Desember 2018 begin ondersoek ná 'n plasing op Facebook sy aandag getrek het.
"'n Vrou genaamd Susan Arnold het mense gewaarsku teen die verdagte wat 'n goedkoop voertuig adverteer en dan met die koper se deposito verdwyn. Arnold het genoem dat sy uitgevind het dat haar deposito in Bloemfontein onttrek is hoewel die adverteerder vir haar gesê het hy is in Lainsburg," sê Rossouw.
Die advertensies, wat min of meer altyd dieselfde was, het 'n Ford Bantam-bakkie te koop aangebied. Wanneer 'n voornemende koper aanbied om die bakkie kontant by hom te koop, dring Luan aan op 'n R3 000-deposito wat die koper dan deur eWallet vir hom moet inbetaal.
Talle plaaslike lesers het ná die berig in die George Herald die koerant gekontak. Sommige van hulle is byna geflous, maar ander was nie so gelukkig nie. Almal se stories het ooreengestem.
Die verdagte se laaste slagoffer was 'n vrou van George. "Ek het Woensdagoggend 'n deposito van R3 000 betaal na ek met Luan gesels het. Ons het afgespreek om mekaar in Uniondale te ontmoet, want hy was glo met die bakkie in Willowmore en was so gaaf om my halfpad te ontmoet sodat ek na die voertuig kan kyk. Ek was nét oor die Outeniquapas toe 'n lid van die Valke my skakel en sê dit was 'n slenter," het sy aan die George Herald vertel.
Ooreenstemmende modus operandi
Die verdagte se modus operandi het vir Rossouw baie ooreengestem met dié van 'n persoon wat hy in 2011 ondersoek het. "Hy is destyds aan bedrog van 'n R100 000 skuldig bevind ná hy mense op die destydse sosiale platform, Mxit, geflous het. Hy is hiervoor 'n opgeskorte vonnis van 2 jaar opgelê," sê Rossouw.
Volgens Rossouw het die verdagte daagliks 'n goedkoop voertuig op verskillende Facebook-groepe geadverteer.
Sowat 'n maand gelede het Rossouw sy bewyse aan die Valke voorgelê. Die verdagte is Woensdag, met die selfoon wat hy vir die slenter gebruik het, sowel as 'n groot bedrag kontant, betrap.
Die verdagte is geskeduleer om vandag in die hof in Bloemfontein te verskyn.

Meer inligting oor sy eerste hofverskyning sal volg sodra dit bekend word.
Mense wat deur Luan ingeloop is word gevra om Rossouw by 079 240 3491 te skakel of 'n e-pos te stuur aan consultingdetectivesbloem@gmail.com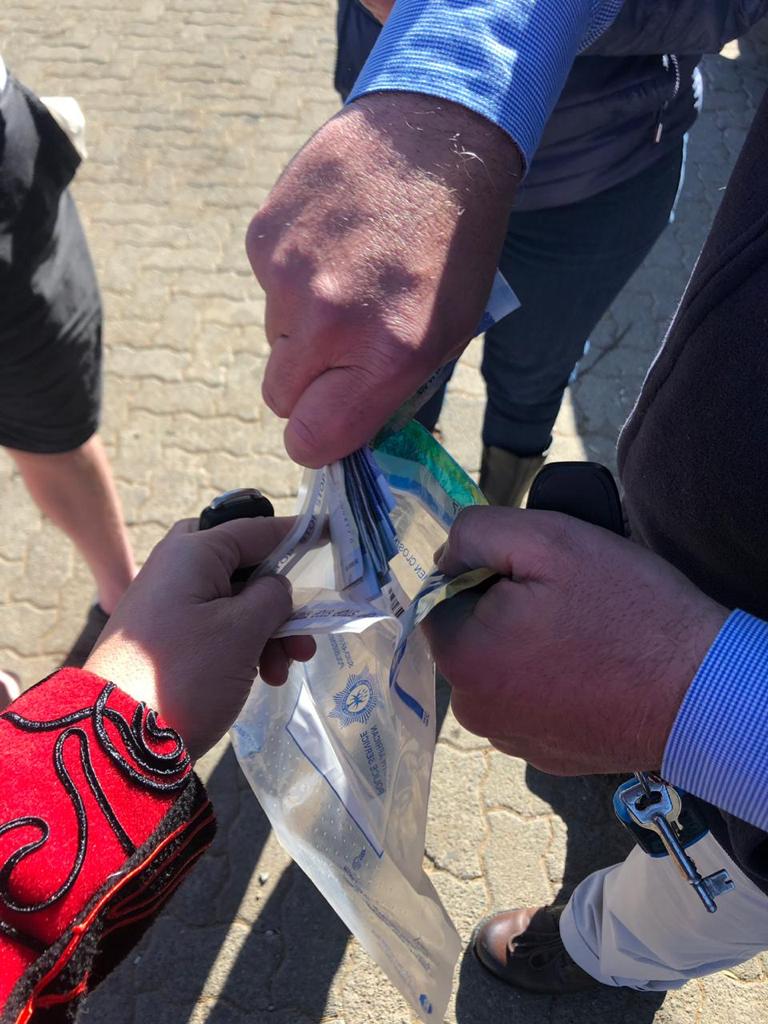 Die verdagte is met 'n groot bedrag kontant in sy besit gevang.
'Ons bring jou die nuutste George, Tuinroete nuus'