Update
GEORGE NUUS - Ná 'n vrou van George, Maryke Fourie, se Facebook-profiel op 1 Januarie gekloon is, is minstens nog vier Facebook-profiele na bewering deur dieselfde Facebook-swendelaar gekloon en gebruik as deel van 'n verneukspul.
• Sien verlede week se artikel: Tweegesig op Facebook kloon, konkel en kul.
Die swendelaar, blykbaar ene Luan, kloon meestal vroue se profiele met profiel- en voorbladfoto's. Hy verander dan die persoon se van wie se profiel hy kloon en bied 'n voertuig, gewoonlik 'n Ford Bantam-bakkie, teen R14 000 of R15 000 te koop aan.
Die advertensie lui as volg: "Prys R15 000. Bakkie is in goeie lopende kondisie. Alle papiere in orde. First come first serve. Fotos [sic] onder comments." Die kontaknommer, wat met bykans elke advertensie verander, word twee keer in die plasing gebruik.
Talle lesers het na verlede week se uitgawe die George Herald gekontak. Sommige van hulle is byna deur Luan geflous, maar het dwarsdeur hom gesien, maar ander was nie so gelukkig nie. Almal se stories stem ooreen.
Wanneer hy geskakel word, stel hy homself slegs as Luan voor. As die voornemende koper vra om met die persoon te praat wat die advertensie vir die bakkie geplaas het, sê hy dat daardie persoon die plasing namens hom gemaak het, maar dat dit sy bakkie, wat soms op Willowmore en soms op Kirkwood staan, is.
Een van Luan se slagoffers, wat verkies om anoniem te bly, het met die George Herald kom gesels.
"Wanneer jy skakel sê hy vir jou iemand anders stel reeds in die bakkie belang, maar hy sal jou oor 'n uur kontak as hulle dit nie vat nie," sê hy.
Wanneer die koper aanbied om die bakkie kontant by hom te koop, dring hy aan op 'n R3 000-deposito wat die voornemende koper dan deur eWallet vir hom moet inbetaal. "Hy weier volstrek om sy bankbesonderhede te voorsien en wil nie dat jy die volle bedrag betaal nie."
'n Plasing deur Robyn le Grange om mense teen die swendelaar te waarsku.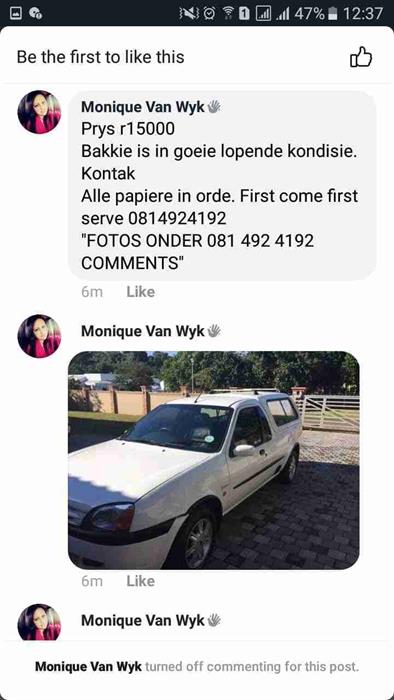 Nog 'n plasing wat die Bantam-bakkie te koop aanbied op 'n ander groep onder 'n ander identiteit.
FNB se eWallet is 'n diens waardeur enigiemand met 'n selfoonnommer kontant kan ontvang en onttrek sonder om 'n bankrekening te hê. Die geld kan dan direk by 'n FNB-OTM onttrek word of dit kan by sekere winkels onttrek word. Die maksimum bedrag per transaksie deur middel van eWallet is R3 000. Geen bankbesonderhede óf 'n bankrekening word benodig nie. "Ná die transaksie voltooi is en reëlings vir aflewering gemaak is, verdwyn hy eenvoudig soos mis voor die son," vertel die slagoffer. "Ons is wel van plan om 'n saak by die polisie te gaan maak. Ek stel voor dat die ander wat deur hom ingedoen is, op enige manier, dit ook moet doen."
After the Facebook profile of a woman from George, Maryke Fourie, was cloned on 1 January, at least four more Facebook profiles were allegedly cloned and used by the same con man as part of a scam. The swindler mostly clones profiles that belong to women.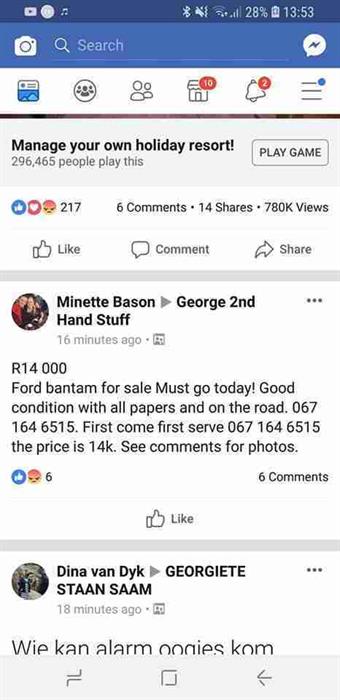 'n Plasing wat as Minette Bason gemaak is.
Een van die plasings wat die swendelaar na bewering onder Michelle van der Berg se identiteit gemaak het.
'Ons bring jou die nuutste George, Tuinroete nuus'