Update Video
GEORGE NEWS & VIDEO - Go George bus drivers who started striking yesterday, Thursday 18 June, because of health safety concerns after three bus drivers tested positive recently, are still not on the job today.

Speaking from the Go George Bus Depot where the drivers are gathered, the local organiser of Numsa (National Union of Metal Workers of South Africa), Mteteleli Mandeka, said the employees fear for their and their families' lives after the infections. Numsa had asked that the drivers be tested for the coronavirus.
He said the company is dragging its feet. The drivers want the buses of the affected drivers to be decontaminated and all the people who were in contact with them to be traced.

Mandeka said they had a meeting with George Link, the managing company, last Monday to address these issues, but they haven't had feedback yet. The issues include the small canteen for the drivers where social distancing is not possible and some commuters paying in cash, which increases the risk of infection. Another issue is that the same breathalyser is used to test all the bus drivers in the morning.

Several local political party leaders, including those of the EFF and Icosa, are on site. Also present is PBI leader Virgill Gericke who said there should be a dedicated official on board each bus to ensure that commuters practise social distancing and adhere to Covid regulations such as wearing masks and sanitising their hands. "The bus driver's duty is to drive and get the passengers to their destination on time. It is not always possible for them to also check that passengers stick to the rules."
Watch a video below: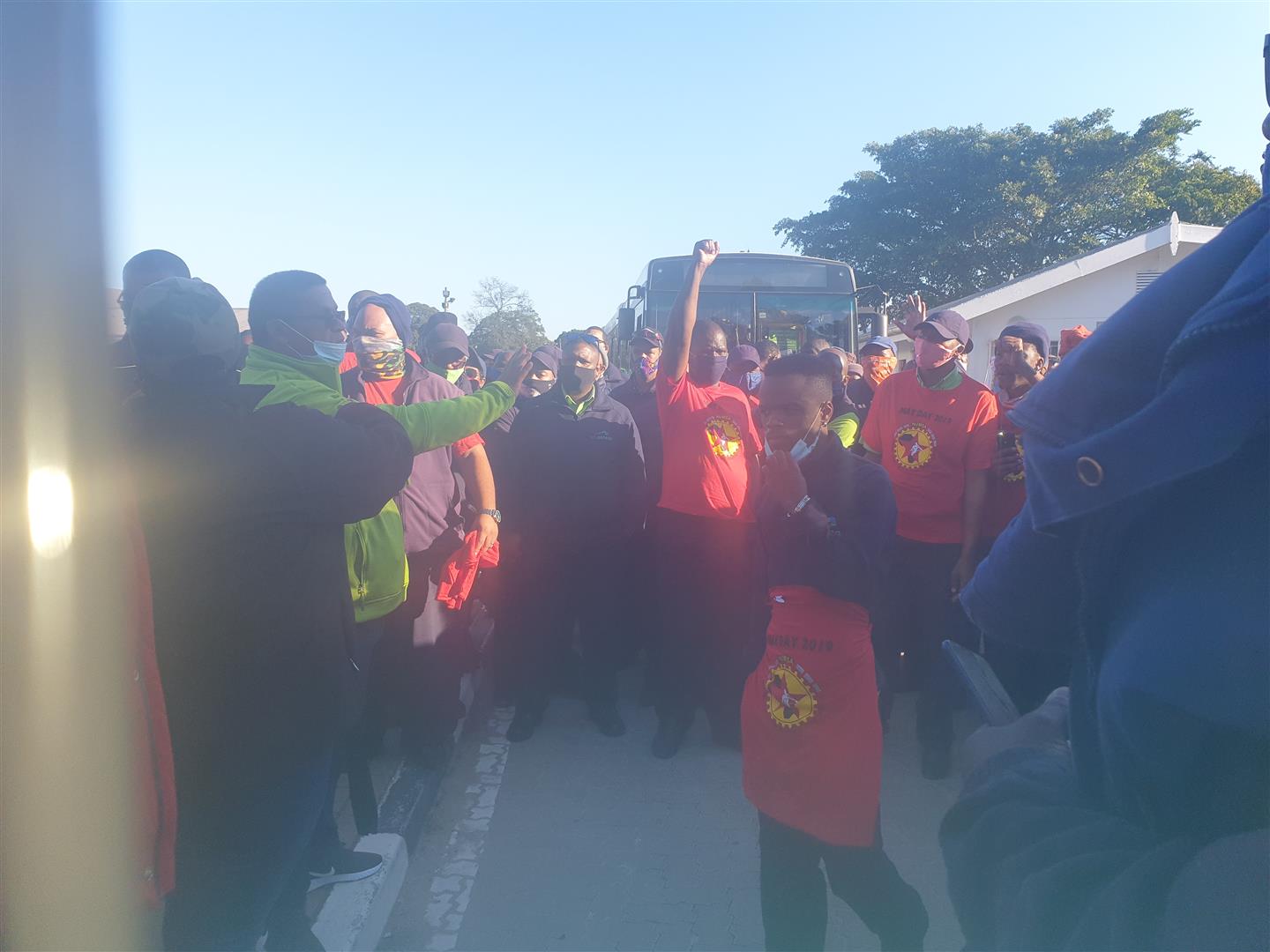 PBI leader Virgill Gericke (left, in green jacket) addresses the bus drivers. Several political party leaders, including those of the EFF and Icosa, are waiting for feedback from George Link at the Go George Bus Depot where the drivers are waiting. Photos: Alida de Beer
Wilbur Harris of Icosa said the bus seats should be marked to indicate where passengers should sit, which will facilitate social distancing.
Gericke and George Link operational manager John Heathcote were in a telephone conversation with Go George manager James Robb, who agreed to having a meeting today.
Comment from the George Municipality is being awaited.
'We bring you the latest George, Garden Route news'