GEORGE NEWS - Three men were arrested by the Pacalts-dorp police last week after stoning a Go George bus in Dellville Park, damaging its back window and resulting in temporary service suspension of the Pacaltsdorp community route.
This was one of three incidents of stone-throwing at buses last Friday.
Vandalism to Go George buses and infrastructure has been a major challenge ever since the bus service was rolled out, and became even worse since the installation of bus shelters with operational information applied on the inside.
These, as well as broken glass panels, are being replaced constantly at huge cost to the George Municipality.
James Robb, Go George manager, says people don't understand the consequences of this kind of behaviour. "We need everybody to realise that malicious damage to municipal property is a very serious matter; it is a criminal offence and will lead to a criminal record when convicted.
It takes concerted effort to break the shelter panels. Reinforced material is now being applied to replace panels.
"The same goes for people throwing stones at the buses - we have had three such incidents last week and five during January alone. Last year, 18 incidents of stone-throwing and damage to buses were reported."
He pointed out that stone-throwing puts the lives of passengers and bus drivers at risk, while passengers waiting at shelters that have been vandalised have to endure unnecessary discomfort in harsh weather conditions (wind and rain).
According to Acting Municipal Manager Dr Michele Gratz, the three men were apprehended by the municipality's Rapid Response Unit within minutes after receiving the call and were handed over to the police.
"The municipality has a zero-tolerance approach to criminality and will work closely with the police to address these matters," she said.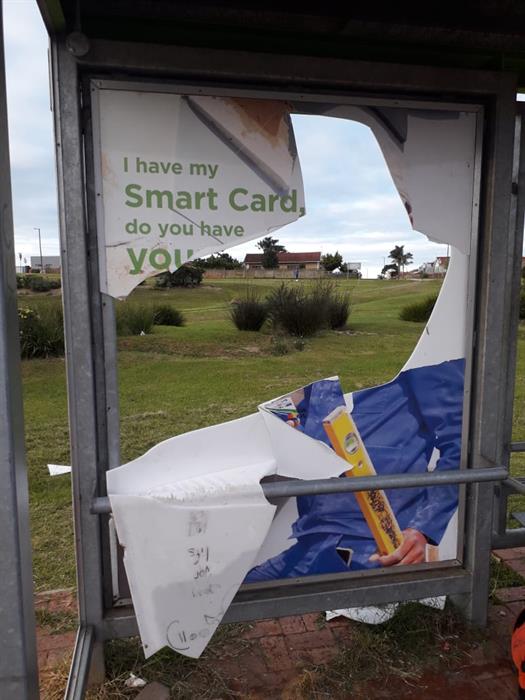 The vinyl stickers with passenger information are being torn down repeatedly.
'We bring you the latest George, Garden Route news'