Advertorial
GEORGE SAKE-NUUS - Dit klink soos 'n sprokie: elke vleisdis is meer as net 'n maaltyd - dit oortref elke keer jou verwagting en is 'n ware "WOW" eet-ervaring. Om 'n vuur te maak en dan kos daarop gaar te maak, is baie spesiaal en eiesoortig in die wye wêreld.
Die pak van die vuur met jou voorkeur hout, die geure, knetter en rustigheid van die Bosveld-televisie, bied ontvlugting van elke dag se druk en stres. Dit is wanneer goeie vleis 'n okkasie raak.
Hoor wat sê Jan Hendrik van der Westhuizen in sy boek (Jan, the Journal, Volume 1 van 2018): "When choosing a cut, start with colour. Select marbled meat with fat. Firmer is better. Test the texture. Smell the meat."
Van Rensburgs Foods eggo sy gevolgtrekking: "Goeie goed is skaars. Dit is 'n teer punt vir my mede SA karnivore. Koop goeie vleis, waarin jy vertroue het en wat jou verwagting telkens oortref."
Not too much, just enough of the best. Meat is an occasion.
Van Rensburgs Foods se span by hul slaghuis in Courtenaystraat, George.
Van Rensburgs Foods strewe daarna om sy diens uit te brei na elke kliënt se oond, pan, pot, rooster en Weber deur die eienskappe en kenmerke van ons snitte en produkte te deel. Ook met wenke hoe om die eet-ervaring fantasmagories te maak. Trou wyn met vleis en 'n nuwe hoofstuk en leefstyl gaan vir jou oop.
Van Rensburgs Foods in Courtenaystraat is in 'n proses van opgradering om die verskeidenheid snitte en produkte verder uit te brei en om meer ruimte en gerief vir kliënte te skep.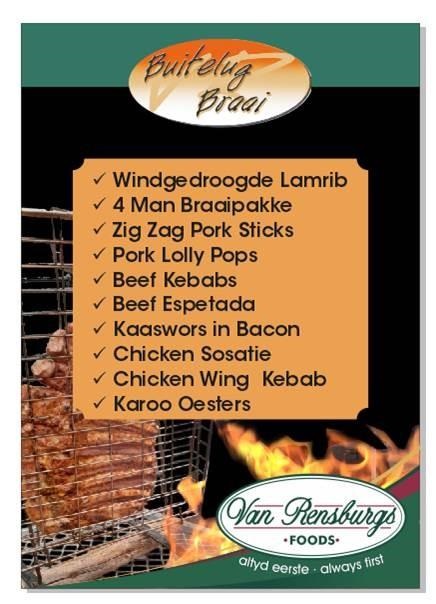 Van Rensburgs Foods bied 'n groot verskeidenheid braaipakke.
Meisie de Swardt, wat al 35 jaar hier aan bestuur is, som dit so op: "Ons nuwe verbeterings maak ons en ons kliënte opgewonde. Dit is my en my personeel se strewe om net die beste vir ons kliënte voor te sit en ons diens nog verder te verbeter! Dit is vir ons lekker wanneer kliënte ons produkte koop en dit geniet."
By Van Rensburgs Foods is die eindproduk alles. Passie, respek, dissipline, trots, loop die ekstra myl, glo in jou produk en dit maak alles die moeite werd, is ons samestelling. Dit is ons storie. Dit verklaar ons slagspreuk: Van Rensburgs Foods, gestig in 1940, steeds die beste.
Die span by die nuwe winkel in die Garden Route Mall.
'Ons bring jou die nuutste George, Tuinroete nuus'