NATIONAL NEWS - A tenth person has died after a major crash stopped the traffic flow for a few hours this afternoon, 18 August, on the N1 southbound between Allandale Road and the Buccleuch interchange, Sandton Chronicle reports.
It is believed that the crash took place when the taxi driver lost control of the minibus taxi and hit the concrete barrier on the highway.
According to Chief Superintendent Wayne Minnaar, the spokesperson of the Johannesburg Metro Police Department, the crash, which occurred just after 1 pm, saw nine people declared dead on the scene.
"Four, a child and three elderly people, were taken to the hospital, at least one person died at the Tembisa Hospital," said Minnaar.
"The cause of the accident will be investigated but the contributory factor is reckless and extremely high-speed driving."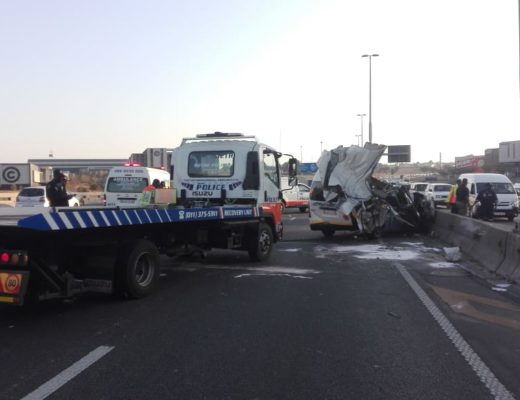 It is believed three vehicles were involved in the crash on the N1. Photo: Ofentse Ditlopo
Minnaar added that it was alleged a driver of a Toyota Corolla may have contributed to the crash, but this was still being investigated.
Read original story on sandtonchronicle.co.za