Gallery
GEORGE NUUS - 'n Stapper en veldwedloopatleet van George, wat graag interessante plekke in die Outeniqua-bergpieke opspoor, het wrakstukke gevind van die vliegtuig waarin die voormalige krieketkaptein Hansie Cronjé in 2002 verongeluk het.
'n Vliegtuigwiel, 'n verbrandingskamer en verskeie stukkies metaal en glas wat deel van die vliegkajuit gevorm het, is deur Casper Schölly in Vandalenskloof se bosse, regs van George-piek, gevind.
Schölly het aanlynnavorsing gedoen en die presiese koördinate van die plek gevind waar die ongeluk plaasgevind het alvorens hy die uitstappie op Sondag 29 November onderneem het.
Sy foto's van die wrak-stukke vertel 'n storie wat niemand in die geweste ooit sal vergeet nie.
Agtien jaar gelede op 1 Junie 2002 het Cronjé van 'n alternatiewe vlug gebruik gemaak nadat sy geskeduleerde vlug van Johannesburg na George gekanselleer is. Hy het toe as die enigste passasier aan boord van 'n Hawker Siddeley HS 748 turboprop-vliegtuig na George gevlieg.
Fotogalery: Wrakstukke in Outeniqua-bergpieke opgespoor
Naby George-lughawe het die vlieëniers sig in die wolke verloor en kon hulle nie land nie, deels weens onbruikbare navigasietoerusting.
Terwyl die vliegtuig gesirkel het, het dit in die Outeniquaberge noordoos van George-lughawe neergestort. Cronje (32) en die twee vlieëniers is op slag dood.
Tydsberekening
Schölly spandeer baie tyd in die berge en probeer soveel moontlik pieke verken. "Ek stap en draf graag na grotte of ou ruïnes. Dit gee my 'n rede om in die berg in te gaan en maak die oefenry interessanter," het hy gesê.
"Ek het geweet van Hansie se ongeluk en namate ek die berg se klowe en pieke beter leer ken het, het ek probeer om die presiese ligging van die ongeluk te vind. Ek het die verslag van Burgerlike Lugvaart opgespoor wat die presiese koördinate verskaf. Daar-vandaan het ek 'n roete uitgewerk."
Schölly het maande gelede reeds sy beplanning gedoen, maar gewag vir die regte geleentheid - geen mistigheid in die berg.
"Daai Sondag was dit die perfekte dag. Ek het saam met my twee skaaphonde, John Snow en Bacon, stukke gestap en gedraf. Die hele uitstappie het sowat ses uur en 45 minute geduur. Dis 'n moeilike hike."
Wrakstukke
Schölly het gesê hy was verras om sulke groot items soos die wiel van die vliegtuig te vind. "Ek het gedink ek sal net klein items sien soos stukkies metaal en glasstukke. Toe ek klaar is en 'n laaste foto neem, sien ek uit die hoek van my oog iets wat nie soos 'n klip lyk nie. Dit was die verbrandingskamer. Toe ek van daar opkyk sien ek die wiel - sowat 50 m onder die plek waar die vliegtuig geval het. Dit was die grootste item wat ek gevind het."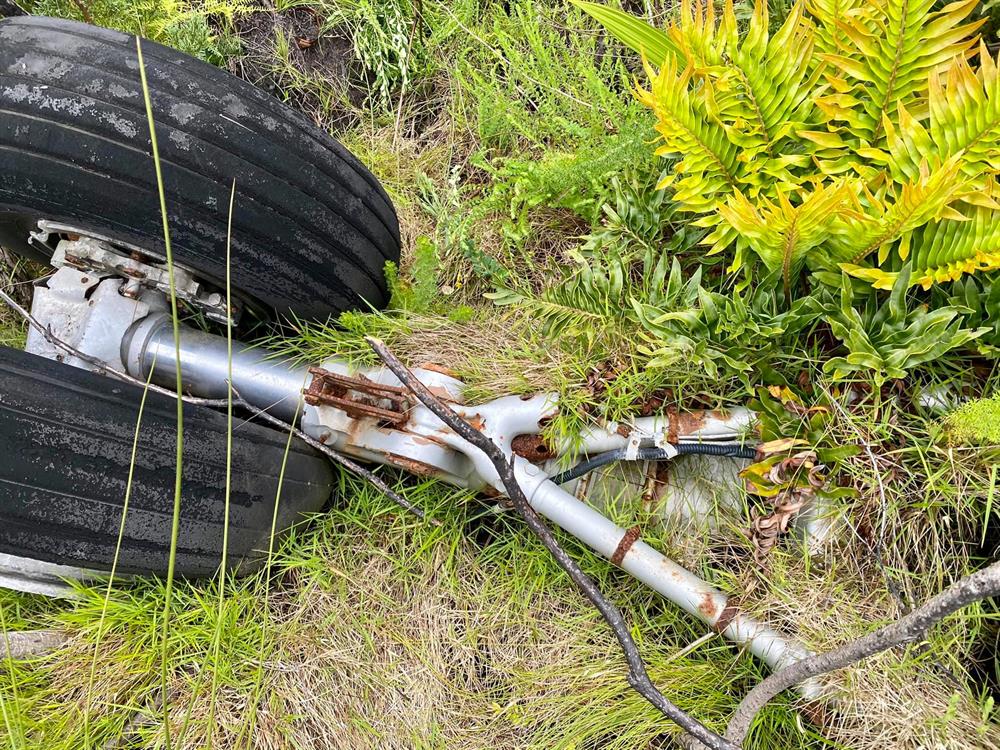 Gedeeltes van die wrakstukke wat gevind is.
Respek
Volgens Schölly was dit effens vreemd om op die toneel te wees waar die tragedie afgespeel het. "Ek is baie sensitief vir wat daar gebeur het. Ek het nie aandenkings gaan soek nie. Ek is in kontak met George-museum oor 'n handjie vol items wat ek graag aan hulle wil skenk. Hulle sal weer met my kontak maak."
'n Navraag in die verband is aan George-museum gestuur en terugvoer word afgewag.
Schölly het ook met Burgerlike Lugvaart kontak gemaak om te hoor of daar iets is wat hulle benodig, maar het nog niks gehoor nie.
Intussen het sy foto's aandag getrek en die radiostasie Cape Talk het met hom 'n onderhoud gevoer.
"Ek het nie vlugagtergrond nie, so ek het juis die foto's op Facebook geplaas sodat mense kan help kyk en dinge identifiseer. Meeste van die items wat ek gekry het is afkomstig van die vliegkajuit."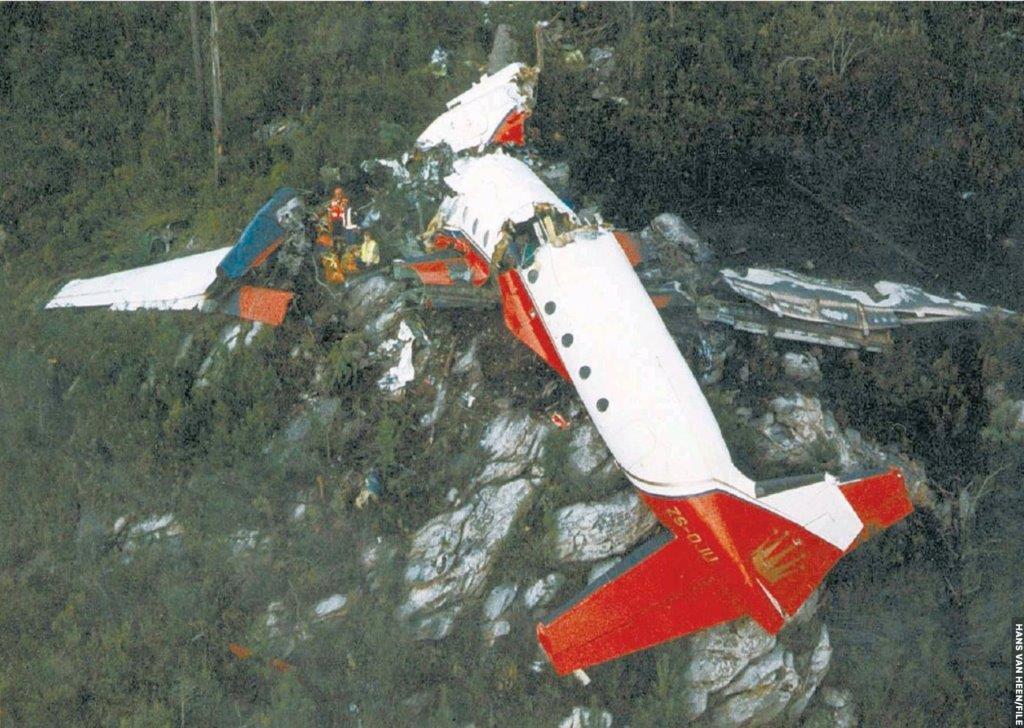 Foto: Verskaf
'Ons bring jou die nuutste George, Tuinroete nuus'