Update
GEORGE NEWS - Harsh word were spoken last Wednesday, 12 August, at a meeting between the Victoria Bay Home Owners Association and representatives of the community, who have been questioning the goings-on at Vic Bay over the past weeks. At one stage it looked as if the meeting was going nowhere and could even fall apart.
This despite the opening remarks of Virgill Gericke, who acted as chairperson, to the effect that the meeting's aim was to get a better understanding, not to look for devils or point to wrongdoers.
The bone of contention was a letter setting out improvements* the association planned for Vic Bay, which was addressed to the Garden Route District Municipality and dated 4 August. Read the proposed measures at www.georgeherald.com.
The contents of the letter become known shortly before Wednesday's meeting. Community members expressed their dissatisfaction that the contents of the letter had been made public before their meeting had taken place. They were angry and asked the members of the association how they expect the community to trust them. The meeting had initially been scheduled for 4 August, but was postponed till the 12th.
The association apologised for the confusion with the letter and, after several members of both sides spoke, Gericke made closing remarks.
He said in the spirit of good faith they must decide on the status of the letter. In a surprise move Francois Roets, speaking on behalf of the association, said they would withdraw the letter. He gave no specific reasons and suggested they meet again and have consensus on the way forward. This was accepted and it was decided that a follow-up meeting will take place on 26 August at Victoria Bay.
Gericke on Monay confirmed that the proposals have been withdrawn. He has seen the letter, dated 13 August, that states that a new proposal will be prepared and submitted after consensus has been reached between the association, the community representatives and the local authority. Neil Schalkwyk, chairperson of the association, on Monday said they withdrew the letter and proposals so that everybody could better understand what the needs of the community are. "We did it in good faith."
He stressed that the final decision will have to be taken by the district municipality.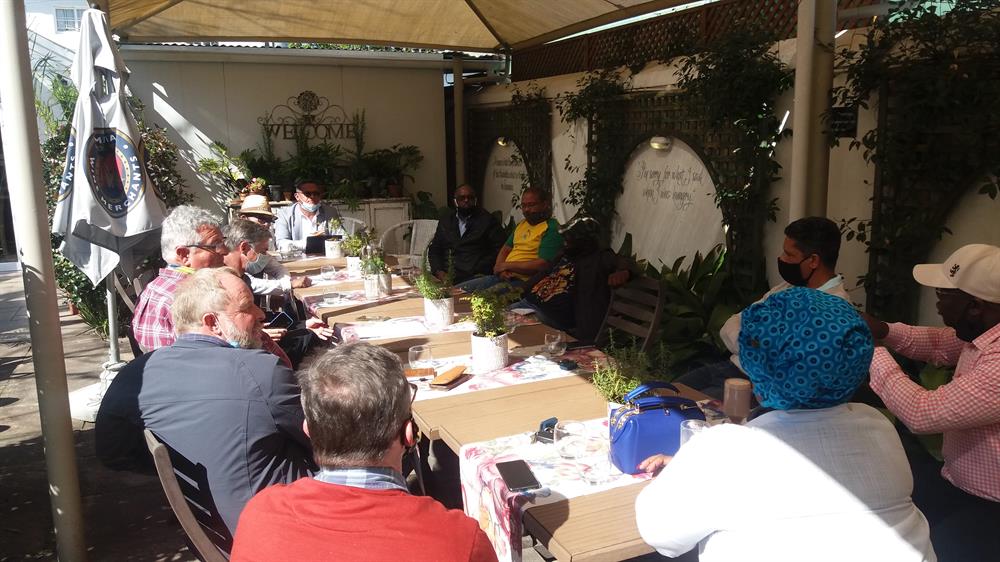 The meeting between the Victoria Bay Home Owners Association and representatives of the community last Wednesday in the centre of town.
Proposed measures and steps by the association that were withdrawn:
Provide the current manual gate with a motorised sliding mechanism at own cost;
Provide bollards as indicated to protect the beach from runaway vehicles;
Provide unhindered safe access 24/7 to pedestrians;
Provide security guards at a guardhouse to control alcohol consumption on the beach;
Provide direct wheelchair- and pedestrian-friendly access away from the road;
Provide CCTV cameras at strategic points for security purposes; and
Opening the view of the sea from the parking area.
The meeting between the Victoria Bay Home Owners Association and representatives of the community last Wednesday in the centre of town. Photos: Eugene Gunning
'We bring you the latest George, Garden Route news'