Update
GEORGE NUUS - Vriende en oudkollegas van Johan Prinsloo, bekende oudrugby-administrateur, het die week met skok en hartseer reageer oor sy skielike afsterwe. Hulle het met lof gepraat oor Prinsloo se integriteit, eerlikheid en humorsin.
Prinsloo (69) is Sondag aan pankreaskanker dood. Dit was nie algemeen bekend dat hy siek was nie. 'n Troosdiens word Saterdag 11 Januarie om 11:30 vir 11:45 by die Ou Apostoliese Kerk, 87 Bergerweg, Vorna Valley in Midrand, Gauteng vir hom gehou.
Prinsloo het diep spore in Suid-Afrikaanse rugby getrap. Hy was onder meer uitvoerende hoof van die Goue Leeus Rugbyunie en Suid-Afrikaanse Rugby (Saru). Later het hy dieselfde pos by die SWD Arende in George beklee. Na sy aftrede in 2016 het hy in Heroldsbaai en Danabaai gewoon. 'n Paar maande gelede is hy na Midrand en Sondag is hy in Bella Bella oorlede.
Johann Marx, 'n familielid het aan die George Herald gesê alles het baie vinnig gebeur. "Ons het eers 'n paar maande gelede uitgevind hy het kanker." Dit is 'n moeilike tyd vir die familie.
Prinsloo was een van 14 kinders en net een van sy susters leef nog. Volgens Marx is mense baie welkom om die troosdiens by te woon.
Veda Manie, waarnemende hoof van SWD Rugby, het gesê sy het nog op Nuwejaarsdag kontak met hom gehad. "Hy het die laaste tyd sy situasie aanvaar."
Hy sou in Mei 70 jaar oud word en wou graag leef tot minstens 80.
Johan Lerm, 'n voormalige afrigter van die Arende wat ook saam met Prinsloo rugby op radio uitgesaai het, het gesê Prinsloo het oor 'n skat van rugbykennis beskik. Rugby het altyd vir hom eerste gekom en hy het deurgaans na oplossings vir uitdagings in die rugbywêreld gesoek.
Hugo Redelinghuys, sportredakteur van die George Herald het gesê Prinsloo was die "ultimate gentleman".
"Hy het nooit ooit 'n slegte woord oor iemand te sê gehad nie." Volgens Redelinghuys het Prinsloo nie sy gelyke in Suid-Afrikaanse rugby as administrateur gehad nie.
In SWD-klubrugbykringe was hy bekend as "Oom Jo". Hy was geliefd en bemind.
"Ek het hom nooit hoor kla oor sy siektetoestand nie en hy het homself nie jammer gekry nie."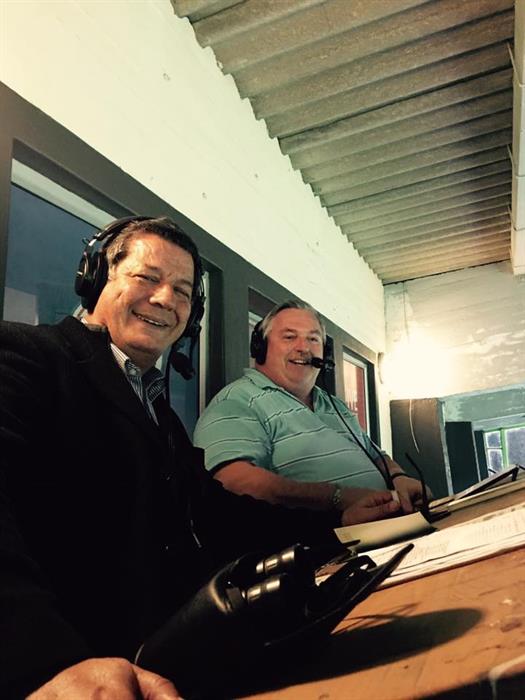 Johan Prinsloo (links) saai saam met Johan Lerm rugby uit op Outeniquapark.
Werner Rall, wie se paaie met Prinsloo by SWD-Rugby gekruis het in 'n bemarkingshoedanigheid, het gesê hy het charisma gehad en kon met mense werk. Hy wou rugby as sport dien en was ook 'n goeie spreker.
Abrie de Swardt, self 'n bekende sportadministrateur, het vertel dat Prinsloo altyd die positiewe in die lewe raakgesien het. Hy was toegewyd aan rugby. Bewens rugby-administrateur was hy ook 'n gekwalifiseerde skeidsregter en afrigter. "Hy kon 'n breë mening oor rugby gee en het goeie internasionale rugby kontakte gehad."
Johan Prinsloo (69), well known rugby-administrator, died on Sunday after battling pancreatic cancer. Prinsloo was a former CEO of the Golden Lions, SA Rugby and the South Western Districts Eagles. A memorial service will be held on Saturday 11 January at 11:30 for 11:45. The service will be held at the Old Apostolic Church at 87 Berger road, Vorna Valley, Midrand.
Lees 'n vorige artikel: Bekende rugby-administrateur sterf
'Ons bring jou die nuutste George, Tuinroete nuus'