GEORGE NEWS - The George Municipality Council last week decided to uphold Level 2B water restrictions even though the city's main water supply, the Garden Route Dam, is nearly full (currently at 95,2%).
Municipal Manager Trevor Botha explains the reasons why water restrictions remain in place:
1. The Western Cape is a declared disaster drought area and all municipalities in the province must comply to its stipulations, most significantly that all municipalities should aim to reduce 40% of its overall consumption irrespective of their individual water status. For George that means a target of 22 megalitres per day, which is much higher than the average 30 megalitres per day the city's people have been using since restrictions were introduced in June 2017.
2. If it stops raining today and the people of George keep using the same amount of water they are now, the city will be in crisis by the end of next summer. Below average rainfall was recorded in George in 2016 and 2017 and the dam level dropped to an alarming 41,2% in September 2017 before we received sufficient rain to turn the situation around - we may not be as fortunate next time. South Africa remains after all a water scarce country.
3. Section 2B restrictions reaffirm that drinking water is valuable and should only be used to sustain and support life: gardens can still be watered, just at times when it is not hot and by taking turns. It is not okay to swim and play in municipal drinking water – that is a lifestyle change applicable to everyone all the time. While restrictions in George for now allow for washing your car using a bucket and municipal water, harvesting rainwater for car washing is strongly encouraged.
4. Restrictions send a message that things are serious, which it is. Irrespective of our own current water situation, the George Municipality chooses to be proactive rather than reactive: what we save now we don't have to panic about later.
5. Complying with Section 2B restrictions does not cost residents anything, it is just inconvenient – which in turn encourages innovation to come up with sustainable alternatives and solutions.
6. Restrictions promote a mindset change that is globally supported: drinkable water from a tap is a privilege that should be respected and is not guaranteed. Population growth, climate change and economic challenges are but three of the factors that will affect potable household water supply in all nations in the foreseeable future.
7. The municipality is making an effort on all fronts, but many citizens are not. In addition to the many plans, policies and projects the municipality pursues to address short and long term water-related matters sustainably, restrictions give the municipality a last resort to take punitive measures such as fines and even prison in cases of blatant, continuous contravention of restrictions and disrespect for the resource.
8. We may have to help others. As unlikely, ineffective, impractical and costly as it may sound, the George Municipality may have to assist other towns. While emergency measures may legally obligate us and we may have no control over such a decision, we are also morally and emotionally tied to our neighbours and will want to help them. We also never know when the tables are turned and we need the help of others.
"While the George municipality understands that citizens feel it is their right to use the water they have helped save, the water crisis is bigger than us. We have been blessed by rains and our dam is nearly full, but we must do the right thing and that is cultivating a permanent lifestyle of water conservation," said Mr Botha.
What 2b water restrictions mean:
• Handheld watering of gardens using a hose and municipal water: even-numbered households Mondays and Thursdays, 19:00 - 21:00 AND uneven-numbered households Tuesdays and Fridays, 19:00 - 21:00.
• Mechanical irrigation of gardens (sprayers) using municipal water is prohibited.
• Watering sports fields using municipal water is prohibited, except for golf course greens, bowling greens and cricket pitches, daily 19:00 - 21:00.
• Filling up of swimming pools using municipal water is prohibited.
• Washing cars with a hose using municipal water is prohibited (buckets allowed), except for commercial car washes.
• Cleaning of outside surfaces using a hosepipe with municipal water is prohibited (buckets allowed).
• "OWN WATER" signage must be displayed where applicable and must be proven on request by municipal officials.
• Applications for exemption of some restrictions may be considered on merit.
Report water leaks and burst pipes to 044 801 9262 or after hours at 044 801 6300.
Report contraventions of water restrictions on 0800 424 277. Fines may apply.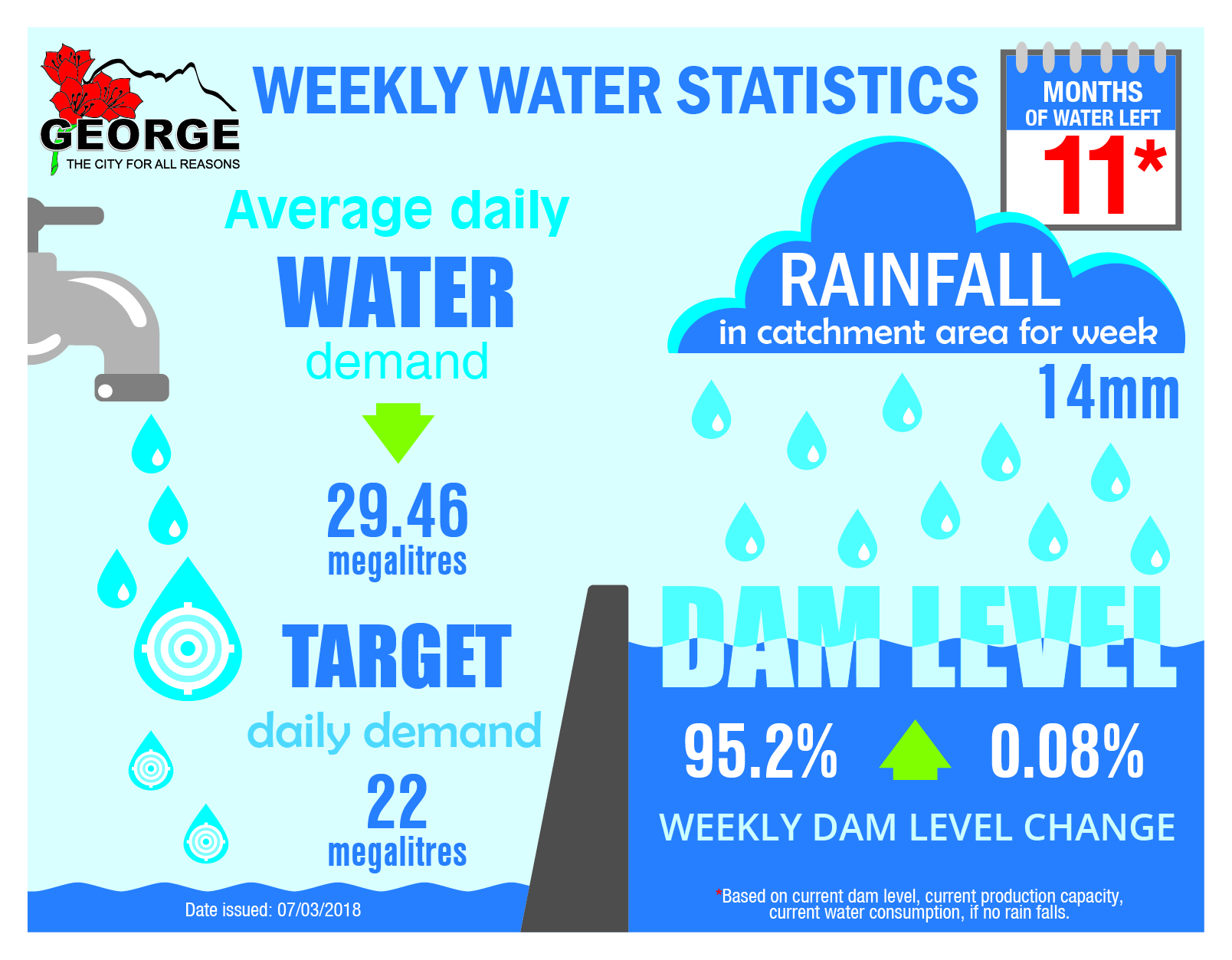 Infographic courtesy of George Municipality.
Read related articles:
'We bring you the latest George, Garden Route news'