GEORGE NUUS - Alles is nog onduidelik en sy weet nie wat presies gebeur het nie, maar haar lieflingkind se stem is stil.
Martie Schuckmann, ma van wyle Brandon Buys (36), het Maandag voorbereidings getref om van Namibië na George te reis vir haar oudste seun se gedenkdiens.
Brandon het verlede Vrydag in die vroeë oggendure gesterf nadat hy met 'n wit Mazda-bakkie teen 'n muur gebots het, reg onder 'n advertensiebord op die hoek van Caledon- en Davidsonstraat.
Na wat verneem word was Brandon vanaf Courtenaystraat onderweg na Davidsonstraat toe die ongeluk plaasgevind het. Brandon is op die toneel dood verklaar.
'n Vriend van Brandon, wat as passasier in die bakkie gery het, GB Wolmarans, is met ernstige hoofbeserings per ambulans na die hospitaal geneem. Hy is later ontslaan.
Die Suid-Kaapse polisiewoordvoerder, sers. Chris Spies, het bevestig dat 'n saak van strafbare manslag geopen is en steeds ondersoek word. Die polisie vra die publiek om inligting te verskaf wat met die ondersoek kan help. Kontak die ondersoekbeampte, Jerome Malan, by 044 803 4714 of 065 912 2850.
"One of a kind"
Brandon het vir jare saam met sy pa, Eghardt Schutte, bestuurder van Phil Minnaar Motors, by dié onderneming gewerk. Hy het egter vanjaar, kort voor die totale inperking in Maart, sy eie onderneming in die motorindustrie begin.
Brandon se broer, Egmar Schutte, beskryf hom as "one of a kind" - 'n persoon wat vriendelik was met almal, en nie "nee" vir 'n antwoord aanvaar het nie. "Ek het so baie by hom geleer oor die besigheid. Oor hoe om jouself gedurig te verbeter en met min kapitaal 'n sukses te maak. Brandon het dinge reggekry," het Egmar gesê. "Ons het drie jaar saam gewerk, waarna ek my eie onderneming in die Kaap begin het."
Martie sal haar oudste seun altyd onthou as iemand van wie almal gehou het, met 'n passie vir voertuie en om "mooi goedjies" te maak.
Hy was 'n uitstekende atleet en rugbyspeler aan die Afrikaanse Hoër Seunskool in Pretoria, waar hy gematrikuleer het.
"Ons het elke dag gesels. Ons het die aand voor sy dood ook gesels," het Martie gesê. "Ek het hom vertel van 'n fliek wat ek gekyk het, The Secret, en hy het gesê dis presies hoe sy lewe is - dit waaroor jy dink bepaal jou toekoms. Sy laaste woorde aan my was: 'Ma, ek is so baie lief vir jou, my Moeder'."
Martie beskryf haar seun as 'n perfeksionis, vol lewenslus en lief vir voertuie. "Hy was altyd besig. Hy het onlangs saam met 'n groep motorfietsryers deelgeneem aan 'n projek vir 'n goeie doel. Brandon was ook ontsettend lief vir diere. Hy was een van daai mense wat vir 'n voëltjie kunsmatige asemhaling sou gee as hy dink dit sal 'n verskil maak."
Gedenkdiens
'n Gedenkdiens word later vandeesweek in Sedgefield gehou. Brandon word oorleef deur Martie Schuckmann, Eghardt Schutte, Egmar Schutte, Tascha Schutte en Quartus Buys.
Brandon Buys het onlangs sy eie voertuigonderneming begin, na hy lank by Phil Minnaar Motors gewerk het.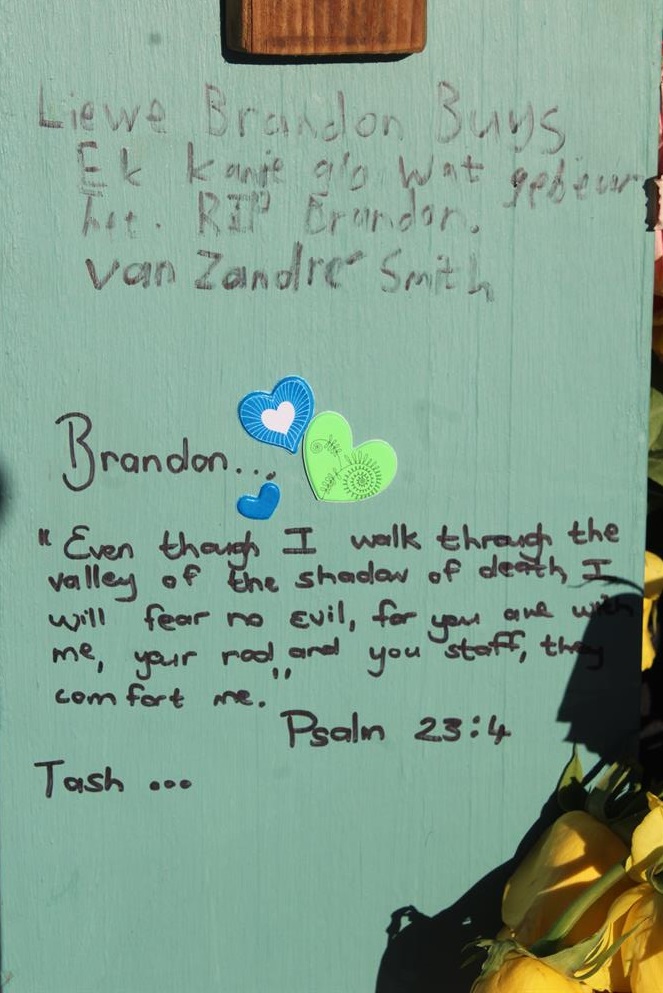 Hartroerende briefies teen die sementmuur. Foto: Michelle Pienaar
Brandon het sy ma, Martie Schuckmann, gereeld gebel vir raad met resepte. Die aand voor sy dood was sy laaste woorde aan haar: "Ma, ek is so baie lief vir jou, my Moeder".
Die bakkie het 'n muur getref op die hoek van Caledon- en Davidsonstraat.
'Ons bring jou die nuutste George, Tuinroete nuus'