Gallery
GEORGE NEWS - George trucker, Hendrik Fortuin, claimed the Driver of the Year title during the 40th Ruby anniversary annual Driver of the Year competition held at Eden Meander shopping centre on Saturday (19 October 2019). Mr Fortuin from Hino George won the rigid vehicle category and the coveted overall title, leaving 106 other competitors in his wake.
The overall second prize went to Marno Gerber, also from Hino George. He also won the vans (LDV) drivers. Gerrit Saayman, a local bus driver, was third overall and winner of the bus driver category.
The other two category winners were Solly Gysman from George Fire Brigade in the artic category, and Ciaan Ceaser of Atlantic Oil in the rigid drawbar category.
George Municipality Traffic Chief Donovan Saptoe said the annual competition is a flagship event during Transport Month.
"This year we are hosting about 107 competitors. The event is growing each year and we are receiving more competitors every year. People are becoming more aware of road safety through the event and drivers test their skills during the event."
"The objective of this event is to highlight road safety and to show George's commitment to present this event," said Saptoe.
Click here for a photo gallery.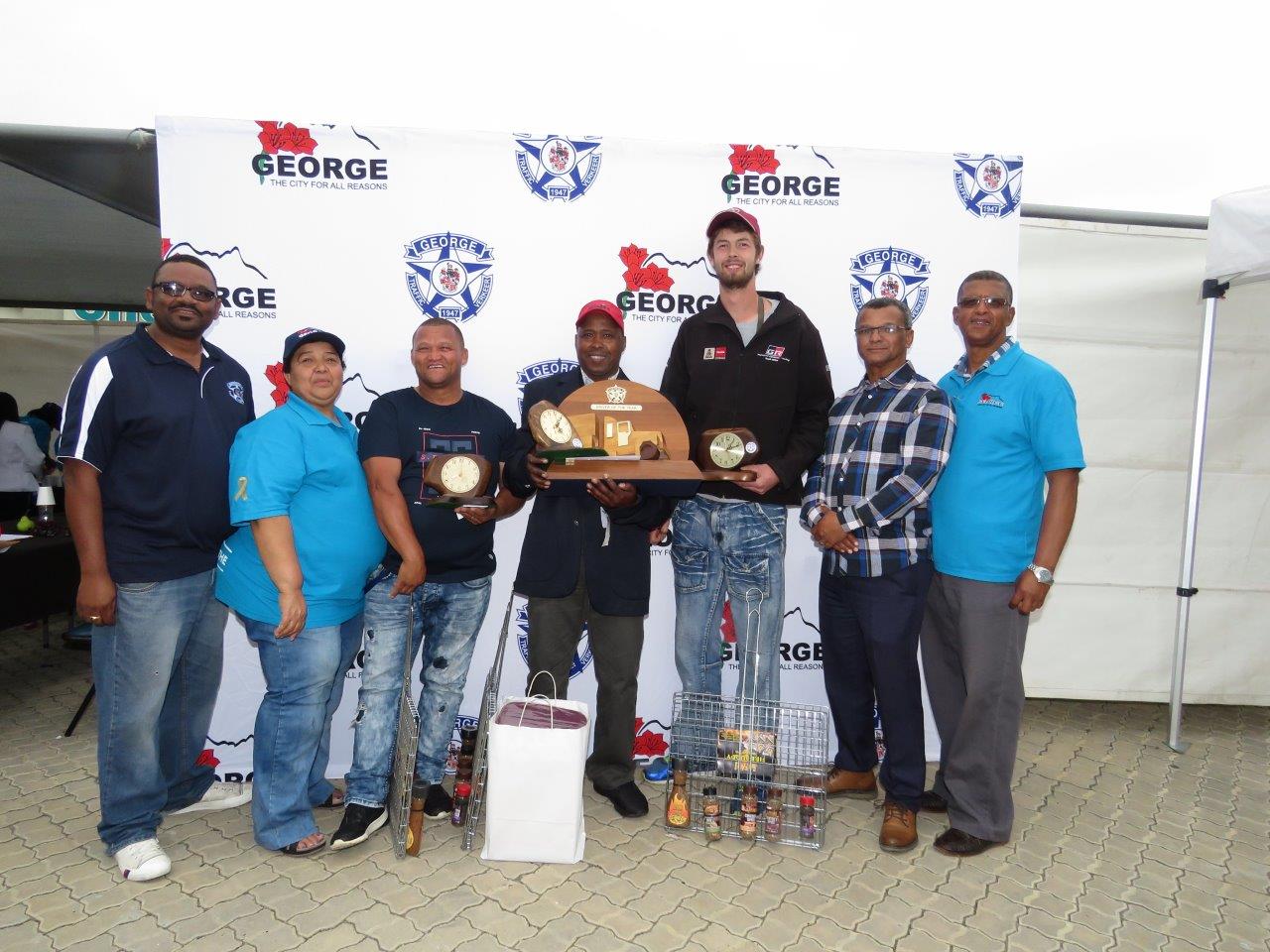 George Driver of the year 2019 Hendrik Fortuin (middle), who competed in the rigid vehicle category, was overall winner of the annual Driver of the Year 2019 competition on Saturday. From left are Lafras Boesak (George Traffic Senior Official), Rosa Louw (Coordinator of the Competition), Gerrit Saayman (Third Overall Winner), Fortuin, Marno Gerber (Second Overall Winner), Cllr Cecil Noble, Portfolio Councillor for Protection Services and Joël Junies (George Traffic Senior Official).
The overall winner, Fortuin, said this was his 15th time taking part in the competition and it was the first time he won. "I came back every time and tried to do better in the categories I have failed before. I also practised a lot this year," Fortuin said proudly.
He said every year he brings some of his colleagues with to compete in the competition because it gives an excellent name to their company, Hino George Trucks.
Anwill Junies (10) and Zena Cunningham, both from Pacaltsdorp, were intrigued by the traffic mat and spent their afternoon riding their bicycles on the mat.
Saptoe said previously that it takes a great deal of skill to drive large vehicles – the winners in these categories are truly masters in what they do.
This is the second year that Driver of the Year competition also had a kiddie's corner. The competition's goal to encourage responsible driving, develop skills and promote road safety was extended to the public where children could ride bicycles and tricycles on road safety mats and colour-in while learning about road safety at the same time.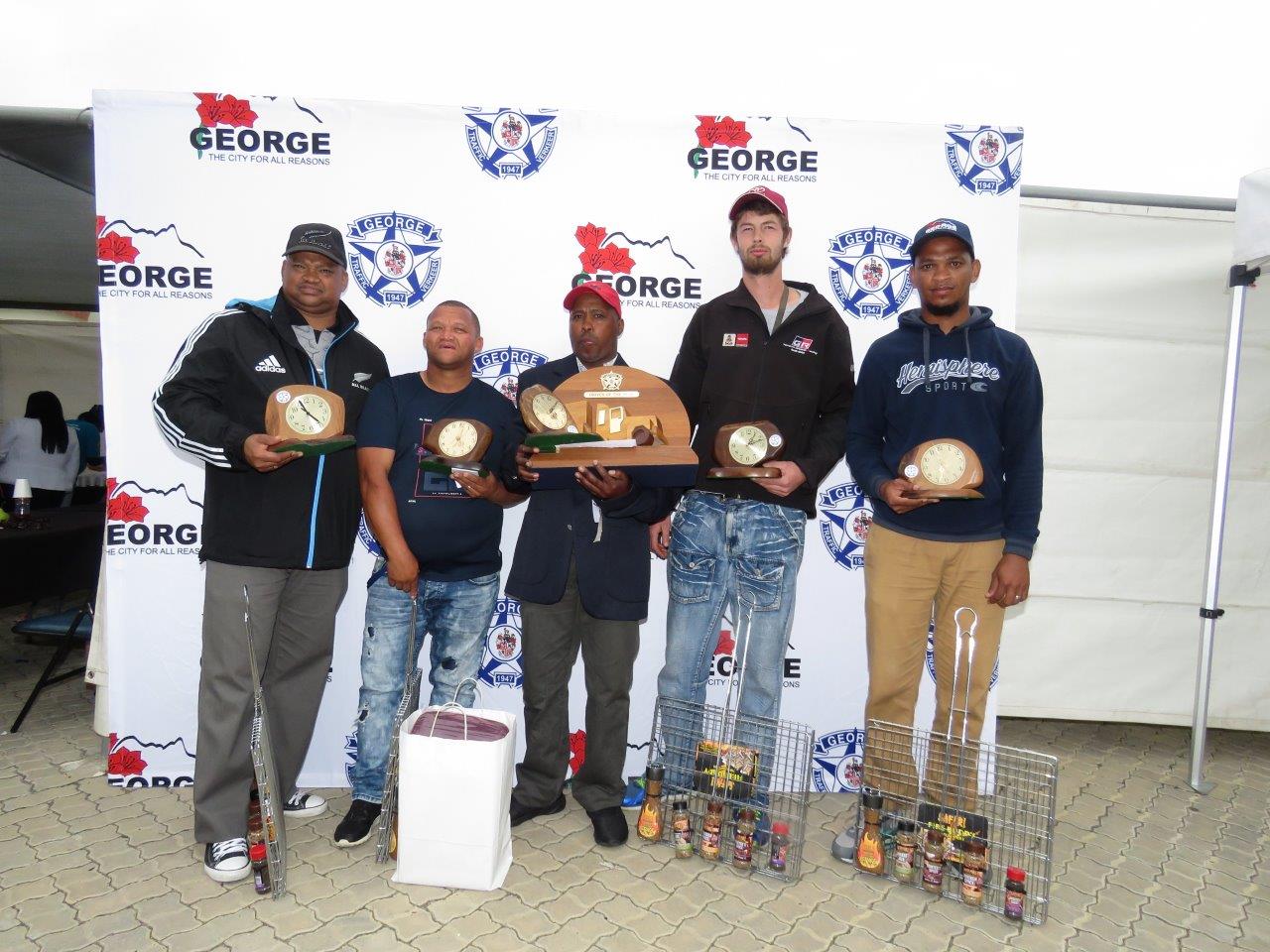 Solly Gysman (winner of the Articulated category), Gerrit Saayman (Third Overall Winner and winner of the bus category), Hendrik Fortuin, (Driver of the Year and winner of the rigid category), Marno Gerber (Second Overall Winner and winner of the LDV category) and Ciaan Ceaser (winner of the Articulated Rigid Drawbar category).
Drivers from local distribution companies, public transport and the municipality competed in five categories including buses, vans, rigid trucks, articulated vehicles and rigid drawbar vehicles.
The drivers were allocated points based on an inspection, a road test and precision driving manoeuvres.
Ms Rosa Louw, organiser of the event, thanked everyone for their support and said Driver of the Year cannot be a success without them. She thanked all the officials, participants and sponsors for their ongoing support: Eden Meander Shopping Centre, African Express, Liquor Runners, Kingsley, Intercape, Eden FM, Safari Braai Products, Atlantic Oil, GO GEORGE and George Municipality, West Coast Fisheries.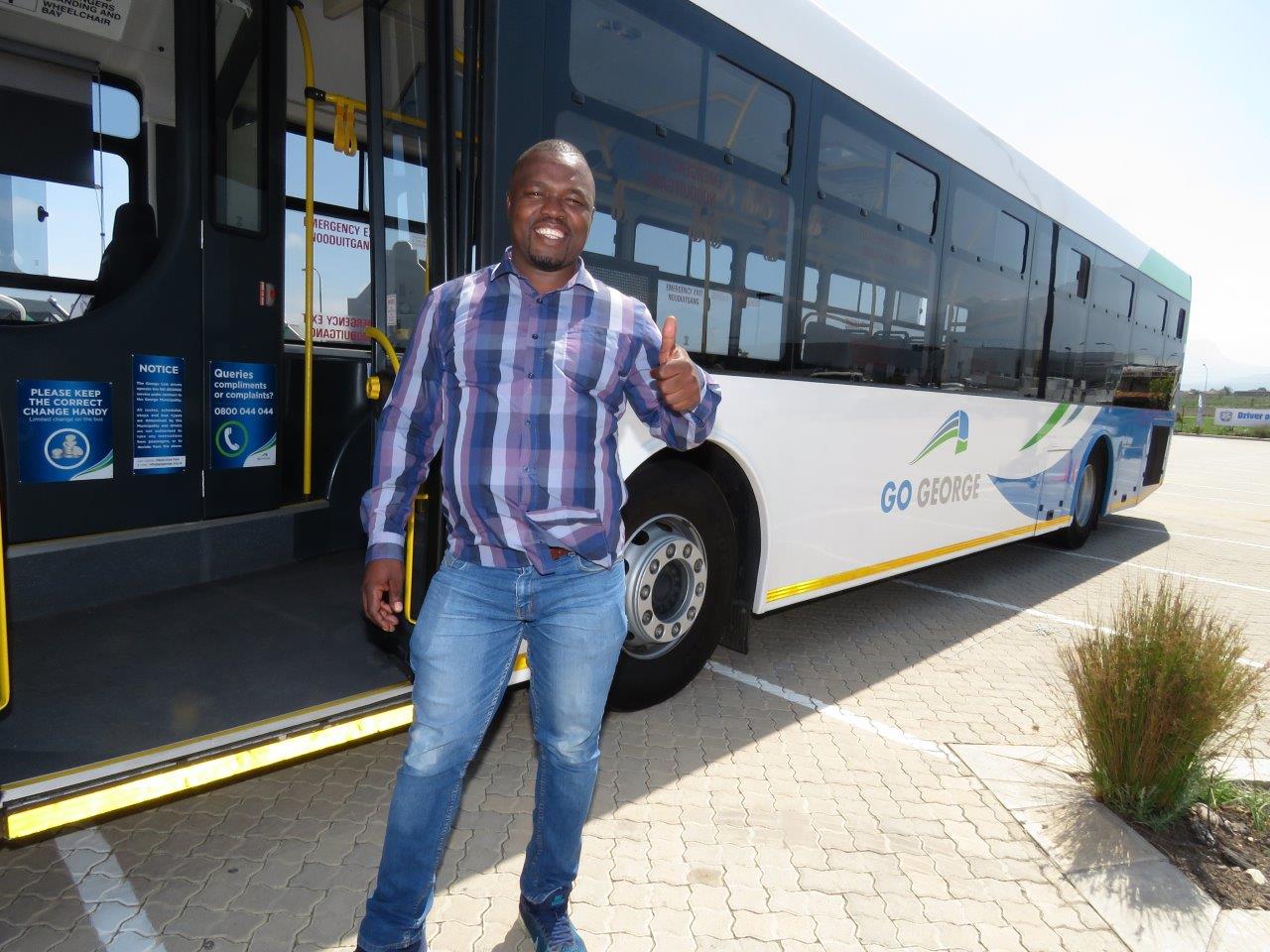 Mandla Mgewu from GO GEORGE taking part in the bus category.
'We bring you the latest George, Garden Route news'