Update
GEORGE NUUS - Dit is bykans ses maande ná die dood van die jong Caroline van der Merwe (21) en die skuldiges het nog nie aan die pen gery nie.
Volgens inligting wat deur die George Herald bekom is, het die dossier van die ongeluk nog nie die hof bereik nie en word die saak nog ondersoek.
"Gewoonlik het die ondersoekbeamptes so baie dossiere om te ondersoek dat hulle sukkel om by alles uit te kom. Hul werkslading is hopeloos te hoog," het 'n bron gesê.
Caroline se ma voel die twee bestuurders wat na bewering in haar kind se motor vasgejaag, terwyl hulle glo resies gejaag het, moet vir haar kind se dood verantwoordelik gehou word.
"My kind het nie verniet gesterf nie. Iets moet uit die tragedie van ons kom en daarom wil ons keer dat dit ooit weer gebeur."
Caroline was Vrydagaand, 2 Junie, omstreeks 23:00 vanaf Mujo's, naby die Glenwood-gholfbaan waar sy gewerk het, onderweg huis toe in haar Peugeot saam met vriende, Jean-Pierre Stopforth, Levin Muller en Megan Borrett.
Sy het in Knysnaweg ingedraai in die rigting na die dorp toe twee voertuie, 'n Chevrolet Sonic en Volkswagen Caddy wat in die teenoorgestelde rigting gery het, haar motor van vooraf getref het. Caroline het op die toneel gesterf.
Wat van die ander?
Volgens Yolandie Stopforth, Jean-Pierre se ma, gaan dit baie goed met hom.
"Hy is tans besig met rehabilitasie. Omdat hy so min kan onthou, gaan dit oor die algemeen ook goed met hom.
"Hy is egter heelwat gefrustreerd met sy rugbyloopbaan wat hy op ys moes sit, maar ons begin nou daadwerklike vordering maak."
Met Levin, 'n kranige krieketspeler, gaan dit ook al beter.
"Ek is nog besig met rehabilitasie en probeer positief bly. Ons hoop vir volkome herstel."
Hy het erge beserings aan sy linkerhand opgedoen en gaan in Januarie vir die derde operasie aan dié hand. Intussen woon hy weer van sy klasse by NMU by.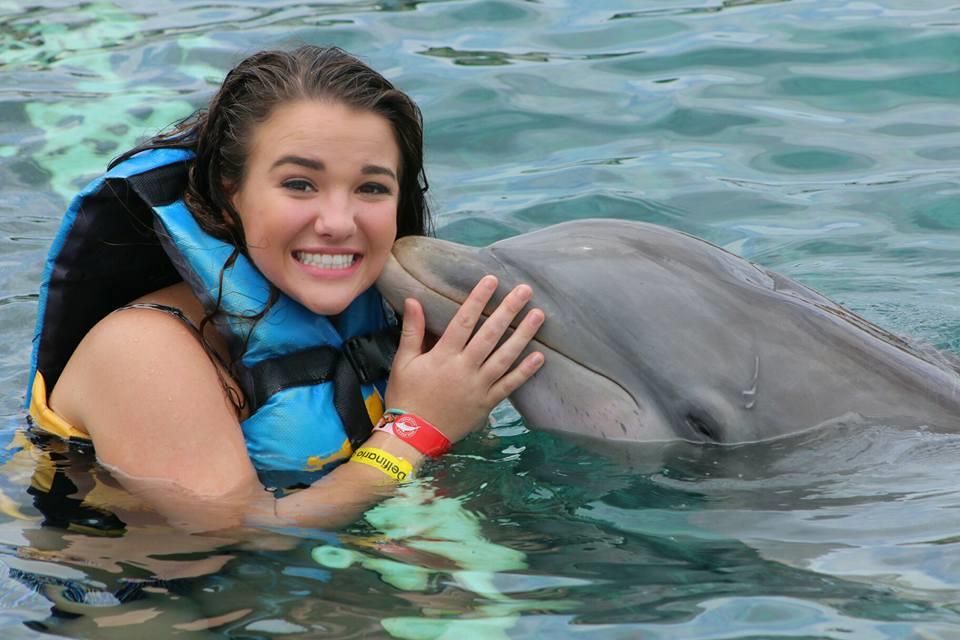 'n Sprankelende Caroline van der Merwe.
Megan se ma het vandeesweek aan die George Herald gesê dit gaan baie beter met haar [Megan].
"Dit was moeilik aan die begin. Sy het haar beste vriendin verloor, maar met berading gaan dit nou heelwat beter. Die emosionele skade is baie groot en sy kry soms nog af dae."
Megan werk tans by 'n diere-organisasie in Ladismith en gaan volgende jaar haar studies aanpak.
Wat van die pad?
Hoewel hard gewerk is aan onlangse opgraderings in Knysnaweg by die verkeerslig na NMU, is daar nog geen verandering in die spoedgrens óf permanente spoedkameras aangebring nie.
Na aanleiding van 'n brief deur Eric Swanepoel (sien brieweblad) is navrae aan die polisie en George-munisipaliteit gestuur. Teen druktyd was daar nog geen terugvoer van enige van dié partye nie.
*Nearly six months after the tragic death of young Caroline van der Merwe (21) and no one has appeared in court yet.
Klik hier vir vorige artikels:
ARTIKEL: KRISTY KOLBERG, GEORGE HERALD JOERNALIS
'Ons bring jou die nuutste George, Tuinroete nuus'