Update
GEORGE NUUS - Die vyf nonnietjiesuilkuikens wat tydens inperking in die Blanco NG kerk se kloktoring uitgebroei het, het 'n veilige nuwe tuiste in 'n uilboks in 'n boom op die kerkterrein gekry.
Volgens ds. Francois Mulder, 'n leraar van die gemeente, het die Tuinroete-rehabilitasiesentrum vir roofvoëls (Garden Route Birds of Prey Rehab Centre) die uiltjies op Sondag 31 Mei verskuif.
"Pappa- en mamma-uil het die nuwe uilboks en uiltjies gevind en aanvaar."
Mulder het die uilnes in die toring ontdek in die begindae van inperking. Hy moes in die kloktoring opklim om die klok vir die eerste keer in 'n lang tyd op Opstandingsondag tydens Paasnaweek te lui nadat die tou 'n paar jaar gelede gebreek het.
Sedertdien het hy elke Sondag die klok gaan lui en so uiteindelik in die plek van die eiers, 'n hand vol wollerige kuikens gekry. Hy het sy foto's van hulle vordering die afgelope paar weke met George Herald gedeel.
Verskeie persone was betrokke by die uiltjies se verhuising. Bertus Beukes, eienaar van die roofvoëlrehabilitasiesentrum, het die uilboks geborg en Josh Kleyn van die Tuinroete-uilboksprojek het die boks self gebou. Hy het uilhuise wat versprei is van Mosselbaai tot in St. Francisbaai.
Gerrie Jansen van Rensburg, 'n privaat geregistreerde ringer het die uiltjies gering.
Metaalringetjies wat met unieke nommers gemerk is, word aan elke voël vasgemaak vir toekomstige identifikasie. Volgens Jansen van Rensburg merk geregistreerde ringers wildediere permanent op hierdie manier om hulle leefsiklusse te bestudeer. "Hulle geboorte, dood, voortplantingsouderdom en oorlewingskoers, gewoontes, populasies en bewegings word so waargeneem."
Gerrie Jansen van Rensburg ring een van die babauiltjies.
Doopname
Met die inperking wat baie mense tot niksdoen gedwing het, het die ontdekking van die uiltjies groot belangstelling ontlok. Mulder het 'n kompetisie vir doopname vir die uile op die kerk se Facebook-blad begin waarop meer as 50 mense gereageer het.
Mulder sê: "Die uilgesinnetjie is nou amptelik gedoop die Churchowls met Mamma Hedwig, Pappa Bells, Ouboet Winston Churchowl, Albus, Bellatrix (Bella), Pinky (die jongste) en Titus.
"Titus en Albus was Philip en Alna Fourie se voorstel na aanleiding van die Nonnetjiesuil se spesienaam, Tyto Alba. My matriekdogter, 'n uilliefhebber, het aangedring op Hedwig vir Ma-uil na aanleiding van die Harry Potter-boeke.
"Verskeie 'klok'-voorstelle soos Klokkie en Tingeling word saamgevat in die naam Bellatrix of noemnaam Bella. Die kleinste uiltjie kry haar naam, Pinky, van Anelia en Thomas O'Neil se vyfjarige dogtertjie Natascha en Pa-uil kry sy naam van Randy Young af."
Die span wat gehelp het met die verskuiwing van die uiltjies na hierdie groot boom op die Blanco-gemeente se kerkterrein is van links: Gerrie Jansen van Rensburg (ringer), Josh Kleyn (Tuinroete-uilboksprojek), Bertus Beukes (eienaar van die Tuinroete-rehabilitasiesentrum vir roofvoëls) en ds. Francois Mulder wat die uilnes en kleintjies in die kerktoring ontdek het en hulle vordering dopgehou het.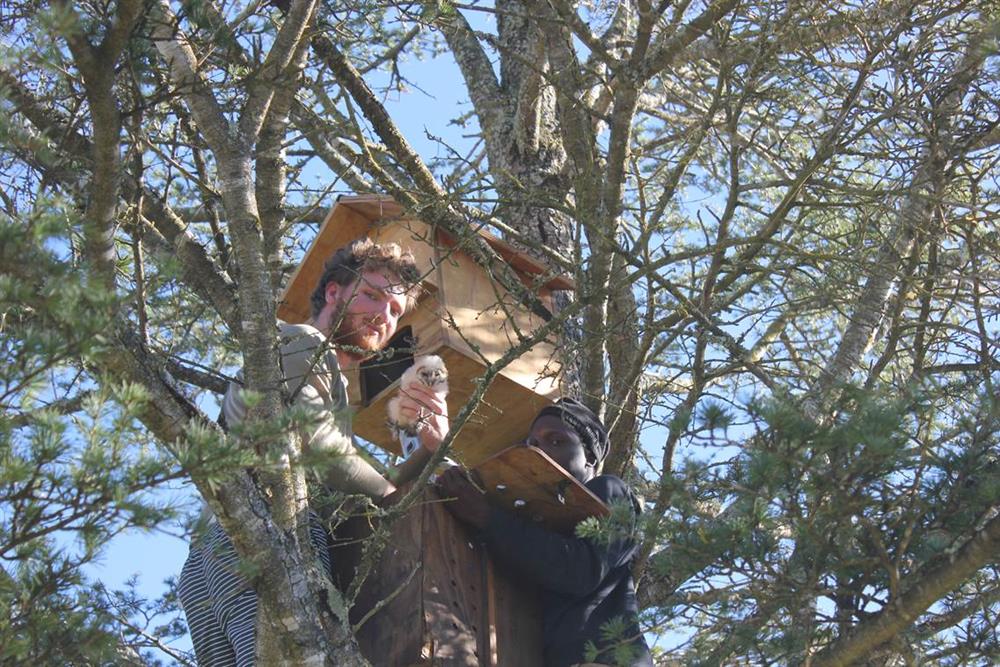 Josh Kleyn van die Tuinroete-uilboksprojek het die uilboks gebou.
Previous articles:
'Ons bring jou die nuutste George, Tuinroete nuus'