GEORGE NUUS - Chris McDonald, eienaar van Idille, het gereageer op 'n berig en brief van John Bowen in die George Herald van 1 April waarin Bowen die mening lug dat voetgangertoegang tot die Idille-plaas oor die jare 'n historiese reg geword het.
McDonald het die toegangshek tot sy plaas, asook 'n opening langsaan wat oor die jare deur voetgangers gebruik is, onlangs gesluit en doringdraad aangebring. Die toegangshek is geleë op die ou Sewe Passe-pad tussen Saasveld en Wilderness (oorkant Strawberry Hill).
McDonald sê die publiek het onwettig toegang tot sy grond gehad.
Die publiek het oor sy plaas gestap of selfs fietsgery om by die gewilde Groeneweide-wandelroete uit te kom waarvoor daar vir baie jare 'n wettige toegang vanaf die Saasveld-kampus was.
Laasgenoemde is tydens die Covid-19-inperking permanent gesluit en SANParke het 'n splinternuwe, beheerde ingang net buite die kampus se hoofhek geskep.
McDonald het soos volg op Bowen se brief gereageer:
Ten opsigte van die sluit van publieke toegang en aanbring van die lemmetjiesdraad , wil ek graag die volgende wanpersepsies en wanvoorstellings van mnr. Bowen aanspreek en regstel.
1. Dit is glad nie my of SANParke se oogmerk om publieke toegang tot die Groeneweide-wandelroete te beperk of verhinder nie, slegs om dit ordelik en veilig te reël.
2. Die 10 meter serwituut waarna mnr. Bowen in sy brief verwys, het betrekking op die teerpad wat deur my grond loop, nie die deurgangserwituut wat slegs aan SANParke en Eskom toegang verleen nie. Op die deurgangserwituut bestaan geen publieke regte nie en dit is so aangebring in my plaas se titelakte.
3. Die sogenaamde hek op mnr. Bowen se foto is slegs 'n opening langs die bestaande hekke wat ontstaan het deurdat mense wat onwettig toegang wou verkry, die draadversperring daar verwyder het. Dit is nie 'n voetgangerhek nie.
4. Indien mnr. Bowen en ander persone oor die privaat grond gestap het, het hulle dit onwettig gedoen. Ek besit die plaas al 35 jaar en vanaf die daardie stadium het ek borde aangebring wat aandui dat dit privaat grond is met geen publieke regte nie. By die hek van SANParke op die agterkant van Idille is ook 'n bord, sedert ek die plaas besit, wat aandui dat daar geen publieke reg van weg is nie en dat die Groeneweide-wandelroetes eers by die ou Saasveld-bosboukampus en toe later die Nelson Mandela Universiteit (NMU) begin.
Hierdie hek van SANParke was te alle tye gesluit, tensy die slot onwettig verwyder is. Die hek is met doringdraad versterk en beskik ook oor geen voetgangerhek waarna mnr. Bowen verwys nie. Die versperrings van SANParke is ook verskeie kere al oopgebreek deur onwettige betreders. Sien die foto's van die borde en die spesifieke hek.
5. In die verlede het die publiek tientalle slotte van my, asook dié van SANParke van die hekke verwyder om sodoende onwettige toegang te verkry.
6. Met die uitbreek van die Covid-19-pandemie en die feit dat NMU weier om die staproetes vanaf hulle grond te laat plaasvind, is Idille oorstroom deur onwettige betreders deur middel van karre, fietsryers asook stappers met honde, wat streng optrede geverg het.
7. Ek beweeg baie op Groenkop se paaie en doen op dié stadium seker die meeste instandhouding op die paaie self. In my tyd van eienaarskap van Idille het ek al verskeie stappers gekry wat verdwaal, gedehidreer en totaal gedisoriënteerd was en wat oor geen permit, intekening of toestemming beskik het nie. Indien ek nie op hulle afgekom het nie, kon die uitkoms fataal gewees het. Dit is ? aanspreeklikheid wat nie ek of SANParke bereid is om te dra nie. Die nuwe reëling is 'n poging om die risiko aan te spreek.
8. Wanneer stappers my plaas onwettig betree, parkeer hulle hul voertuie in die pad en selfs voor my hek sodat ek nie met my eie swaarvoertuie toegang tot my plaas kan kry nie. Hierdie voertuie is onbewaak en inbrake nie ver van die parkering nie het al plaasgevind. Ek wil die risiko om kriminele elemente te lok ten alle koste vermy aangesien ons baie kwesbaar is op die plase.
9. Ek stem saam dat die lemmetjiesdraad nie gepas lyk op die mooi roete nie. Ek sal dit binnekort verwyder en met meer gepaste hekke en versperrings vervang asook duidelike borde wat die reëlings aandui.
10. Uit SANParke se reaksie is dit ook duidelik dat hulle glad nie mnr. Bowen se siening deel en ondersteun nie en hierdie nuwe ingang juis die veiligheid en toeganklikheid vir die publiek ondersteun.
Hiermee ook my dank vir ondersteuning wat ek uit verskeie oorde ontvang het. Ek hoop George se inwoners en toeriste sal die noodsaaklikheid van die reëlings insien en ek vertrou dat hulle die wandelroetes nou veilig en met oorgawe sal geniet.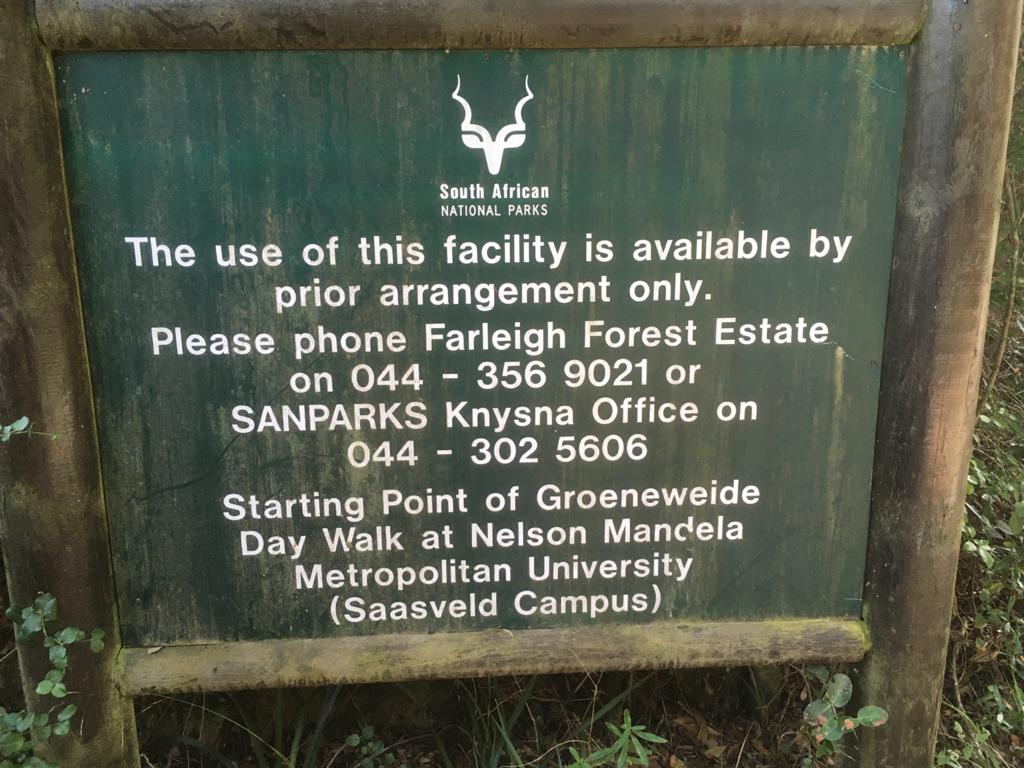 SANParke se ou inligtingsbord by die wandelroete-ingang op die NMU-kampus wat nou gesluit is.
Anthony Bowen van Wildernesshoogte se brief wat in die George Herald van 1 April verskyn het:
I refer to the article 'New entrance for hikers to Groeneweide Forest opens this weekend' (George Herald, 1 April). The article dealt primarily with the new access point for the established hiking trails in the forest, arranged by SANParks. I am sure all hikers are most grateful for this.
The article went on to report on a "complaint about closed gate", referring to the access through the property known as "Idille" on the Seven Passes road between Saasveld and Wilderness. As the article reported, this has recently been blocked to public access.
Furthermore, the article quoted "Idille's owner, Chris McDonald, said the public has never had right of way over the property, only CapeNature and Eskom".
This statement does not give the complete situation, to the detriment of the public.
The Surveyor-General diagram for the Idille property shows a registered road servitude 10m wide. Clearly this is necessary to enable the custodians of the state forest and the mountain nature reserve above to gain access through the Idille property to fulfil their statutory obligations, for example for forest maintenance, firefighting etc. It is not intended to enable the general public to drive vehicles into the forestry road network, and it is in order that the vehicle gate be kept locked by the custodians.
However, alongside the wide vehicle gate there is a narrow pedestrian gate, shown in the photograph.
The closure in the manner shown, using razor wire, took place in February this year.
This pedestrian route has been there since time immemorial, probably since the days of the woodcutters nearly a hundred years ago. It has long become an established and well-known public right of way. This right of way is a separate matter to the registered road servitude and dealt with under different laws. By way of example, the many unregistered routes used by fishermen to gain access to the coast are comparable. It is illegal for any property owner to block access to these established pedestrian rights of way, and being illegal, it would not be an offense for anyone to remove the barricade.
The Seven Passes road is a national monument, and admired for its scenic beauty by locals and international tourists alike. Installing a razor wire barricade to both the gate and the pedestrian entrance is an act of desecration. It is reminiscent of concentration camps and inner city security measures, and has no place whatsoever along the Seven Passes Road.
I therefore call upon the property owner and SANParks to remove the ugly razor wire and re-instate the pedestrian right of way.
Finally, no harm can come by allowing cyclists to use the network of forestry roads. Signage should be put up to restrict cycles to the forestry roads and disallow them from using the sensitive footpaths within the forest.
These concerns have already been made by me to SANParks management (the dominant rights owner over the road servitude), regrettably to no avail.
Therefore I also call upon affected members of the public to tie ribbons of protest to the razor wire barricade to the pedestrian entrance.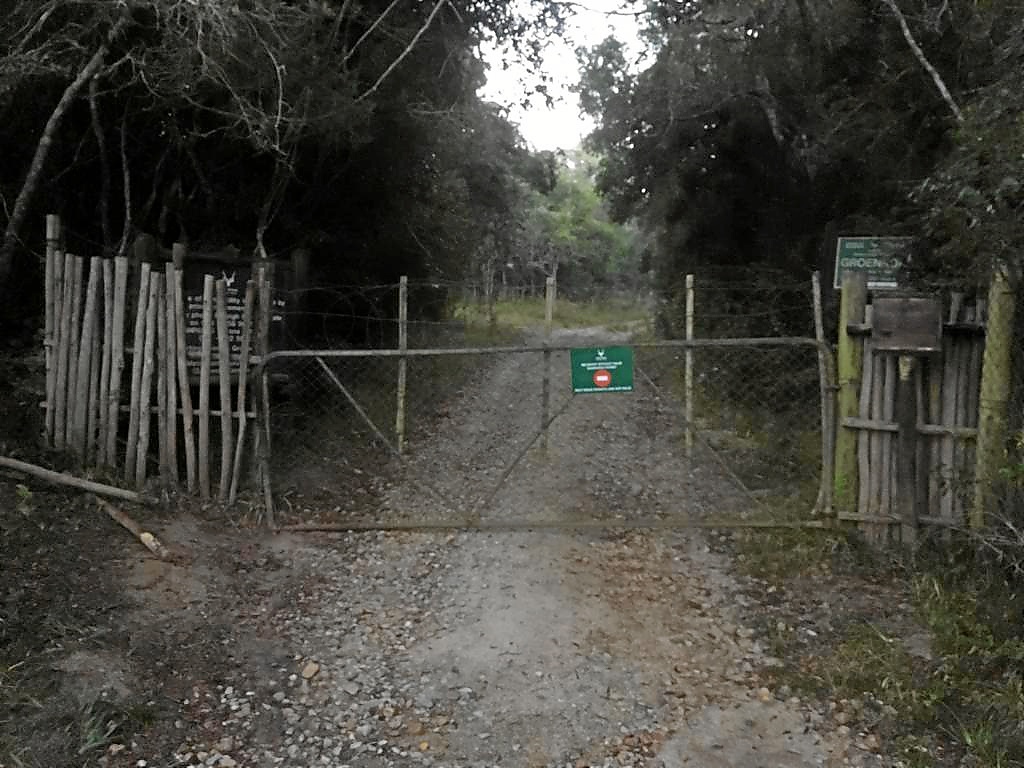 Hierdie hek van SANParke aan die agterkant van Idille was oor die jare te alle tye gesluit.

'We bring you the latest George, Garden Route news'