GARDEN ROUTE NEWS - Over the past seven days, there was a 13% decrease in new Covid-19 cases in the Garden Route, compared to the previous week.
The district recorded 1 244 new cases this past week (up until Sunday 17 January), bringing the total number of positive patients to 31 200, according to Garden Route Disaster management chief Gerhard Otto.
"There is a welcome negative change in all sub-districts, except Kannaland, which shows an increase. It is particularly good to see a reduction of 5% in new cases reported in Hessequa, which has been under pressure for a few weeks."
There is also a downward trend in the weekly deaths. Over the past week, 71 Covid deaths were recorded compared with 83 the previous week. A total of 1 110 deaths have now been recorded in the Garden Route since the outbreak.
"There are now 476 active cases per 100 000. One week ago it was 577. The Western Cape as a whole has a higher value (526) than the Garden Route," said Otto.
For the first time, Kannaland has the highest active cases per 100 000 people (849), with Hessequa (771) second. Both sub-districts still have a high new number of cases every day.
George has 378 active cases per 100 000. In the last seven days, 380 new cases were recorded compared with 439 in the previous week.
Statistics as at Sunday 17 January: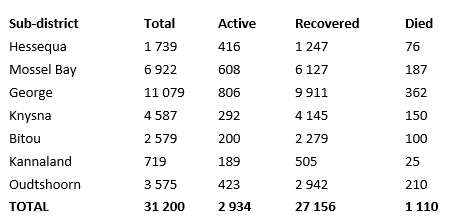 'We bring you the latest Garden Route, Hessequa, Karoo news'