Update
GEORGE NUUS - Drie beskuldigdes van Blanco, wat in Januarie vanjaar in hegtenis geneem is ná 'n video van 'n beweerde aanranding in 'n motor sosiale media soos 'n veldbrand getref het, het op Dinsdag 30 Maart weer in die George-landdroshof verskyn.
Al drie is kort na hul inhegtenisneming op borgtog van R500 elk vrygelaat.
Juanita Maritz (47), haar dogter, Jessnique Jansen (26), en die man wat na bewering die voertuig bestuur het, Gabrin Giewelaar (37), staan tereg op aanklagte van ontvoering en aanranding met die doel om ernstig te beseer.
In die video kan gesien word hoe een vrou 'n ander agter in 'n bewegende voertuig aanrand en met 'n mes steek terwyl sy die slagoffer (46) aan die hare beet het.
Die aanranding spruit glo uit 'n beweerde buite-egtelike verhouding tussen die slagoffer en haar aanvaller se man.
Verskeie bronne wat met George Herald gepraat het, het egter ontken dat die slagoffer enigsins 'n verhouding met die man gehad het. In die video kan ook gehoor word hoe die slagoffer die aantygings pertinent ontken.
Toe die slagoffer in die motor klim, het die vroulike verdagte en haar dogter haar na bewering gekonfronteer waarna sy met 'n mes aangerand is. Die slagoffer het steekwonde aan haar arm, been en skouer opgedoen.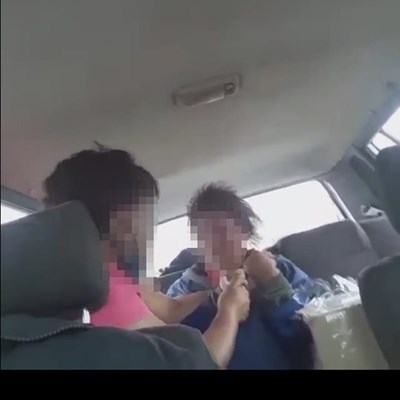 A screenshot of the video that appeared on Facebook and WhatsApp earlier this week.
Die saak is Dinsdagmiddag uitgestel om 'n streekhofdatum vas te stel. Die drie beskuldigdes sal weer op 20 April verskyn.
Martiz en haar medebeskuldigdes word deur Winston Jansen van Winston Jansen Attorneys verteenwoordig. Ricardo Jacobs is vir die staat en die saak dien voor landdros Erna Grobler.
Vorige artikels:
'Ons bring jou die nuutste George, Tuinroete nuus'