WESTERN CAPE NEWS - When we named the CTICC Hospital of Hope, it was with the vision that it would be a space where people would receive the treatment they need to recover. On the sign bearing the bed number above each bed, there is also a line that reads "a beacon of hope and recovery".
So I was so pleased to hear the story of Mrs Katharine Newman, one of the province's oldest COVID-19 survivors, at aged 93.
A resident at a Claremont Old Aged Home, Mrs Newman developed a cough early in June, and on the advice of her doctor, was tested for COVID-19. She was initially cared for at the home, however after developing breathing difficulties, she was hospitalised at Groote Schuur where she received care and treatment before being moved to the Hospital of Hope.
Despite her age putting her at an increased risk of serious illness, Mrs Newman was discharged earlier this month, is no longer deemed to be infectious and is now back home.
We send our wishes to her and her family and our thanks to the staff at the home, at Groote Schuur and at the Hospital of Hope who all played a part in her recovery.
Mrs Newman is just one of the many inspiring stories of recovery recorded across this province.
These stories would not be possible were it not for the hard work, dedication, expertise and care of the healthcare workers in this province.
Tracking and tracing:
The Western Cape has a number of systems in place to help with contact tracing. These include the use of tracking and tracing teams, community healthcare workers and the newly launched CovidConnect system which was piloted in the Western Cape.
This is a cellphone based, and opt-in service that will send you important information via text message if you are COVID-19 positive, or if you are listed as a contact.
The Western Cape has also recently introduced the use of our call centre to bolster efforts to reach those who have tested positive. Between 13 June and 19 July, this team has made over 11 700 calls. During these calls, the agents will check in on patients, and advise them of their options for quarantine and isolation.
I am however concerned that of those 11 700 calls, over 3000 were not answered. These calls can provide important information for people who have recently tested positive in the province.
It is therefore imperative that you provide us with the correct contact and address details when you go for your test so that when we do contact you to start the tracking and tracing process, we can easily reach you.
Since I tested positive for COVID-19, I have been able to experience the province's systems in action. The Western Cape Government has recently put in place a strategy to manage the increased risk of COVID-19 patients with diabetes. As such, I received a daily call to check in on me and to track my blood glucose levels.
High risk diabetic patients will be advised to go to one of our intermediate care facilities, even if they don't meet the criteria for hospitalisation, in order to ensure that we are able to manage their blood glucose levels and mitigate their healthcare risks.
Western Cape statistics
As of 13:00 on 21 July, the Western Cape has 12 254 active cases of COVID-19, with a total of 85 009 confirmed cases and 70 061 recoveries.

Data note: It is not always possible to check and verify that the address data supplied for each new recorded case is correct, within the time frames required to provide regular and timely updates. This means that in some instances, cases could be allocated to the wrong sub-districts.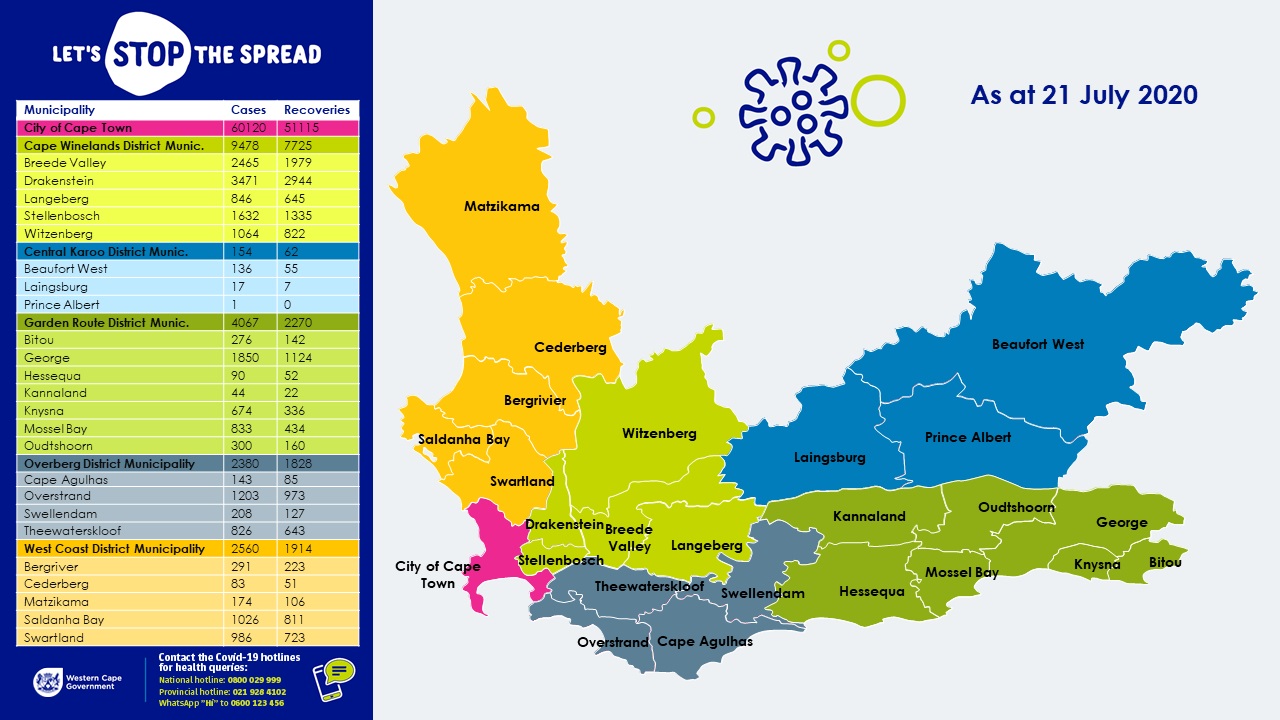 We are working with the sub-districts to clean and verify the data and where errors are picked up locally, cases will be re-allocated to the correct areas.
The Western Cape has recorded an additional 40 deaths, bringing the total number of COVID-19 related deaths in the province to 2 694. We send our condolences to their loved ones at this time.
'We bring you the latest Garden Route, Hessequa, Karoo news'