GARDEN ROUTE NEWS - The Garden Route reported more than 2 600 new coronavirus infections in the week up until Wednesday 9 December.
Additional restrictions to assist in containing the spread are probably on the cards, according to National Health Minister Dr Zweli Mkhize. He visited George on Friday 4 December to attend a high-level meeting on Covid-19.
Mkhize did not say when the final decision will be made, but it is expected this week. Some of the issues raised at the George meeting that were taken to the Coronavirus Command Council include the movement between the Eastern and Western Cape. Mkhize has recommended that the two premiers meet to discuss the issue.
"The movement can't be stopped. What is important is to have a collaborative approach."
He stressed that it has not come to a point where inter-provincial travel restrictions will be imposed.
Dr Terence Marshall, head of the Garden Route health cluster, said the district now has 659 active cases per 100 000 people. "One week ago it was 594. This is significantly higher than the provincial total of 203."
George Hospital is under pressure. "Routine services are once again in jeopardy as we are having to divert staff to Covid activities. Admissions to the district hospitals are under control with additional capacity still available in all but Knysna Hospital, which is under extreme pressure."
Upgraded oxygen storage tanks were installed at Knysna. Mossel Bay Hospital is getting busy and private hospitals continue to be busy.
George Hospital CEO Michael Vonk said they are trying to make space for as many patients as possible and are using more oxygen to treat patients than during the previous wave. "The hospital uses a daily average of 2,6 tons of oxygen, compared with the daily average of 356kg per day in May. During the first wave we used a maximum of 2,2 tons per day."
The graph supplied by the Garden Route Disaster Management Centre demonstrates the increase in coronavirus cases in George since April.
The hospital has already commissioned three additional wards to treat Covid-19 patients while also ensuring they have capacity for other emergencies such as trauma cases.
Marshall said additional professional and staff nurses have been appointed on contract posts. "In general, the personnel situation in the district is much better, so the ability to manage patient load has improved."
Testing sites across the district, especially in sub-districts with rising numbers, are testing to capacity every day.
Two additional National Health Laboratory Services (NHLS) buses have been deployed to Knysna and George in an attempt to keep up with the high volumes of tests needed.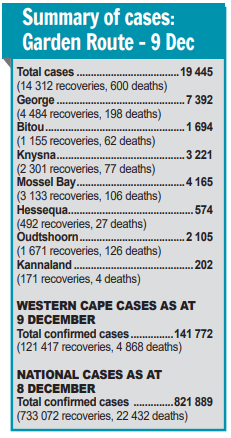 Related article: Additional restrictions possible for the Garden Route
'We bring you the latest Garden Route, Hessequa, Karoo news'