WILDERNESS SAILING NEWS - A brisk south-westerly wind provided testing conditions for the sailors, who had to cope with gusts measured at over 20 knots and lulls down to 8 knots, during the racing at the George Lakes Yacht Club on Sunday.
All three scheduled races could be completed.
In the first race Malcolm Osborne, on a Laser, established a lead ahead of the rest of the fleet after the first rounding mark. He was pursued by the Sonnet of Conrad and Ferdinand Holm and the Dabchick of Matthew de Villiers, with the Fireball of David Laing and Anthony Alant having to catch up after initial rigging problems.
Hans Delport, on a Dart 18, was battling to manoeuvre his craft in the tricky conditions but managed to catch up to second across the line.
In the junior fleet, comprising three Optimists, Jean Paul Buys was first, ahead of Tristan Boshoff.
In the second race there was a tight bunch of the leading boats at the first mark and down the next leg. Osborne had the initial lead at this stage, but was passed by the Holm Sonnet up the next beat.
Delport was able to get things together to build up a big lead ahead of the fleet. De Villiers and Osborne were then competing for second place amongst the dinghies until a capsize by Osborne near the finish line secured this position for the Dabchick.
Next to finish was Luke de Villiers, also on a Dabchick. Tristan Boshoff was the winner in the Optimists, just ahead of Jean Paul Buys and Luchen America in third place.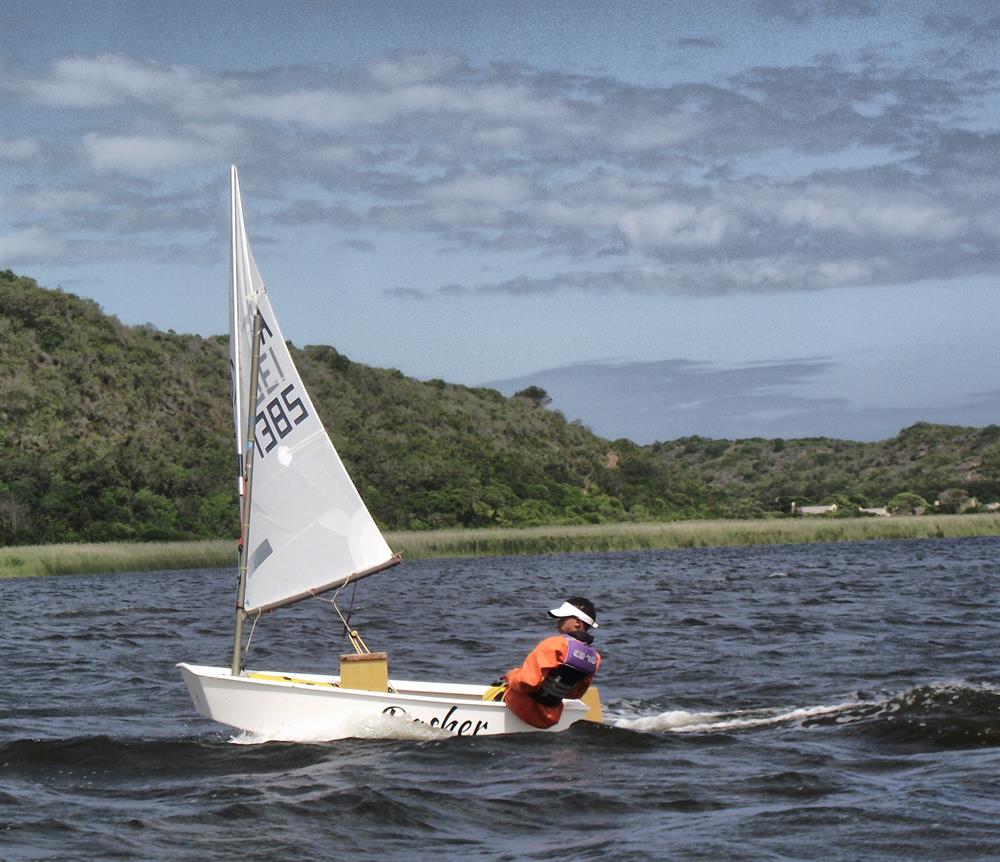 Luchen America gets his Optimist planing on the reach during Sunday's racing. Photos: Evelyn Osborne
The third race had even fewer starters. Hans Delport was able to control the power of the big sail on his Dart to get a lead in front of the dinghies. The competition amongst the dinghies was once again between the Sonnet, Laser and Dabchicks. In the strong conditions, the Sonnet was able to power away up the beats with De Villiers ahead of Osborne. Another capsize by Osborne near the end let Luke de Villiers through to third place.
Osborne won race one in the senior fleet, competing for the Chris Thomas Trophy. Holm was the winner in both race two and three.
For more information about George Lakes Yacht Club, see its website, www.glyc.org.za or like its Facebook page, GLYC. Anyone interested in sailing is welcome to visit the club at about 12:00 on a Sunday to see the boats or be taken out on the water for a short sail.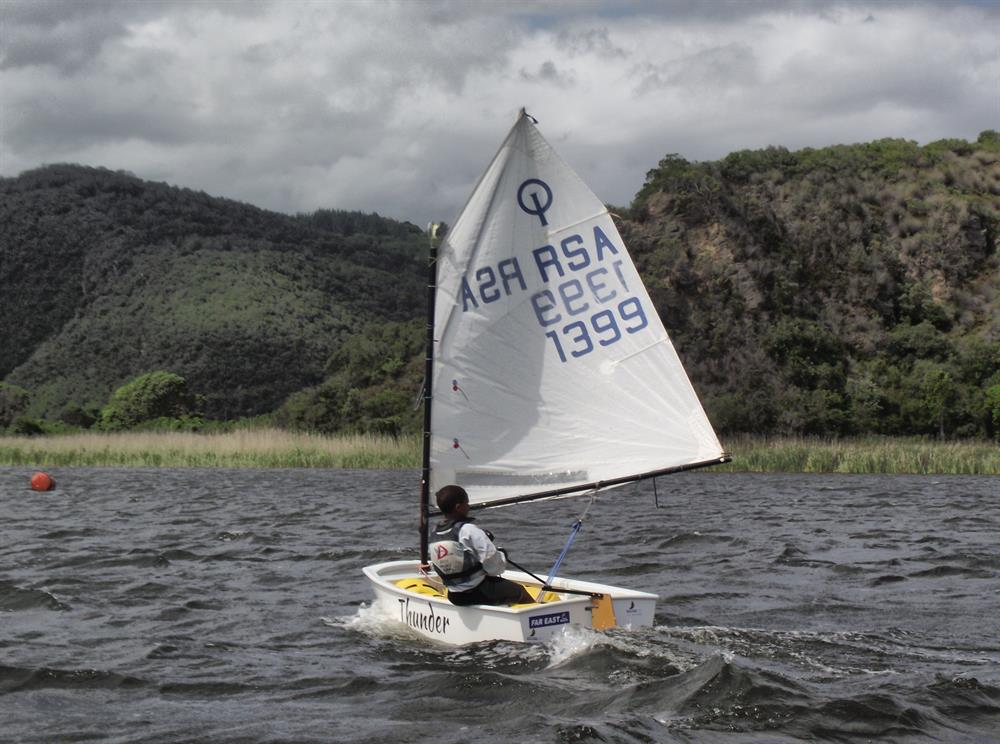 Jean Paul Buys sailing on a broad reach down to the leeward mark on his Optimist.
'We bring you the latest Wilderness, Garden Route news'