GEORGE NEWS - Sunday was the second in the George Lakes Yacht Club's series for the President's Trophy when the wind played the game this time.
Only one race in this series could be sailed in the first day in October, but this Sunday had a moderate south easter blowing, providing excellent sailing conditions.All three scheduled races could be completed. The wind increased to 16 knots in race 3; 12 to 14 in the previous two.
There was a good fleet of various sailing craft out on the water, including catamarans and dinghies of several classes. The junior fleet comprised four Optimists and a Tera Pro. Lasers were in the majority in the senior fleet, with six sailing.
In the first race, Maurits Lammers and Malcolm Osborne arrived ahead of the fleet at the first weather mark. Lammers capsized in the mark rounding and the Sonnet of John and Suzi Kennedy was placed down the reach. Hans Delport, on his Dart 18 was able to overtake all and extend to a six minute lead at the end of the race.
Henry Paine (Laser) recovered well after an early capsize and proceeded to first catch up and then pass Osborne during the race. Conrad Holm on Dabchick gets 3rd place on handicap behind those Lasers.
Ashley Layland on Tera Pro was first to finish in the junior fleet, but behind, JP Buys and Tristan Boshoff finished just one second apart at their finish. Class rating puts the Optimists ahead of the Tera.
In the second race Andrew de Villiers joined on his Dart 18 to give Hans Delport competition. De Villiers has the early lead, but was passed by Delport by the gybe mark.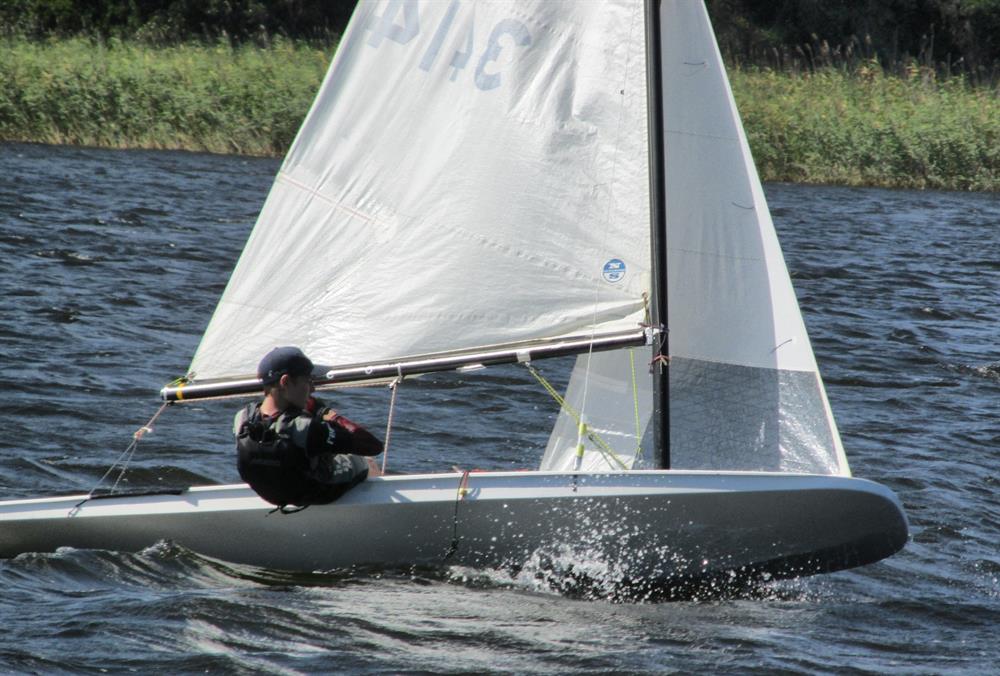 Conrad Holm sailing his Dabchick. Photos: Ingrid Buys and Jeremy Dee
Osborne had the initial lead in the dinghy fleet, with Paine in hot pursuit. These two had close competition, until Osborne had to do penalty turns as a result of a port/starboard incident. Maurits Lammers was then second Laser, until he capsized at the gybe mark, letting Osborne get ahead again. With Paine winning this race, it was Evelyn Osborne on Laser Radial taking second place on class rating, ahead of Malcolm Osborne and Bill Turner.
Tristan Boshoff was the leading Optimist, with his time giving him first place, with Ashley Layland second, despite finishing six minutes ahead. Luchen America was second Optimist, ahead of Jean Paul Buys.
Race three had a much reduced number of starters with just Alan Morsbach on Hobie 16 representing the catamarans. Once again, there was close competition between Malcolm Osborne and Paine in the Lasers. Paine finished this race 45 seconds ahead. Evelyn Osborne was third and Conrad Holm fourth. Kyle Koeries joined this race on an Optimist and winning with Tristan Boshoff the second Optimist. Ashley Layland scores 3rd on class rating.
For more information about George Lakes Yacht Club, see its website or like its Facebook page GLYC.
Anyone interested in the sport of sailing is welcome to visit the club on a Sunday (at about 12:00) to see the boats and perhaps a short sail on the lake.
(Photos by Ingrid Buys and Jeremy Dee).,
'We bring you the latest George, Garden Route news'