GEORGE SAILING NEWS - Mixed wind conditions on Island Lake produced tricky sailing conditions for the sailors of George Lakes Yacht Club on Sunday.
There were 16 boats sailing, of which 11 were in the senior fleet, racing for the Sotheby's Trophy. The junior fleet just had three boats - two Optimists and a Tera Pro.
In the first race the Finn of Brett Gething and the Laser of James Hellstrom took the lead in the senior fleet, ahead of the Laser of Henry Paine. The two fleet leaders had close racing, with lead changes. Gething had the lead across the finish line just ahead of the Laser.
However, class ratings gave the race win to James Hellstrom.
In the junior fleet Tristan Boshoff was able to extend three minutes ahead of the Optimist of Jean Paul Buys with Ayden Gething 30 seconds behind Buys. Class rating gave the race win to Buys, ahead of Gething and Boshoff.
In the second race, Gething was able to establish a better lead ahead of Hellstrom, sufficient this time to score line honours as well as the handicap win.
In the junior fleet Boshoff was once again three minutes ahead of the leading Optimist of Gething.
Tristan Boshoff Photo: Charles Norman
With strong, gusty wind conditions, the third race was hectic. Hans Delport was able to get his Dart 18 up to speed to finish well ahead of the dinghies. A brief capsize by Gething allowed Hellstrom to take the lead amongst the mono hulls. Gething finished third over the line, followed by the Lasers of Paine, Osborne, Laing and Lammers.
The junior fleet results count towards the season-long Junior Championships Series. Here Gething leads from JP Buys and Tristan Boshoff.
James Hellstrom leads in the series for the Sotheby's Trophy, ahead of Brett Gething and Henry Paine.
For more information about George Lakes Yacht Club, see its website, or like its Facebook page, GLYC.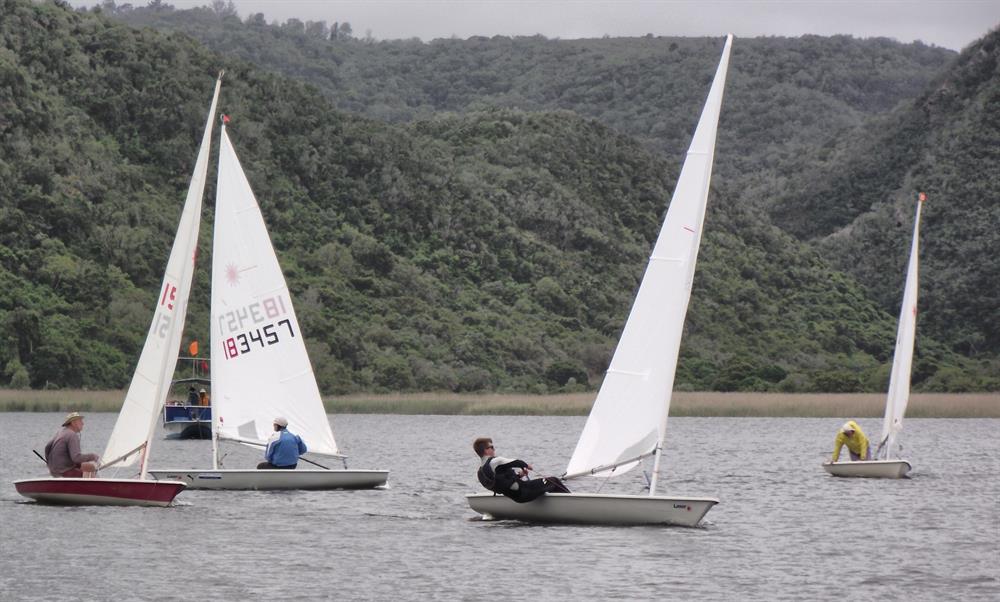 GLYC Lasers beating into the wind on Sunday, with Henry Paine (left), David Laing, James Hellstrom and Bill Turner.
'We bring you the latest George, Garden Route news'