GEORGE SWIMMING NEWS - A number of swimmers, who train at the Royal Swimming Academy participated at the recent Eden District Biathlon Championships and excelled in their individual events. Biathlon is a multi-sport discipline that involves running and swimming over various distances for the different age groups.
The two separate disciplines take place at different times on the same day. All athletes first run their event on the track and after all the running events have been completed, the athletes swim their events in either a 25m or 50m-pool. Times are recorded for each athlete and points are then allocated according to the times recorded.
The ideal will be to achieve at least 1 000 points for the running discipline and 1 000 points for the swimming discipline to then have a total of at least 2 000 points.
The results are:
u.8 Boys: Cameron McEwan (3rd), Neil Cawood (5th ).
u.9 Boys: Max Nel (2nd).
u.9 Girls: Megan v/d Heyde (5th).
u.11 Boys: Luke Scott (1st), Gerald v/d Heyde (3rd).
u.11 Girls: Karli Lotter (1st), Annabelle McEwan (4th).
u.13 Girls: Danelle Bosman (2nd), Abigail Powell (3rd).
u.15 Boys: Christiaan Hattingh (1st).
Veteran Ladies: Tanya Osborne (1st).
Luke Scott and Christiaan Hattingh now hold the Eden u.11 and u.15 biathlon records.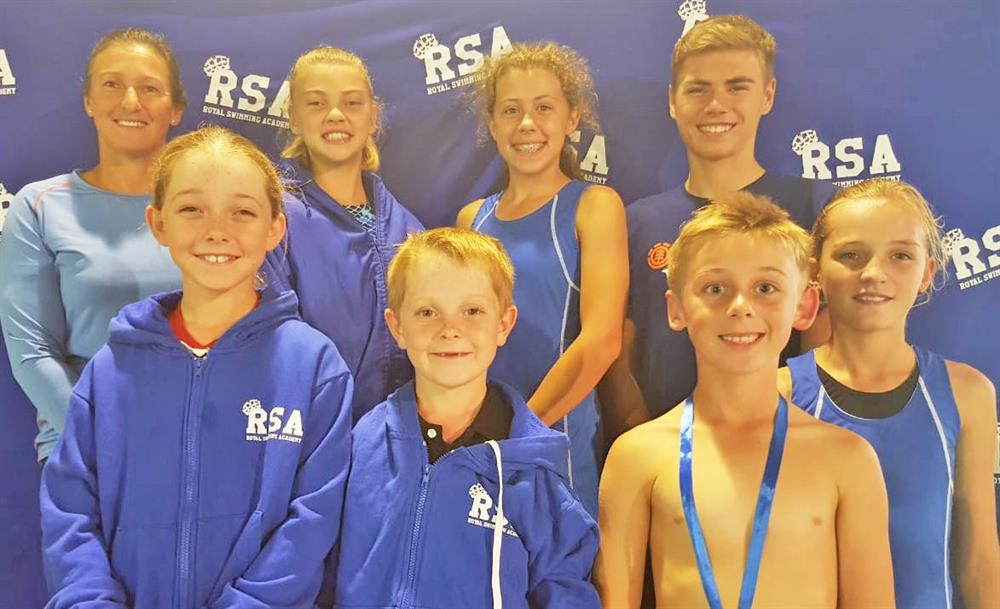 The Royal Swimming Academy swimmers who excelled in their individual events are, back from left: Tanja Osborne, Danelle Bosman, Abigail Powell and Christiaan Hattingh. Front: Annabelle McEwan, Cameron McEwan, Max Nel and Karli Lotter. Absent: Neil Cawood, Megan van der Heyde, Luke Scott and Gerald van der Heyde.
'We bring you the latest George, Garden Route news'